The Republican presidential candidate has indicated he will bring vast change in America during his first 100 days in office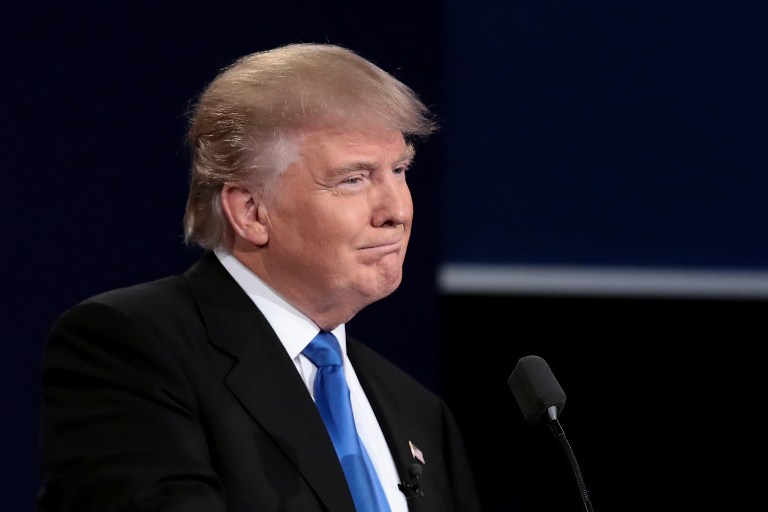 WASHINGTON DC, USA – Donald Trump believes he will score a "tremendous" victory on November 8. If he does, the Republican presidential candidate has indicated he will bring vast change in America during his first 100 days in office.
At a recent campaign rally in North Carolina, he promised "a very busy first day," adding: "The change will begin my first day in office."
The 70-year-old Manhattan real estate mogul, who insists the country suffers from a "rigged" political system, has pledged to "make America great again" with two key ideas: jumpstarting the economy and bolstering national security.
He is certainly not without ideas.
Trump offered a list of them on October 22 in his own "Gettysburg address" at the same place where Abraham Lincoln tried to unite a divided nation during the Civil War in 1863.
From the first day, Trump has pledged in his "revolutionary Contract with the American Voter" to renegotiate the North American Free Trade Agreement (NAFTA) and withdraw from the Trans-Pacific Partnership.
He plans to lift restrictions on producing fossil fuels, relaunch the Keystone XL oil pipeline project put on hold by President Barack Obama, and cancel billions of dollars in payments to UN climate change programs.
'Once in a lifetime' change
The billionaire will work to "begin removing the more than two million criminal illegal immigrants from the country and cancel visas to foreign countries that won't take them back."
He would "suspend immigration from terror-prone regions where vetting cannot safely occur" and carry out "extreme vetting" of those seeking to enter the country.
"Our campaign represents the kind of change that only arrives once in a lifetime," he said.
Trump has also vowed to "drain the swamp" of what he sees as systemic corruption in Washington – impose term limits on members of Congress, freeze federal hiring and ban lawmakers and White House staff from becoming lobbyists for 5 years.
He also has promised to "cancel every unconstitutional executive action" undertaken by Obama.
Despite his tense ties with the Republican Party, which for now controls both houses of Congress, Trump says he will work with lawmakers to introduce and pass legislation that would see at least 25 million jobs created in a decade.
That would come about thanks to tax cuts for middle class workers and businesses, and a simplification of the tax code, he says.
Trump says his plan would spur four percent annual growth for the US economy, the world's largest.
Build the wall
Trump intends to make good on his signature campaign pledge to build a wall along the US border with Mexico, and impose a minimum federal prison sentence of two years on any deported illegal migrant who attempted to return.
And he plans to work quickly for the repeal of Obama's signature health care reform, known informally as Obamacare.
The Republican hopes to spark $1 trillion in infrastructure investment over the next 10 years via public-private partnerships and private sources, spurred on by tax breaks.
His "Gettysburg address" largely stopped at the US border. He did not offer much in the way of detail on what the foreign policy of a Trump administration would look like in the first 100 days. 
How does he plan to pay for his initiatives? How much could he really accomplish? Many experts are doubtful he can deliver on his promises, especially as his promises have morphed over time.
Trump did not address his past pledges to deport all 11 million undocumented migrants and end the Syrian refugee program in his policy speech.
But he has promised to sue the dozen or so women who have accused him of unwanted sexual advances after November 8, calling them all "liars." – Brigitte Dusseau, Agence France-Presse