Indonesia's first congress of female clerics or ulama was held in Cirebon, West Java, with attendees discussing several controversial topics.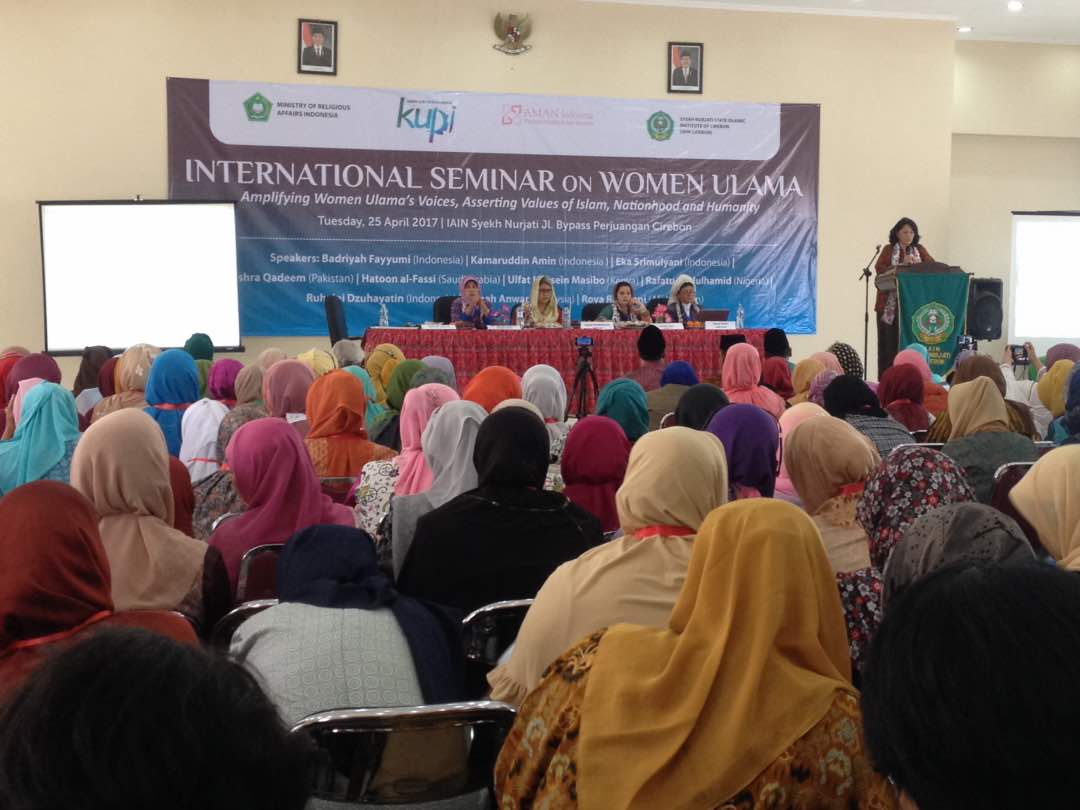 CIREBON, Indonesia — On Tuesday, April 25, Indonesia's first congress of female Muslim clerics or ulama was held in the Islamic State Institute of Cirebon in West Java. Attendees included women ulama, female activists, and researchers from various countries such as Kenya, Afghanistan, Saudi Arabia, and Nigeria.
Abdurrahman Mas'ud, an official from Indonesia's Ministry of Religion, opened the congress by saying that women ulama in Indonesia play an important role, especially in Indonesia's intellectual sphere.
Several controversial topics were discussed by the women ulama, one of which was polygamy, which is legal for Muslims in Indonesia. This theme was presented by State Islamic Institute of Yogyakarta lecturer Siti Ruhaini Dzuhayatin. According to Dzuhayatin, polygamy does not come from Islamic teachings.
The tradition of polygamy, she said, far predates Islam.
"Polygamy is not Islamic teaching. Polygamy appeared far before Islam. What Islam does is humanize polygamy. The Quran actually aims for monogamy," she said on Tuesday, April 25.
Polygamy, according to Dzuhayatin, is not only a religious issue, but a social one too. She cites the societal pressure for struggling single women feel to choose poligamy. "Once again this is an issue of societal pressure, that's why we need to work on many dimensions to reduce the practice of poligamy," she said.
Hijab
In another discussion, the topic was the hijab or veil. The hijab has attracted controversy in many places, with some considering it to be a form of oppression. In France, for example, it is forbidden to wear a hijab in public places.
Hatoon Al-Fasi, a senior researcher from Qatar University, explained that there are several different ways to interpret what the hijab means. When translated to English, she said, hijab means 'covered from top to bottom.'
"So this is a challenge for us, to understand the text in Arabic. In this case, there is interpretation from the translators of the Quran, because some believe that it is not necessary to be covered from top to bottom," she said.
Islam, Al-Fasi continued, gives room for its followers to choose. According to her, wearing a hijab is a matter of choice and one must be accountable for that choice.
"At the moment we (women) are being told what to wear, in my opinion, there should be more emphasis on Islamic values and not how to dress," said Al-Fasi.
Gender equality
Al-Fasi and some of the other speakers also participated in a discussion about gender equality. Al-Fasi said that at the moment there are many regulations that restrict women's freedom of movement. For example, only being allowed to go out if accompanied by a male relative or only able to marry with the consent of a male guardian.
Al-Fasi considers such rules to be gender-biased and said that they reinforce the stigma that women are weak.
"There are so many papers that use the excuse that women are inferior, and therefore need to be protected. When going out, they must be accompanied by a man. So there has to be a guardian that gives permission," said Al-Fasi.
Guardians in this case include fathers, older brothers, or sons. Al-Fasi gives an example of a regulation that requires a widow to ask her son for permission before going out.
"In my opinion that is a complicated and mixed up regulation that has no relation to Islam," she said. "These are regulations that stop women from making decisions about themselves."
Al-Fasi said that women, like men, should be given the right to make their own decisions. "We are our own guardians and there is no one higher than us, except God," she said.
Her opinion was seconded by Zainah Anwar, a women ulama and feminist from Malaysia. Anwar said that there were some Muslim countries, like Morocco, where women are not required to have a marriage guardian.
But, she continued, the issue is not whether or not there needs to be a guardian at a wedding, but whether or not the state trusts women to be their own guardians.
"If the state does not adopt fiqh [Islamic jurisprudence] that gives more equality to women, how can we women organize ourselves to fight for our rights," said Anwar.
The congress will end on Thursday, April 27, and will issue several fatwa or religious rulings based on the discussions held. "Our hope is that the fatwa can be used by the community to solve the problems that they face, and can be considered by other institutions in seeing women's issues in a religious context," said Nur Rofiah, one of the congress organizers. —with reports from Ursula Florene/Rappler.com