Unrest in Palestinian Territories spreads since US President Donald Trump recognized Jerusalem as the capital of Israel.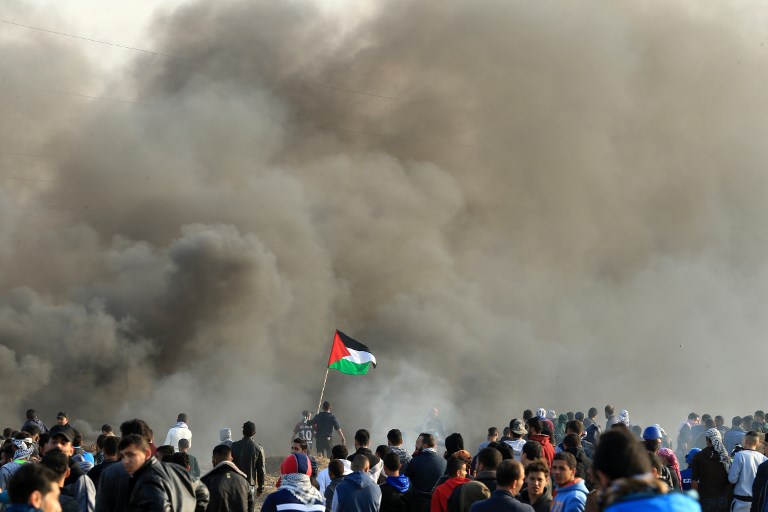 GAZA CITY, Palestinian Territories – Two Palestinians were shot dead by Israeli forces in clashes along the Gaza border Friday, December 15, as tens of thousands of people joined new protests against Washington's recognition of Jerusalem as Israel's capital.
US President Donald Trump's December 6 announcement that he would break with decades of American policy and move his embassy to Jerusalem has stirred international condemnation, as well as protests across the Palestinian territories and Arab world.
Demonstrators have burned American and Israeli flags and trampled on pictures of Trump amid concerns his announcement would lead to major bloodshed.
On Friday, two men were killed in clashes east of Gaza City, the Palestinian health ministry said.
Yasser Sokar and Ibrahim Abu Thurayeh, 32 and 29, became the fifth and sixth Palestinians to be killed in Gaza since Trump's announcement.
Four were killed in clashes, while two Hamas militants died in an Israeli air strike.
Protests and clashes broke out across the Palestinian territories for the second Friday in a row after the end of weekly Muslim prayers, often a catalyst for clashes between young Palestinians and Israeli soldiers.
In the occupied West Bank, thousands of people gathered for protests in the southern city of Hebron, as well as Nablus in the north.
Near a military checkpoint on the outskirts of Ramallah a man stabbed a border police officer before being shot, police said.
AFP photos showed the man wearing what appeared to be a suicide vest, though it was unclear if it was operational.
He was taken to hospital for treatment after being shot three times. Police said they were investigating the incident.
In Gaza, the strip's Islamist rulers Hamas had called for another "day of rage" against Trump's decision, with tens of thousands taking to the streets.
A few thousand people clashed with Israeli forces along different parts of the border, during which at least 82 people were injured, with five in serious condition, the health ministry in Gaza said.
The army said around 2,500 people were involved in "riots" across the West Bank and about 3,500 in Gaza.
At least 56 people were hospitalised across the West Bank, the Palestinian health ministry said.
In Jerusalem itself, there were minor scuffles in the Old City after Friday prayers.
Over the border in neighboring Jordan, thousands of people also demonstrated in the latest round of protests called by the Muslim Brotherhood, burning Israeli and American flags.
Rise in support for uprising
The status of Jerusalem is one of the most controversial issues in the Israeli-Palestinian conflict.
Israel seized control of the eastern part of the city in the 1967 Middle East war and sees the whole of Jerusalem as its undivided capital, while the Palestinians view the east as the capital of their future state.
For decades global powers have avoided taking an opinion, keeping their embassies in Tel Aviv instead.
Trump declared, however, that he would move the embassy and has recognized the city as Israel's capital.
Amid condemnation from much of the international community, the Palestinians have announced they will no longer view the Americans as a mediator in negotiations with the Israelis.
A poll conducted after Trump's announcement by the respected Palestinian Center for Policy and Survey Research found 45 percent of Palestinians supported a violent popular uprising, up from 35 percent three months previously.
Khalil Shikaki, the centre's director, said the "only possible explanation" for the increase was Trump's decision.
He said, however, the effectiveness of the Israeli forces and the Palestinian security forces' ongoing cooperation with them had ensured the protests in the West Bank remained relatively minor.
While angered by Trump's declaration, Palestinian president Mahmud Abbas has not instructed his party Fatah or security forces to cut ties with Israel.
"Hamas is too weak in the West Bank to carry out any serious attacks (and) Fatah does not want to engage in violence," Shikaki said.
"This is not likely to change any time soon."
In Gaza, hermetically sealed off by Israel and Egypt, at least 12 rockets or mortar rounds have been fired from the territory since Trump's announcement, with Israel hitting at least 10 sites in reply.
But the response to Trump's move has been relatively muted despite some warnings, said Ofer Zalzberg, Israel-based analyst with the International Crisis Group think tank.
He said the lack of serious blowback to the announcement had encouraged right wingers in Israel's government to question whether "maybe other things that people said were impossible are not". – Rappler.com