Last week, lawmakers voted for Serzh Sarkisian as prime minister after he served a decade as Armenia's president, triggering political turmoil in the Moscow-allied nation of 2.9 million people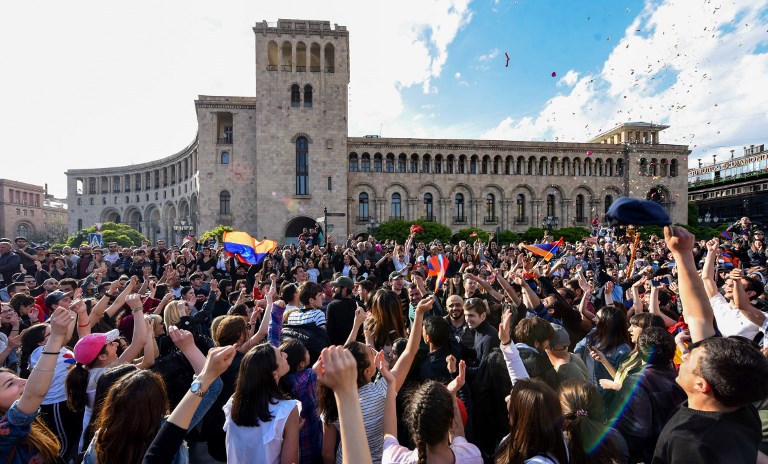 YEREVAN, Armenia – Armenia's veteran leader Serzh Sarkisian resigned on Monday, April 23, after mass protests against his election as prime minister with sweeping powers, sparking celebrations across the impoverished country.
Last week lawmakers voted for Sarkisian as prime minister after he served a decade as Armenia's president, triggering political turmoil in the Moscow-allied nation of 2.9 million people.
The opposition said the move was designed to extend his chokehold on power under a new parliamentary system of government, with tens of thousands taking to the streets of the capital Yerevan and other cities in recent days in largely peaceful protests.
On Monday evening the health ministry said one demonstrator, a 36-year-old man, died of heart failure after a celebratory rally in Yerevan.
"Our velvet revolution has won but this is only the first step," protest leader Nikol Pashinyan told supporters at the rally in Yerevan's Republic Square.
"Our revolution cannot stop halfway and I am hoping that you will persevere until the final victory."
The 42-year-old leader of the Civil Contract party said he would meet with the acting head of government, Karen Karapetyan, on Wednesday, April 25, to discuss the transfer of power.
Pashinyan – who was hurt in the protests last week and sported a bandaged hand – said parliament would have to elect a new prime minister "within a week" and new parliamentary elections were also in the cards.
Earlier in the day the 63-year-old Sarkisian – who previously refused to step down – stunned the country by saying he was in the wrong and resigning.
"I am leaving the post of the country's leader," Sarkisian was quoted as saying by his office.
"Nikol Pashinyan was right," he said. "I was wrong."
Sarkisian implied that there were several ways to resolve the crisis and that he could have used force to break up protests but chose not to.
"This is not in my nature," he added.
Sarkisian quit after a number of serving and former soldiers joined the protests.
His resignation came as a major surprise, with analysts saying just last week that the opposition did not have enough resources to force the veteran leader to quit.
'People won'
Armenians cheered Sarkisian's departure, dancing, hugging each other and setting off fireworks.
"The people won!" shouted supporters of Pashinyan as some waved national flags and others tooted car horns, on the 11th day of demonstrations.
Spontaneous street parties broke out as many flocked to stores to buy wine and raise a toast to the country's future.
Sarkisian remained the country's top leader even after he transitioned to the post of prime minister following constitutional amendments approved in 2015, which transferred powers from the presidency to the premiership.
Sarkisian, a former military officer, was first elected president of the poor, landlocked nation in 2008.
He also held the office of prime minister from 2007 to 2008.
After the 2008 presidential vote, 10 people died in clashes between police and supporters of the defeated opposition candidate.
The Kremlin said it was closely watching the political crisis in Armenia – which hosts a Russian military base – but would not interfere.
'Never happened before'
Protesters said Sarkisian's peaceful departure after a decade in power was unprecedented.
"For the first time ever the people forced the head of state to resign," said 46-year-old Arman Sarkisian (no relation to Serzh Sarkisian).
"This has never happened before. From now on those who will replace him will think twice before taking decisions."
Gohar Badalyan, a 21-year-old student, added: "A new life is beginning today."
Sarkisian had earlier refused to go and on Sunday, April 22, stormed out of televised talks with Pashinyan, accusing him of "blackmail".
Over the past days, thousands of protesters held rallies against Sarkisian, denouncing his failure to fight poverty, corruption and the influence of oligarchs.
They blocked roads and marched arm-in-arm holding Armenian flags, with students and a group of serving soldiers joining the protests.
A number of uniformed former soldiers and veterans who had fought in Nagorny Karabakh – a breakaway region seized by Armenian separatists after the collapse of the Soviet Union in 1991 – also joined the demonstrations.
Despite the festive mood, many in Armenia acknowledged that the country still faced huge uncertainty.
Andranik Serobyan, a teacher, said the "hardest part is ahead".
"Who will be the prime minister? Who will be the country's leader? We will have to live through all of this."
UN urges restraint
UN Secretary-General Antonio Guterres called for restraint and respect of democratic rights in Armenia.
Guterres "calls for the continued respect of democratic rights and the rule of law, as well as for the maintenance of peace and stability in Armenia and the wider region," said a UN spokesman.
In Moscow, President Vladimir Putin's spokesman Dmitry Peskov – who spoke to reporters before Sarkisian resigned – said Russia was carefully watching events in Armenia, which has retained close ties to its former Soviet master.
Last week Putin called Sarkisian to congratulate him on his election as prime minister despite the rallies. – Rappler.com