Gas production remains the top the priority for Qatar, which is the world's the biggest exporter of liquefied natural gas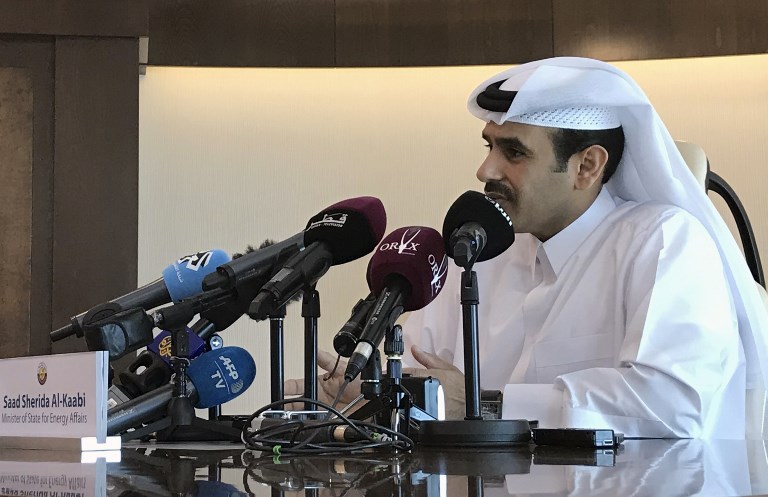 DOHA, Qatar – Qatar will leave OPEC next month in order to focus on gas production, the Gulf state's new Energy Minister Saad al-Kaabi announced in a surprise move on Monday, December 3.
Qatar has been a member of OPEC since 1961, and the decision to pull out after all these decades comes at a turbulent time in Gulf politics, with Doha under a boycott by former neighboring allies including Saudi Arabia for 18 months.
"Qatar has decided to withdraw its membership from OPEC effective January 2019 and this decision was communicated to OPEC this morning," Kaabi told a Doha press conference.
Kaabi, who also heads state-owned Qatar Petroleum, denied however that the move was linked to the feud with Saudi Arabia and its allies.
The decision was "technical and strategic" and had "nothing to do with the blockade", he said.
Qatar's still-influential former prime minister Hamad bin Jassim bin Jaber Al-Thani subsequently tweeted that OPEC was of "little use" and being "used only for aims that undermine our national interest".
Qatar will continue to produce oil and seek deals in countries including Latin America's top oil producer Brazil, said Kaabi.
Some analysts saw Qatar's withdrawal as a "political decision to oppose Saudi Arabia", which alongside the United States and Russia is the biggest producer in OPEC.
"So is it really worth it to someone like Qatar to go to Vienna to meet with someone who will lead the meeting and who is your enemy?" asked Thierry Bros, a researcher with the Oxford Institute for Energy Studies.
"In the end, perhaps you can do without it."
'Our potential is gas'
Kaabi said gas production would remain the top priority for Qatar, which is the world's biggest exporter of liquefied natural gas (LNG).
"We don't have great potential (in oil), we are very realistic," said Kaabi, who described himself as "Mr Gas" during the conference. "Our potential is gas."
"I think it's inefficient to focus on something that's not your core business and something that's not going to benefit you long-term."
In September, Qatar announced it plans to boost gas production to 110 million tons per year by 2024.
Qatar's oil production is around 600,000 barrels per day, making the world's 17th largest producer of crude, according to the specialist website, world data.info.
It also only holds around two percent of the world's global oil reserves, according to the CIA World Factbook.
Kaabi said that would still attend OPEC's Vienna meeting later this week, his "first and last" as energy minister.
That meeting is expected to set a policy for 2019 and despite Qatar's announcement, oil prices soared on Monday after Russia and Saudi Arabia renewed a pact to cap output on the sidelines of a G20 summit.
While there was no announcement on how much would be cut and for how long, the pact was cheered by oil traders, with Brent jumping $2.60 to $62.06 and West Texas Intermediate up $2.42 to $53.35.
 'Symbolic move'
Although Qatar's sudden move came out of the blue, analysts say it will have limited impact on the global market.
Fiona Cincotta, a senior market analyst at UK-based City Index, said Qatar had "surprised the market" but added it was another sign that "some major production decisions will be taken outside of OPEC" following the G20 summit that closed Saturday in Buenos Aires.
Amrita Sen, chief oil analyst for Energy Aspects consultants, argued the move would have limited impact.
"Quitting OPEC is largely symbolic for Qatar," he told Bloomberg.
"Its oil production has been steady with limited prospects for increases."
OPEC is dominated by oil-rich Saudi, which along with its allies has had no ties with Qatar since June 2017.
Relations between Riyadh and Doha are at an all-time low as a result of the crisis, which has seen Saudi-led countries accuse Qatar of supporting terrorism and being too close to Iran.
Qatar refutes the allegations and claims rivals want to overthrow its government.
But researcher Bros argued that Qatar's departure would weaken OPEC at a moment when Riyadh is battling an international outcry over the murder of journalist critic Jamal Khashoggi.
"This shows that it will become more complicated to run things (at OPEC). Those that remain are not great friends, such as Iran and Saudi Arabia," said Bros.
Kaabi meanwhile announced Qatar would "make a big splash in the oil and gas business soon," adding Doha would also build the Middle East's biggest ethane cracker, an industrial facility which converts gas to by-products, such as adhesives and ethylene for plastics. – Rappler.com