South Sudan's army spokesman says clashes appeared to have ended with no reports of fighting on Saturday morning, January 25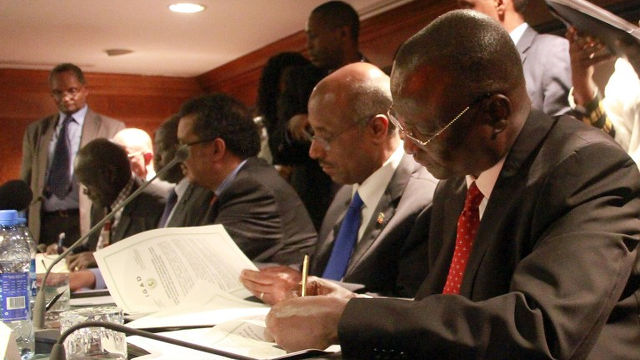 JUBA, South Sudan – A ceasefire in South Sudan between government and rebel forces appeared to be holding Saturday, January 25, the army said, despite clashes as it began and fears the bitter rivals may seek to fight on.
The ceasefire, aimed to bring an end to five weeks of bitter conflict in which thousands have died, formally began at 1730 GMT on Friday, January 24, well after dark in South Sudan.
Both sides have pledged to stick to a deal struck on Thursday, January 23, but each also has said they doubt the other can fully control the forces on the ground.
The United Nations reported "sporadic fighting" on Friday before and after the deadline, UN deputy spokesman Farhan Haq said. (READ: South Sudan fighting continues after ceasefire: UN)
Rebel spokesman Lul Ruai Koang said before the ceasefire deadline that the army had attacked positions in the northern oil state of Unity, and in the volatile eastern Jonglei region.
Koang alleged that South Sudanese government troops – as well as Ugandan soldiers and rebels from neighboring Sudan's war-torn Darfur region, the Justice and Equality Movement (JEM) – had attacked rebel positions on Friday.
Army spokesman Philip Aguer in turn accused the rebels of launching attacks Friday afternoon in Jonglei, but said the government force had beaten back the assault, and that fighting was over before the ceasefire deadline.
Saturday morning, in the first hours of daylight of the ceasefire, Aguer said the clashes appeared to have ended.
"There are no reports of fighting, it is calm," he said.
It was not possible Saturday to immediately contact rebel forces, and gathering reports from across the vast and remote regions of South Sudan – large areas of which have poor if any telephone network – is a difficult task.
Brutal atrocities committed
The ceasefire agreement was signed late Thursday in the Ethiopian capital Addis Ababa by representatives of South Sudan's President Salva Kiir and rebel delegates loyal to ousted vice president Riek Machar. (READ: South Sudan government, rebels sign ceasefire)
"It is critical that both parties implement the cessation of hostilities agreement in full and immediately," the UN spokesman said.
US President Barack Obama, whose country provided crucial backing on South Sudan's path to statehood, described the deal as "a critical first step toward building a lasting peace".
Kiir urged those rebels not under Machar's control to also respect the deal.
"Now that people have fought, people should come back to their senses and we sit down so that we can resolve this conflict through negotiation," Kiir said in an address Friday.
Up to 10,000 people are believed to have been killed in the fighting pitting forces loyal to Kiir against a loose coalition of army defectors and ethnic militia nominally headed by Machar, a seasoned guerrilla fighter.
The fighting has been marked by atrocities on both sides with some 700,000 people forced from their homes in the impoverished nation, according to the United Nations.
There has also been a wave of brutal revenge attacks, as fighters and ethnic militia use the violence to loot and settle old scores.
Food to feed a quarter of a million people for a month has been looted from UN World Food Programme stores – a staggering 3,700 metric tons – with the agency warning that "humanitarian needs will continue long after the fighting stops".
More than 76,000 people are crowded inside UN peacekeeper bases across the country – the highest number since the start of the conflict – with most hesitant to leave the protection offered by the compound.
"We're not leaving yet, because I don't trust either side to keep the agreement," said Peter Biel, one of thousands squeezed into a former sports ground turned into crowded camp inside a UN base in Juba.
"Can they just stop fighting straight away, like that? I doubt it. I'm not risking my family's life believing that." – Rappler.com