"We cannot move on at the expense of the historical truth of the genocide," Rwanda's Foreign Minister Louise Mushikiwabo said on the eve of commemorations marking the 20th anniversary of the killings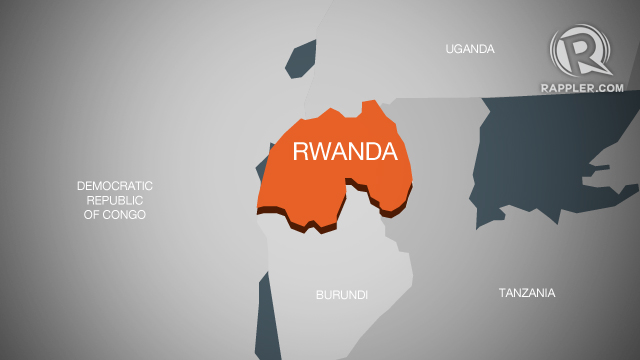 KIGALI, Rwanda – Rwanda on Sunday, April 6, told France to face up to the "difficult truth" of its role in the 1994 genocide, amid a major diplomatic spat on the eve of commemorations marking the 20th anniversary of the killings.
The French government has decided to boycott Monday's events after Rwandan President Paul Kagame again accused France, an ally of the Hutu nationalist government prior to the 1994 killings, of having helped the murder of 800,000 ethnic Tutsis take place.
"For our two countries to really start getting along, we will have to face the truth, the truth is difficult, the truth of being close to anybody who is associated with genocide understandably is a very difficult truth to accept," Rwandan Foreign Minister Louise Mushikiwabo said.
She said is was "impossible for our two countries to move forward if the condition is that Rwanda has to forget its history in order to get along with France," which has repeatedly denied the accusations and insisted that French forces had striven to protect civilians.
"We cannot move on at the expense of the historical truth of the genocide," Mushikiwabo said during an international forum held as part of the 20th anniversary events. She called the French boycott "not justified" and an "overreaction". (READ: 20 years on, Rwanda's reconciliation goes on step by step)
Speaking to the weekly Jeune Afrique, Kagame had denounced the "direct role of Belgium and France in the political preparation for the genocide", and said French soldiers who were sent to Rwanda when the killings started were both accomplices and "actors" in the bloodbath.
French foreign ministry spokesman Romain Nadal said he was "surprised" by Kagame's accusations, saying they went against reconciliation efforts between the two countries. He also announced that French Justice Minister Christiane Taubira would be staying away. (READ: Landmark Rwanda genocide trial opens in France)
Former colonial power Belgium, which unlike France has apologized to Rwanda for failing to prevent the genocide, said it would still be sending a senior delegation.
Official mourning, which began three months ago with a flame of remembrance touring the small nation from village to village, culminate Monday when the torch arrives at the national genocide memorial.
President Kagame will light a flame that will burn for 100 days, the length of time it took government soldiers and Hutu militia to kill hundreds of thousands of people.
Wreathes will also be laid at the national genocide memorial, before ceremonies in Kigali's football stadium, where UN Secretary-General Ban Ki-moon is due to attend. 
Lesson for Syria, Central African Republic
Ban said the commemorations were a reminder for the world to do all it can to ensure such crimes never happen again. The UN was heavily criticised in 1994 for at first failing to acknowledge a genocide was taking place and then failing to stop it.
"The scale of the brutality in Rwanda still shocks: an average of 10,000 deaths per day, day after day, for three months," Ban said in a statement, adding that the impact was still being felt across an "arc of uncertainty in Africa's Great Lakes region – and in the collective conscience of the international community."
"People everywhere should place themselves in the shoes of the vulnerable, from Syria to the Central African Republic, and ask themselves what more they can do," Ban added.
Several African heads of state are expected, but it is not clear who will head delegations from neighbouring Tanzania and Democratic Republic of Congo, as well as South Africa, with whom Rwanda's diplomatic relations have been strained in recent months.
Rwanda has repeatedly denied allegations it backed rebels in eastern DR Congo, while Tanzanian troops last year joined a new United Nations brigade set up to quash the myriad militia forces in same zone.
Relations with South Africa have been tense over allegations that Rwandan spies in January murdered Patrick Karegeya, a one-time close ally of Kagame turned fierce critic, in a luxury Johannesburg hotel.
Many in Rwanda are remembering in their own deeply personal, quiet and reflective way.
In one Kigali church, where the congregation knelt in silence to remember those who had died in 1994, several wiped away tears as they stood up to sing.
"This time of year the memories are too much, too much to bear," said Louise Ndamyimana, an elderly woman whose family were all killed in 1994, her voice trembling as she waited for a bus after attending Catholic mass.
Rwanda's Red Cross has boosted its support staff for those hit hard by the memory of trauma.
"I think about those who died every hour of every day, but the thoughts of what happened are overwhelming," Ndamyimana added.
The official "Kwibuka" mourning – meaning "remember" in Kinyarwanda, and with the slogan "remember, unite, renew" – ends on July 4, Rwanda's liberation day. – Rappler.com