This is AI generated summarization, which may have errors. For context, always refer to the full article.
The 76-year-old monarch is stepping down dogged by health woes and with his popularity deeply eroded by scandals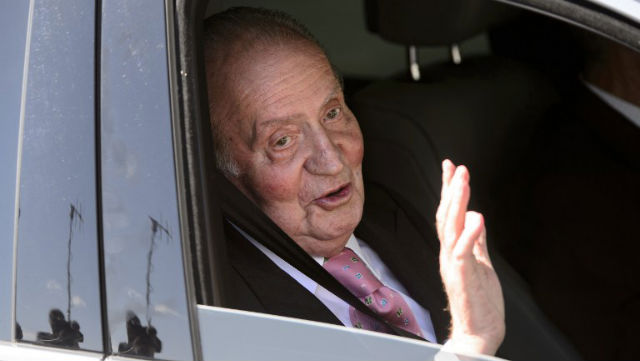 MADRID, Spain – Spanish King Juan Carlos announced his abdication on Monday, June 2, in favor of his son Prince Felipe, ending a 39-year reign that guided Spain from dictatorship to democracy but was later battered by royal scandals.
The 76-year-old monarch, crowned in November 1975 after the death of General Francisco Franco, is stepping down dogged by health woes and with his popularity deeply eroded by scandals swirling around him and his family.
The king handed over a letter to Prime Minister Mariano Rajoy formally informing him of "my decision to abdicate the Crown of Spain."
A copy of the letter and a photograph of the monarch handing it over to the premier was released on the palace's Twitter account.
"His Majesty King Juan Carlos has just informed me of his desire to renounce the throne and begin the process of succession," Rajoy said in an impromptu announcement to the media.
"The reason for the king's decision is something that he wants to communicate personally to the Spanish people this morning," the prime minister said.
Juan Carlos hands over the throne to 46-year-old Felipe de Borbon, Prince of Asturias, a 1.98-meter (6 foot 6 inches) tall, former Olympic yachtsman, who has been relatively unscathed by the scandals that battered others in the family.
"I found the king convinced that this is the best moment to change the head of state in all normality and for the transition of the crown to the Prince of Asturias," the prime minister said.
Tainted image
Frequently smiling but more reserved than his father, Felipe had long suffered from comparisons with his father.
But Juan Carlos's image was dealt a blow after he took a luxury elephant-hunting safari to Botswana in April 2012 as his subjects struggled in a recession, with one in 4 people unemployed.
Further damaging the royal family's standing, a judge opened a corruption investigation in 2010 centered on former Olympic handball player Inaki Urdangarin, the husband of the king's youngest daughter Cristina, who has also been accused of involvement.
At the same time, Felipe's approval rating has risen.
Felipe wed former television presenter Letizia Ortiz, in a glittering ceremony in Madrid's Almudena Cathedral in 2004 after several previous romantic dalliances, including one with a Norwegian lingerie model.
Ortiz, a 41-year-old divorcee, was the first commoner to come in line for the Spanish throne.
Blocked coup 
Far from being a mere ceremonial figurehead, Juan Carlos played a determining role in Spanish modern history when he stepped up as the first crowned head of state in 44 years after Franco's death.
He defied the hopes of the Francoists for an extension of autocratic rule. Instead, he oversaw the creation of a new system of parliamentary monarchy, with a new constitution that was approved by referendum in 1978.
Juan Carlos was credited with helping defuse an attempted coup in February 1981 by soldiers who stormed into parliament shooting and who held lawmakers hostage for several hours.
The king's appearance on television urging support for the democratic government was instrumental in blocking the attempt.
"I knew that the soldiers were going to agree because I had been named by Franco," the king said later, adding that he knew most of the officers from his days in the military academy, and he was their commander-in-chief.
After the Madrid train bombings in March 2004, Juan Carlos and his wife Queen Sofia threw protocol aside at a memorial service when they comforted the families of some of the 191 people killed.
But the king's image was later tainted by scandal.
Graft, health woes
One of the most damaging was the corruption investigation targeting Urdangarin that erupted in 2011.
Urdangarin has appeared in court but denies any wrongdoing.
Cristina was linked to Urdangarin's business affairs and she was herself declared a suspect in January 2014 over related allegations of tax fraud and money laundering.
In 2012, many Spaniards were angered to learn that the king had taken a luxury elephant hunting trip to Botswana, seen as an unacceptable extravagance during a recession.
The Botswana trip, which came to light after he broke his right hip and was flown home for surgery, undermined the king's earlier declarations that he lost sleep thinking about unemployed young people.
Amid signs that public opinion for the monarchy was slipping in the economic crisis, the king apologized publicly for the trip as he emerged from hospital on crutches.
His medical problems raised further questions over his reign.
Between May 2010 and November 2013, he had surgery 9 times: on a benign lump in his lung, his right knee, an Achilles tendon, a slipped disc, two operations on his right hip and 3 on his left.
In a poll published in January 2014 by center-right newspaper El Mundo, the number of people with a high or very high opinion of the king fell 9 percentage points over 2013 to 41 percent.
The number of people wanting him to abdicate in favour of his son Prince Felipe, 46, surged by 17 percentage points to 62 percent, according to the survey by pollster Sigma Dos.
Televised address
Following is the full text of Spanish King Juan Carlos's televised address to the nation Monday, announcing his abdication in favor of Crown Prince Felipe:
"I come to you this morning with this message to tell you, with singular emotion, of an important decision and the reasons that moved me to take it.
In my proclamation as king, nearly four decades ago now, I assumed a firm commitment to serve the general interests of Spain, with the desire that citizens would be the protagonists of their own future and that our nation would become a modern democracy, fully integrated into Europe.
I intended then to lead the exciting national task that allowed citizens to choose their legitimate representatives and carry through that great and positive transformation of Spain that we so needed.
Today, when I look back, I can only feel pride and gratitude to you.
Pride for the many good things we have achieved together over the years.
And gratitude for the support you have given me to make my reign, begun in full youth at a time of great uncertainties and difficulties, a long period of peace, stability and progress.
Faithful to the political desire of my father, the Count of Barcelona, from whom I inherited the historic legacy of the Spanish monarchy, I wanted to be king for all Spaniards. I have identified with and engaged with your hopes, I have enjoyed your successes and suffered when pain or frustration overwhelmed you.
The long and deep economic crisis we are suffering from has left serious scars in the social fabric but it is also showing us the way to a future full of hope.
These difficult years have allowed us to take self-critical stock of our errors and our limitations as a society.
And, as a counterweight, it has also revived the proud awareness of what we have been and are capable of; and of what we have been and are: a great nation.
All this has awakened in us an urge for renewal, to overcome, to correct mistakes and open the way to a decidedly better future.
Today a younger generation deserves to take the front line, with new energies, resolute in undertaking with determination the transformations and reforms that this moment in time demands and to confront tomorrow's challenges with renewed intensity and dedication.
In forging this future, a new generation is rightly claiming its role as protagonist, just as happened in a crucial moment of the history of the generation to which I belong.
My only ambition has been and will continue to be to contribute always to achieve the well-being and progress in freedom of all Spaniards.
I want the best for Spain, to which I have dedicated my entire life and to whose service I have placed all my abilities, my hope and my work.
My son Felipe, heir to the Crown, embodies the stability that is the distinguishing mark of the monarchical institution.
When last January I turned 76, I thought it was time to prepare the handover in a few months so as to leave the way to someone who is in excellent condition to assure that stability.
The Prince of Asturias has the maturity, the readiness and the sense of responsibility needed to take on with full guarantees the leadership of the state and open a new phase of hope combining experience and the drive of a new generation. For that, I know he will count on the support that he will always have from Princess Letizia.
For all these reasons, guided by the conviction of having given my best service to the Spanish people and having recovered physically and resumed my institutional activities, I decided to put an end to my reign and abdicate the Crown of Spain so that the government and parliament can give effect to the succession in line with the constitution.
I have just officially informed the president of the government of this, this morning.
I would like to express my gratitude to the Spanish people, to all who have embodied the powers and institutions of the state during my reign and to all those who have generously and loyally helped me to fulfil my duties.
And my gratitude to the Queen, whose help and generous support have never failed me.
I hold and will always hold Spain deep in my heart." – Rappler.com