Pakistan's government and opposition groups made little headway in overnight talks aimed at dispersing protesters seeking the fall of Prime Minister Nawaz Sharif
ISLAMABAD, Pakistan – Pakistan's government and opposition groups made little headway in overnight talks aimed at dispersing protesters seeking the fall of the prime minister, as their negotiations entered a fourth day on Saturday, August 23.
Cricketer-turned-politician Imran Khan and populist cleric Tahir-ul-Qadri have led thousands of supporters demonstrating outside the legislature this week calling for Prime Minister Nawaz Sharif to go.
A government delegation met Qadri's team early on Saturday to discuss the demands of the cleric's Pakistan Awami Tehreek (PAT) movement, but the PAT came away dissatisfied. (READ: Pakistan begins talks to end protest crisis)
"We believe in (the) dialogue process but it seems the government team did not come with a clear mandate," Rahiq Abbasi, a member of Qadri's team, told reporters after the talks.
"We don't think they are serious in carrying forward the process," he added.
Their talks were again dominated by the issue of the alleged murder of at least 10 PAT workers in clashes with police in Lahore in June, for which Qadri wants arrests made and a legal case launched.
Khan's Pakistan Tehreek-e-Insaaf (PTI) held their own talks with the government late on Friday, which proved equally fruitless.
Those talks came hours after the PTI, the third largest party in the National Assembly, submitted the resignations of their 34 lawmakers in the assembly to the parliament's speaker.
The letters are to be opened and verified Monday, speaker Ayaz Sadiq told private Geo television, ultimately triggering by-elections unless they are withdrawn.
PTI vice chairman Shah Mehmood Qureshi told reporters the next round of talks would be held later on Saturday.
Khan insists the May 2013 general election, which swept Sharif to power in a landslide, was rigged and therefore the prime minister should step down, though observers rated the vote free and credible. (READ: Pakistan's Khan vows to lead protests until PM quits)
Clout in Qadri, Khan combination
Ahsan Iqbal, a government minister and member of its negotiating team, claimed meetings with the two groups had made progress, without elaborating, and added "We have agreed the talks will continue".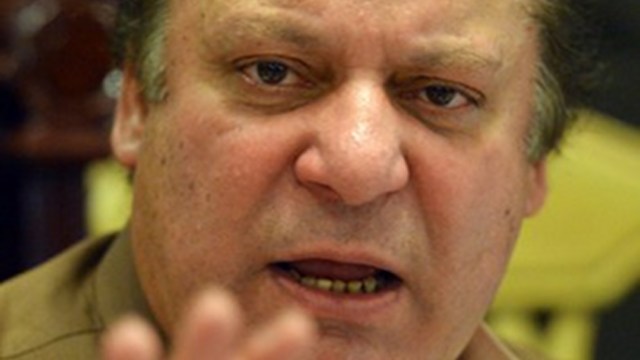 Sharif's Pakistan Muslim League-N (PML-N) party insist he will not quit and accuse the protesters of undermining the country's fragile democracy.
Qadri and Khan's protest movements are not formally allied and have different goals, beyond toppling the government. But their combined pressure – and numbers – have given extra heft to the rallies.
If one group were to reach a settlement with the government and withdraw, the other's position would be significantly weakened.
The standoff has raised fears of possible military intervention in the country, which has seen three coups since its creation in 1947.
However, analysts say the army is more likely to use the crisis to assert influence behind the scenes than stage an outright power grab.
Neither movement has mobilised mass support beyond their core followers, and opposition parties have shunned Khan's call to unseat the government and begin a campaign of civil disobedience.
Maulana Fazalur Rehman, chief of the religious Jamiat Ulema-e-Islam (JUI-F) party, said the protests had no support from the majority of Pakistan's 180 million population.
"They have been isolated and people of Pakistan have rejected them – there are maximum 5,000 to 6,000 people combined with them at night," he told Agence France-Presse (AFP).
 Military in the shadows
Despite rumours that the military had some hand in the protests, the Minister for Water and Power Abid Sher Ali, a PML-N stalwart, insisted there was "no pressure on us from any state institution to resign."
"It is the imagination of some lawless and outside elements camping out there," he told AFP.
But if a full-blown coup d'etat looks unlikely – such a move could jeopardize billions of dollars in foreign assistance and trade deals – analysts say the crisis will leave Sharif weakened.
"The protests rocking Islamabad threaten to upend the constitutional order, set back rule of law and open the possibility of a soft coup, with the military ruling through the backdoor," the International Crisis Group wrote.
Sharif has a history of testy relations with the military – his second term as prime minister ended abruptly in 1999, when then-army chief Pervez Musharraf seized power in a coup.
His government is thought to have angered the military by pursuing criminal cases against Musharraf dating back to his 1999-2008 rule, including treason charges.
The PM has also pursued better relations with arch-rivals India, whose perceived military threat is an important justification for the Pakistani army's large budget allocation. – Rappler.com