(UPDATED) The 29-year-old securities trader is accused of killing two young Indonesian women whose bodies were found at his upmarket apartment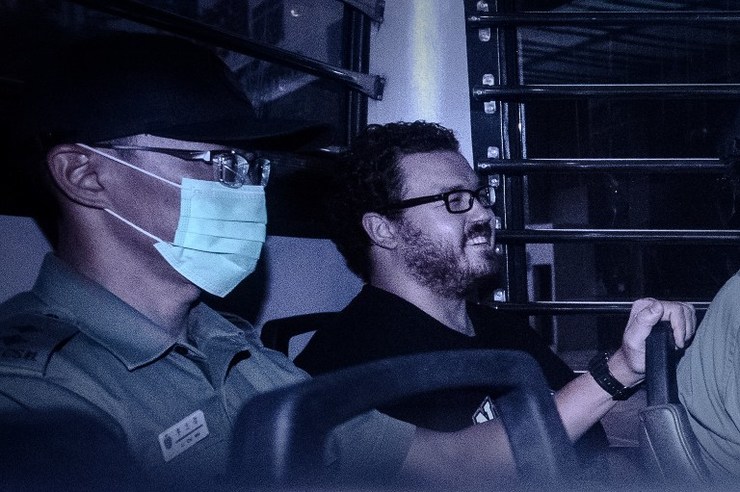 HONG KONG (UPDATED) – A British banker charged with the grisly murders of two women flashed a smile as he left a Hong Kong court Monday, November 10, after his case was adjourned so he can undergo psychiatric evaluation.
The 29-year-old securities trader who until recently worked at Bank of America Merrill Lynch, is accused of killing two young Indonesian women whose bodies were found at his upmarket apartment in the southern Chinese city.
As the victims' mutilated bodies were due to be flown home to Indonesia, Rurik Jutting shot a grin from the back of a prison van following the hearing.
The case was "adjourned… for two psychiatric reports on the defendant's fitness to plead", said principal magistrate Bina Chainrai.
Reports by two different doctors are required under Hong Kong law, prosecutor Louise Wong told Agence France-Presse.
Jutting is being held at Hong Kong's maximum security Siu Lam psychiatric center, Wong confirmed.
Siu Lam holds male and female prisoners and detainees "who require psychiatric observation, treatment, assessment or special psychological care," according to its website.
Jutting, who was in court Monday, will be remanded in custody and will next appear on November 24, Chainrai said.
Bearded and wearing black-rimmed glasses, he remained impassive during the brief hearing at Hong Kong's Eastern Magistrate's court – his second appearance after being charged with the murders a week ago. 
Jutting spoke only once to say "I do" when the magistrate asked him whether he understood the arrangements. 
Prosecutor Wong told the court that a reconstruction of the crime "has not yet been conducted because the defendant did not give consent".
The defendant's consent is required for a reconstruction to go ahead, Wong told Agence France-Presse after the hearing.
"We can't force him," she added.
Defence lawyer Tim Parker said that Jutting had not agreed to a reconstruction "yet" – but may do in future.
Parker also applied to obtain video recordings of interviews police had conducted with Jutting. 
As he sat in a prison van leaving the hearing, Jutting broke his serious demeanor, cracking a wide smile as he looked ahead and to the side towards a security guard.  
Victims' tragic journey home
The bodies of Seneng Mujiasih and Sumarti Ningsih, both Indonesian and in their 20s, are due to be flown home Tuesday morning, November 11, Indonesian consulate officials in Hong Kong told Agence France-Presse.
Their corpses were discovered after Jutting called police to his flat in the city's Wanchai neighborhood in the early hours of November 1. 
Seneng was found naked in the living room, with knife wounds to her neck and buttocks.
Sumarti's decaying body was found hours later by police, stuffed into a suitcase on the apartment's balcony.
According to court documents, she was killed days earlier on October 27.
Police are investigating whether the victims were sex workers. 
Wanchai is known for its late-night drinking holes popular with expatriate revelers, and is home to a thriving red light district.
High-flyer Jutting was a pupil at the exclusive English boarding school Winchester College before studying history and law at Cambridge University.
On October 27 he posted on his Facebook page that he was embarking on a "new journey". 
"Stepping down from the ledge. Burden lifted; new journey begins. Scared and anxious but also excited. The first step is always the hardest," he wrote.
On that same date, his license from the Hong Kong Monetary Authority for dealing in and advising on securities was cancelled, according to its website.
Jutting's three licenses for dealing in securities and futures contracts with the city's Securities and Futures Commission also ended on October 28, according to its website. – Rappler.com