Mary Jane Fiesta Veloso's lawyers argue that she deserves a case review because of this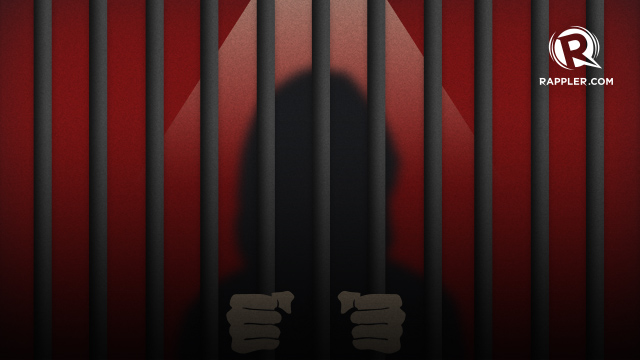 JAKARTA, Indonesia – When Philippine citizen Mary Jane Fiesta Veloso was tried, convicted and sentenced to death in 2010 for smuggling heroin into Indonesia, the translator provided her was only a student.
Lawyers for Veloso, a 30-year-old single mother of two, told the Sleman District Court in Yogyakarta on Tuesday, March 3, that this should be grounds to grant the request for her case to be reviewed by the Supreme Court. (READ: Court to hear case review request of Filipina on Indonesia death row)
If the court's three judges don't agree, Veloso will be sent to face the firing squad on Nusakambangan prison island along with 9 other convicts, including the Bali Nine pair from Australia. A case review request is the final legal option open to her. (READ: Australians to be moved to Indonesia execution site Wednesday)
'Only Tagalog'
"The defendant does not speak English and Indonesian. She can only use Tagalog, but she was not provided a competent interpreter," lawyer Agus Salim told the court, according to Okezone.com.
The interpreter provided, who translated from Bahasa Indonesia to English, was a student and did not have a license from the Association of Indonesian Translators, he added. Legal proceedings in Indonesia are all conducted in the Indonesian language.
Veloso, who comes from a poor family in Cabanatuan, Nueva Ecija, only made it to the first year of high school. She was in Malaysia supposedly to work as a domestic helper, but her would-be employer failed to meet her, the court heard on Tuesday. With two children back home, she agreed to go to Indonesia.
She was only supposed to bring the suitcase with her on board the April 25, 2010, AirAsia flight from Kuala Lumpur to Yogyakarta, and someone was supposed to pick her up at the airport and get the package from her.
But that last part never happened, because she was arrested before exiting the airport. Concealed inside the suitcases were packs of heroin wrapped in aluminum foil estimated to have a street value of IDR6.5 billion at the time (about $500,000 today).
Veloso maintains she did not know the suitcase contained heroin, according to local news outlet Radar Jogja. But subsequent appeals have failed and, in January, President Joko "Jokowi" Widodo rejected her clemency request along with all others from drug convicts as part of his new administration's harsh stance on the death penalty.
'No correlation'
Prosecutors did not agree with Veloso's lawyer, however. Any objection to the translator should have been filed at the beginning of the first trial, prosecutor S Anggraeni said.
"The translator was also sworn in," he added, according to Okezone. "There are no rules about the interpreter having to meet certain qualifications."
There was also no correlation between the status of the translator and the substance of the trial, he said, arguing that this meant Veloso's lawyers failed to present new evidence – the requirement for a case review to be granted.
The trial will resume on Wednesday, with Veloso's camp expected to present witnesses to bolster her case.
Indonesia's Attorney General has previously stated that Veloso was included in the next batch of 10 drug convicts to face the firing squad – the only woman and the convict who has spent the shortest time on death row in the list.
However, Philippines Foreign Affairs spokesman Charles Jose said the execution had been "deferred because of the judicial review we requested." (READ: PH seeks case review of Filipina on Indonesia's death row)
During a state visit to the Philippines on February 9, Jokowi and Philippines President Benigno Aquino III signed 4 agreements, including one to combat illegal drug-trafficking. Contrary to previous reports, Charge d'Affairs Roberto G. Manalo of the Philippine Embassy said Aquino brought up Veloso's case with Jokowi during the visit.
Jokowi has issued a blanket rejection of all clemency requests from drug convicts on death row, citing Indonesia's drug emergency, despite mounting international pressure and calls for him to consider each case on its own merit. – Rappler.com
Editor's Note: An earlier version of this story said Veloso was widowed and that she graduated from high school. The Philippine embassy in Indonesia has clarified that she was left by her husband and that she only made it to the first year of high school.