One year after a magnitude 7.2 earthquake shook Central Visayas, only half of the P12 billion needed to rehabilitate the worst-hit province has been released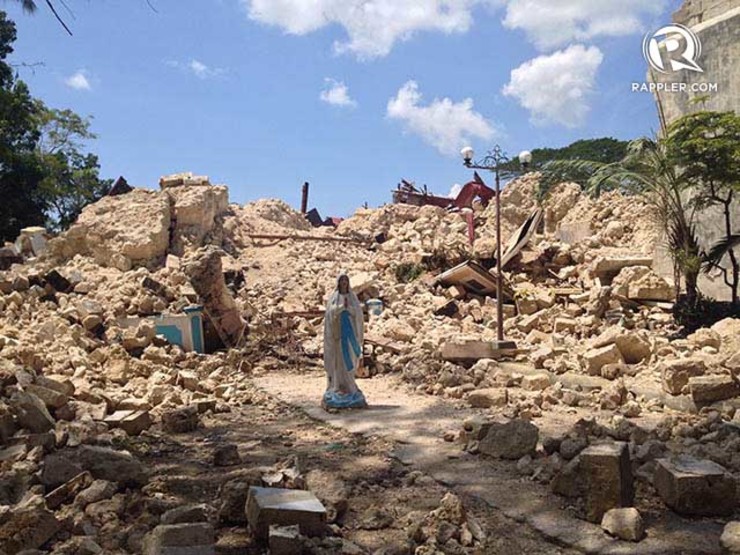 MANILA, Philippines – People fleeing their homes in panic, centuries old churches in ruin, and towns suddenly cut off from the rest of the world. These were the images that gripped a nation on October 15, 2013.
At 8:12 am that Tuesday, a magnitude 7.1 earthquake hit Central Visayas – the strongest to hit the Philippines in more than two decades. It left several towns in the provinces of Bohol and Cebu in ruin. Of the 222 who died, according to the count by the national disaster management body, 209 were in Bohol. 
A year later, only about half of the funds needed for the rehabilitation of Bohol, the quake's center, has reached the province. A lot needs to be done, Bohol Governor Edgar Chatto told Rappler on Tuesday, October 14. 
Bohol needs an estimated P12 billion ($267.44 million)* to rebuild the towns devastated by the earthquake. Of this, approximately P6 billion ($133.72 million) has been released by the national government and private and international donors, and cascaded to local government units (LGUs).
Prioritize infrastructure work
Bohol and parts of Cebu affected by the quake were placed in a difficult situation. Barely two months after the quake hit, Typhoon Yolanda (Haiyan) barrelled through the Eastern Visayas, leaving towns and cities unrecognizable.
Rehabilitation plans for Yolanda-hit areas became the national government's priority, although President Benigno Aquino III assured Bohol that it would not be left behind.
"Bohol is moving on and we are trying to fast-track the process of rehabilitation after the earthquake. We are in different stages in terms of recovery," Chatto told Rappler in a phone interview.
The province's rehabilitation plan is divided into several key areas of concern: agriculture, infrastructure, economy, education, tourism, health, and the like.
Chatto said among their areas of concern, it's the economy that's doing the best. Although tourists were initially weary of visiting the province after the quake, many of its attractions – save for the centuries-old churches – remain largely unaffected.
It's infrastructure that is left wanting.
---
Many local government buildings, such as the Tubigon municipal hall, were damaged extensively by the quake. 
October 2013 file photos by Franz Lopez/Rappler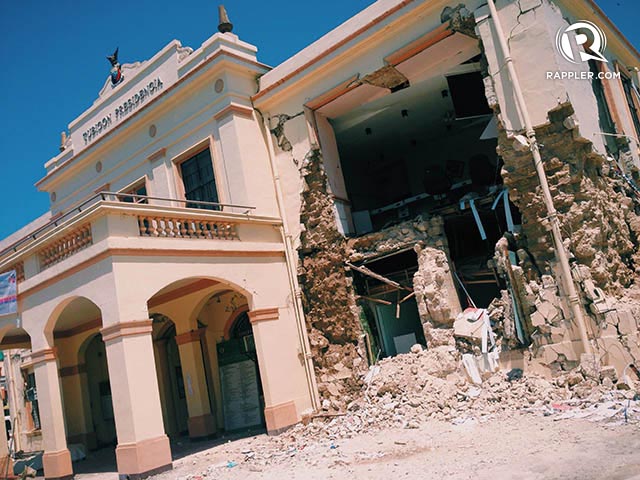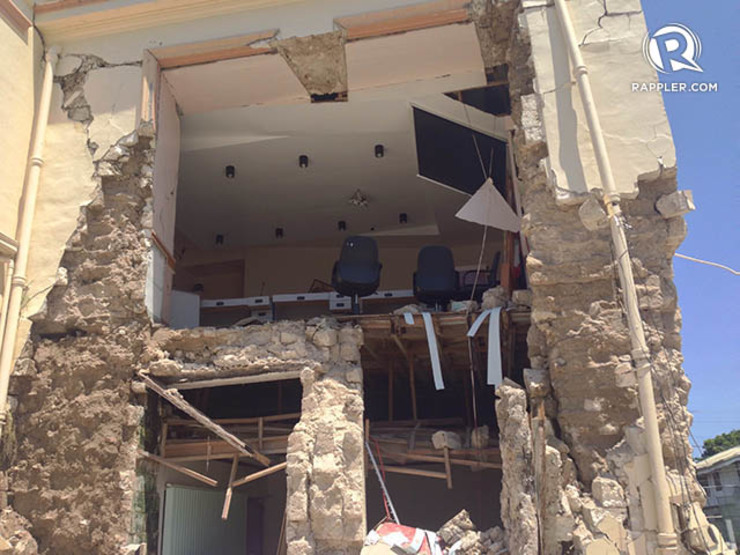 In June 2014, the national government through the Department of the Interior and Local Government (DILG) and Department of Budget and Management (DBM) turned over some P2.5 billion to the provincial government for the local infrastructure fund.
It's badly needed, especially in the 3rd or 4th class municipalities worst-hit by the earthquake.
When Rappler visited several Bohol municipalities months after the quake, most LGUs had to hold fort in makeshift tents or shuffle rooms around to accommodate crucial offices displaced by the quake.
All in all, 17 of Bohol's towns are part of the province's rehabilitation plan. They are: Buenavista, Clarin, Corella, Sevilla, San Isidro, Catigbian, Loon, Danao, Balilihan, Maribojoc, Cortes, Antequera, Sagbayan, Tubigon, Inabanga, Carmen, Calape.
According to a Philippine Daily Inquirer report, the situation remains largely unchanged for many municipalities. Local officials in Sagbayan, the epicentre of the quake, told Inquirer they have yet to receive some P242 million allocated to repair houses, classrooms, and public buildings.
Maribojoc Mayor Leoncio Evasco Jr also told the paper he was "annoyed" by the slow release of funds from national government.
What's the hold-up?
Funds from national government will be released through various agencies. The breakdown is as follows, according to the "Post-Great Bohol Earthquake Rehabilitation Plan":
PROPOSED LOCAL PRIORITY REHABILITATION PROJECTS UNDER NATIONAL AGENCIES

IMPLEMENTING AGENCY

AMOUNT

Department of Social Welfare and Development 

P1.598 billion

Department of Health

P680.68 million

Department of the Interior and Local Government

P793.61 million

Department of Public Works and Highways 

P1.1 billion

Department of Tourism

P181.16 million

Department of Agriculture

P421.28 million

Bureau of Fisheries and Aquatic Resources

P60.91 million

National Irrigation Authority

P53.5 million

Department of Transporation and Communications- Philippine Ports Authority

P109.9 million 

TOTAL

P5 billion
PROPOSED NATIONAL GOVERNMENT PRIORITY REHABILITATION PROJECTS

IMPLEMENTING AGENCY

AMOUNT

Department of Social Welfare and Development 

P7.54 million

Department of Education

P1.183 billion

Department of the Interior and Local Government

P41.16 million

Department of Public Works and Highways 

P3.888 billion

Department of Agriculture

P507.46 million

Bureau of Fisheries and Aquatic Resources

P33.71 million

Department of Transporation and Communications- Philippine Ports Authority

P737.03 million

State University and Colleges

P133.4 million

Philippine National Police

P32.88 million 

Bureau of Fire Protection

 P11.52 million

National Historical Institute and National Commission for Culture and the Arts

P736.87 million 

TOTAL

P7.313 billion
Delays in infrastructure projects are caused by several factors. There's the bureaucratic process – LGUs submits plans to the provincial government, which in turn submits it to the national government.
In between those submissions are site checks by government engineers to check if the projects listed are needed and if the amounts specified are accurate.
"Kung meron mang hindi pa na-approve ang program of work…dahil kailangan siyang i-review ng DILG and DPWH engineer," said Chatto, referring to the program of work when it comes to local infrastructure. (If some program of works aren't approved it's because it needs to be reviewed by the DILG and DPWH.)
No bottlenecks 
Chatto said all of the LGUs listed in the recovery plan have received some national government funds in one way or another but, he said, funds cannot be released at the same time.
"Iba't iba rin yung level na natanggap nila (They received different levels of help)," said the governor.
There's a practical reason behind it, the governor explained: they want to avoid a shortage of supply in the province. There are also other forms of assistance that are equally important.
Chatto, an ally of the President, said the national government and non-governmental groups also extended aid to poor municipalities by sending experts to help craft post-disaster assessments for them.
What's important, said Chatto, is that different agencies and groups are mobilizing together at the same time. This prevents bottlenecks in the process, he said. 
In a perfect world, LGUs said they need from P100 million ($2.2 million) to P500 million ($11.1 million) each to "build back better." It's an amount can't imagine and certainly, don't have at their disposal.
---
The Our Lady of Light Parish Church in Loon, Bohol was completely damaged after the quake. Days later, rescuers unearth images of Jesus and Mother Mary. October 2013 file photos by Franz Lopez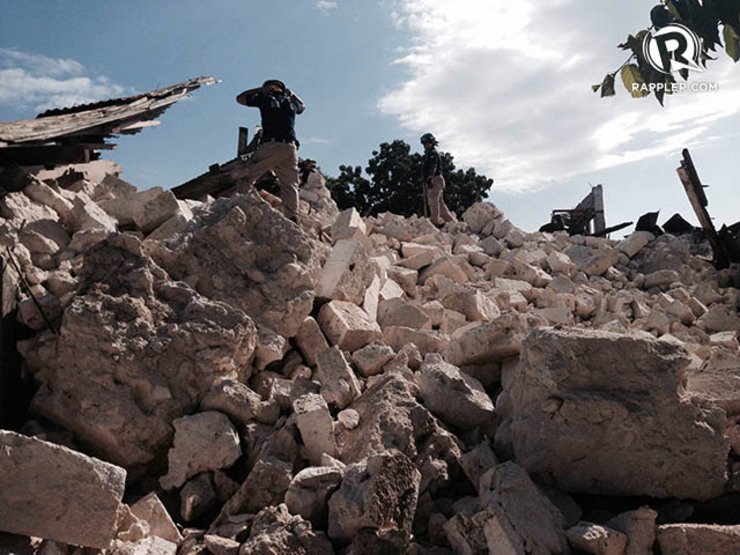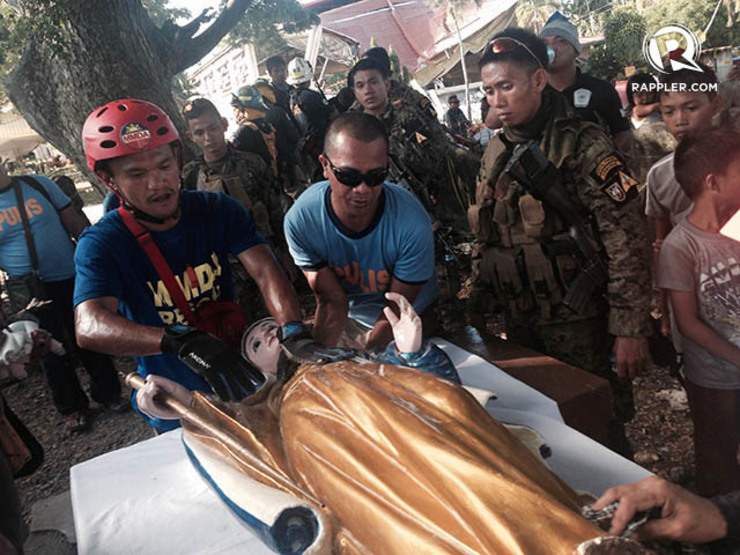 The town of Calape, for instance, is worried how and where they will get an estimated P20 million to rehabilitate facilities in the town's 33 barangays. Barangay halls, day care centers, and health centers were damaged during the earthquake.
Calape Mayor Sulpicio Yu told Rappler in December 2013 that with an internal revenue allotment (IRA) of only P45 million, the 3rd class municipality's funds won't be enough for rebuilding. The barangays have even less income.
In some cases, buildings simply cannot be constructed even if the funds are ready. Some areas need to wait for the Mines and Geoscience Bureau (MGB) to give a go-signal to build.
The Philippine Institute of Volcanology and Seismology earlier said it would take at least a year before parts of Bohol could be assessed and ready to be built on again, said Chatto.
Aftershocks are still felt in some parts of the province, although they aren't as strong as before. According to the Phivolcs site, the last recorded quake in the province was on October 8, 2014, in Sagbayan. 
Thousands of earthquake survivors have yet to move in to new homes. Life is simply not the same for many of them.
Memories of the quake are seared into the mind of 49-year-old Alberta Renublas from Antequera town, for instance. Months after the quake, Renublas told Rappler even a loud noise or a slight tremor – aftershocks of the strong quake – put her in a panic.
"Makuyawan ko kay unya'g dili na mu-stop," she said. (I get scared because what if it doesn't stop this time.) – Rappler.com
*US$1 = P44.9