Flag carrier Philippine Airlines resumes most flights on Tuesday, December 9, after cancellations that affected around 13,000 passengers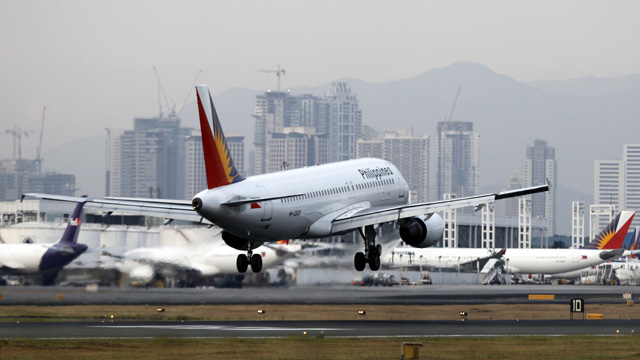 MANILA, Philippines – Philippine Airlines (PAL) intends to resume normal operations on Tuesday, December 9, after many of its flights were stalled by Tropical Storm Ruby (Hagupit).
Except for domestic flights to Tacloban, PAL said all its flights will be back to normal beginning 12 noon on Tuesday. These include its long haul services from Manila to Los Angeles and San Francisco, PAL said in a statement.
"The early morning arrivals of the two trans-Pacific flights for December 9 are expected to arrive at 8:00 am," it said.
Also, some of its aircraft which were transferred to 7 domestic stations  in the country will return to Manila by Tuesday. The aircraft carries stranded passengers who were ferried to different stations to evade strong winds brought by Ruby. 
Ruby is expected to be out of the Philippine Area of Responsibility (PAR) by Wednesday evening, according to state weather bureau PAGASA. It is still moving toward the west northwest, but is now moving faster at a speed of 13 kilometers per hour. 
Since Saturday, December 6, more than 110 flights of PAL were cancelled due to Ruby, which was downgraded from typhoon to tropical storm Monday noon.
Around 13,000 passengers were affected by the cancellations, PAL said.
As a remedy, it offered them a chance to rebook flights within 30 days at no cost.
Other local carriers, including Cebu Pacific Air, have not yet followed suit though and continued to issue travel advisories.
Cebu Pacific's Manila-Busuanga service for Tuesday is cancelled, while its Cebu-Tacloban service is postponed until December 14.
Flights to Tacloban's Daniel Romualdez Airport are limited to aircraft with turbo propeller engine as it continues to be restored from damage due Super typhoon Yolanda.
For list of cancelled flights for Tuesday, December 9, click here. – Rappler.com