WHAT YOU NEED TO KNOW
US President Donald Trump and his Democratic rival Joe Biden are facing off for their final presidential debate at 9 am on Friday, October 23 (Manila time). Who will win the hearts of voters?
Bookmark and refresh this page for the latest updates and analysis on the final debate between Trump and Biden.
LATEST UPDATES
Biden warns of 'dark winter' of COVID-19 in final Trump debate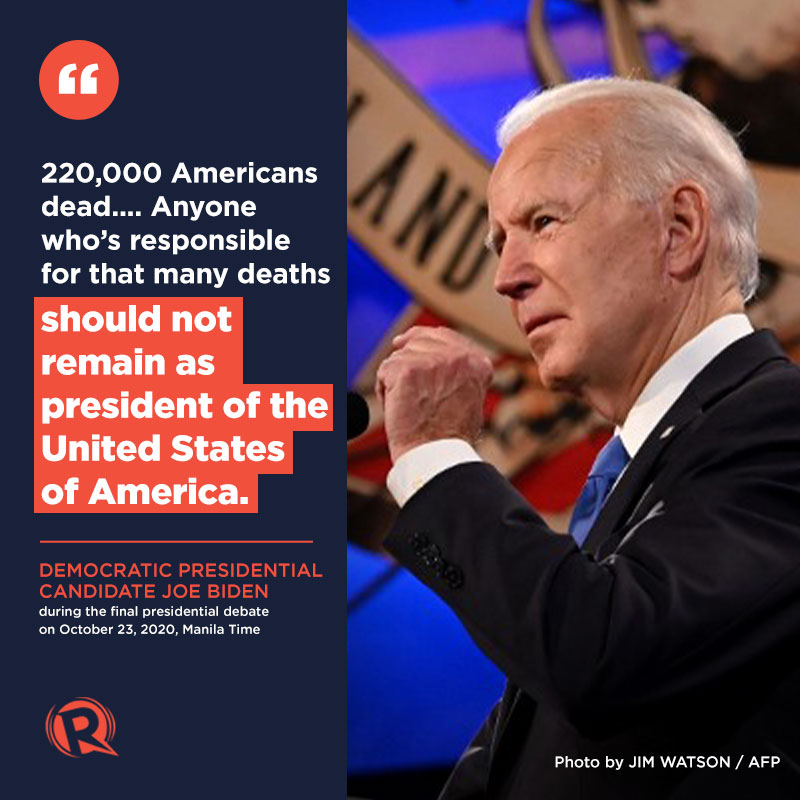 Joe Biden assailed President Donald Trump as having no plan to stop a "dark winter" of coronavirus deaths as they sparred in their last head-to-head clash 12 days before the election.
Read more here.
Biden to America: I'm gonna give you hope
For the debate's final question, Biden is asked he would say during his inaugural address to Americans who did not vote for him.
"I'm an American president. I represent all of you, whether you voted for me or against me, and I'm gonna make sure you're represented. I'm gonna give you hope. We're gonna choose science over fiction. We're gonna choose hope over fear. We're gonna choose to move forward because there are enormous opportunities to make things better. We can grow this economy, we can deal with systemic racism, and at the same time, we can make sure that our economy is being run, and moved, and motivated by clean energy, creating millions of new jobs."
"What is on the ballot here is the character of this country: decency, honor, respect, treating people with dignity, making sure that everyone has an even chance – and I'm gonna make sure you'll get that. You haven't been getting it the last 4 years."
Biden: People with drug, alcohol problems should go to treatment, not jail
Biden said it was a "mistake" when senators passed in the '80s a bill on "how to deal with drugs."
"We should not send anyone to jail for a pure drug offense, [they] should go to treatment. They should not be going to jail for drug or alcohol problems, they should be going to treatment…. It was a mistake to pass those laws related to drugs."
Trump on climate change: Look at 'filthy' China, India
On the issue of climate change, President Trump says: "I do love the environment."
"We have the best carbon emission numbers…. Look at China, how filthy it is. Look at India, the air filthy. I took us out of the Paris Accord because I don't want to spend 3 trillion."
"I will not sacrifice thousands of companies because of the Paris Accord. It was so unfair."
Biden on race in America
During the debate, Biden said there is institutional racism in America.
"We have to provide for economic opportunity, better education, better health care, better access to schooling, better access to opportunity  to borrow money to start businesses. I've laid out a clear plan as to how to do those things just to give people a shot. It's about accumulating the ability to have wealth as it is to be free from violence."
Trump: 'I am the least racist person in this room'
"I can't even see the audience because it is so dark."