WHAT YOU NEED TO KNOW
The crash of Sriwijaya Air Flight SJ 182 on Saturday, January 9, with 62 people on board, compounds the list of mishaps Indonesia is facing in a period of pandemic. The archipelago, the most populous in Southeast Asia, also owns the ignominy of being the country with most COVID-19 fatalities
In other countries in the region, the race is on to acquire coronavirus vaccines and fast-track vaccination programs.
Bookmark and refresh this page for updates and analyses of the latest news in Brunei, Cambodia, Indonesia, Laos, Malaysia, Myanmar, the Philippines, Singapore, Thailand, and Vietnam.
LATEST UPDATES
THAILAND: Protesters accuse authorities of abduction, intimidation
Thai police said on Monday, January 18, they were investigating a complaint by a political activist who said he had been abducted by a group of unknown men and then questioned inside a van for 12 hours before being dumped on the street.
Mongkol Santimetakul, 25, a volunteer guard for the protest movement, said at around 11 p.m. on Saturday, January 16, on a street near his home in a province south of Bangkok he was bundled into a van by the men who placed a hood over his head and confiscated his phone.
He said he was asked about an anti-monarchy sign that was erected by protesters in a nearby area.
"I was told to sign some document, which I refused and also told to cease all activism," Mongkol told Reuters.
Youth-led protests since last year have been demanding the resignation of the military-backed prime minister, who first came to power in a coup, and also reforms to Thailand's powerful monarchy.
Mongkol, who filed a police complaint after he said he was dumped on the street around noon the next day, pledged to continue his activism.
Deputy Police spokesman Kissana Phathanacharoen said the alleged abduction was not conducted by police and an investigation was ongoing.
The Internal Security Operations Command, a military-linked security agency, also released a statement denying involvement after accusations against the agency appeared on social media.
Protesters also accused authorities of intimidation tactics after alleging police detained at least two other volunteer guards at the weekend, initially denying them access to a lawyer, before both were freed.
"These tactics by the authorities will only generate more anger among the protesters," Piyarat Chongthep, a protest leader, told Reuters.
Yingcheep Atchanont of the legal monitoring group iLaw said anyone who was arrested should have the right to see their lawyer or a relative before being charged.
Police declined to comment when asked by Reuters about the alleged intimidation tactic.
As floods hit Borneo, Indonesia urged to boost climate action under Paris accord
Deadly floods across parts of Indonesia are a stark reminder of the climate change risks facing the Southeast Asian nation, environmentalists said on Monday, January 18, urging the government to be more ambitious in its efforts to cut planet-heating emissions.
South Kalimantan on Borneo island declared a state of emergency last week, after heavy rainfall and flooding since the start of the year displaced tens of thousands of people.
Indonesian President Joko Widodo was due to visit the worst-hit areas on Monday.
Yuyun Harmono, climate justice campaign manager at the Indonesian Forum for the Environment (WALHI), said the floods are "an indication that the government should have more ambition in their climate policies."
The archipelago is already suffering the impacts of rising global temperatures, with its cities and coastal areas hit by regular flooding and rising sea levels.
"Indonesia is one of the countries that is very vulnerable to the climate crisis," said Adila Isfandiari, climate and energy researcher at Greenpeace Indonesia.
"It is rooted in the position of the government that prioritizes economic growth over the environment," she told the Thomson Reuters Foundation.
Under the 2015 Paris Agreement to curb global warming, Indonesia – among the world's biggest greenhouse gas emitters – committed to cut its emissions by 29% by 2030 versus business-as-usual levels, a target it said could rise to 41% with international support.
Earlier this month, a climate official at Indonesia's environment and forestry ministry told Antara news agency the country would not increase its emissions reduction goals further in an updated climate action plan due to be submitted ahead of a U.N. climate summit in November, as nations are expected to do.
Ruandha Agung Sugardiman, director general of climate change control, said Indonesia would instead focus on implementation and steps to meet its existing commitments.
Home to the world's third-largest tropical forests, Indonesia is the biggest global producer of palm oil and a major source of timber, which many green groups blame for the clearing of forests for plantations.
Emissions race
According to analysis by research coalition Climate Action Tracker, Indonesia's current climate policies are "highly insufficient" and emissions are still climbing.
Indonesia was 1 of only 5 countries that started new coal-power plant construction in 2020, it noted.
"The government must introduce policy to reduce total emissions in order to meet the Paris climate goals, but the emissions in Indonesia are on an upwards trajectory," said Sisilia Nurmala Dewi, Indonesia team leader at climate campaign group 350.org.
The government has, nonetheless, worked in recent years to stop illegal logging, protect its carbon-storing forests and meet its international pledges to tackle climate change.
Besides introducing a moratorium on new forest clearance, in the past 5 years it has allocated on average nearly 90 trillion rupiah ($6.4 billion)* per year to tackle climate change, although that dropped to around 80 trillion rupiah in 2020 due to the COVID-19 pandemic.
New laws to cut red tape and boost investment and mining, introduced last year, were criticized by environmentalists who said they would fuel more forest-clearing and fires.
WALHI's Harmono called on the government to stop issuing new permits for coal mining, ban coal-power plants, cease oil exploration and prepare green energy transition policies for the next 10-15 years that prioritize renewables.
"Developed countries should increase their (emissions reduction) commitments by 3 or 4 times – but for developing countries like Indonesia, we also have to be included in that race to increase our ambition," he said.
$1 = 14,060.0000 rupiah
THAILAND: Private hospitals reserve COVID-19 vaccines ahead of approval
Two private hospitals in Thailand have ordered millions of doses of coronavirus vaccines ahead of regulatory approval, adding to government orders of vaccines as the Southeast Asian country tackles a second wave of the virus.
"We ordered one million doses of the Sinovac vaccine with an option to buy 9 million more," Boon Vanasin, the chairman of Thonburi Healthcare Group Pcl, told Reuters.
From the initial one million doses, he plans to use about half to inoculate staff in its network of 40 hospitals and workers in his other businesses, once receiving approval from Thailand's Food and Drug Administration (FDA).
The Thai government has separately ordered two million doses from China's Sinovac Biotech and expects delivery of 200,000 doses with plans to inoculate frontline workers and medical professionals in high-risk areas next month.
The government has also ordered 61 million doses of the AstraZeneca vaccine, which will be produced by local firm Siam Bioscience for domestic use and export.
"We can't just wait for the government," Boon said, adding that it was not clear how many doses from the government's vaccine stockpile would reach private hospital workers.
For patients, Thonburi's medical centers plan to offer two vaccine injections for 3,200 baht ($106.28).
"We cannot take a profit here because it is a humanitarian issue for the country," he said.
For most of last year, Thailand kept the number of coronavirus cases low, but a second outbreak in December has brought confirmed infections to 12,423 with 70 deaths.
Another private hospital, Vibhavadi Medical Center Pcl , has ordered 10,000 doses of the Moderna vaccine, managing director Chaisit Kupwiwat, told Reuters.
So far, Thailand's FDA has received registration requests for the Sinovac and AstraZeneca vaccines.
Thailand is expected to approve one of the vaccines this week for emergency use, Opas Karnkawinpong, director-general of the Department of Disease Control, told a briefing without elaborating.
Last week, the FDA said it was processing AstraZeneca's request, which it expected to approve soon.
$1 = 30.1100 baht
MALAYSIA: Top Glove reports COVID-19 outbreak at 4 factories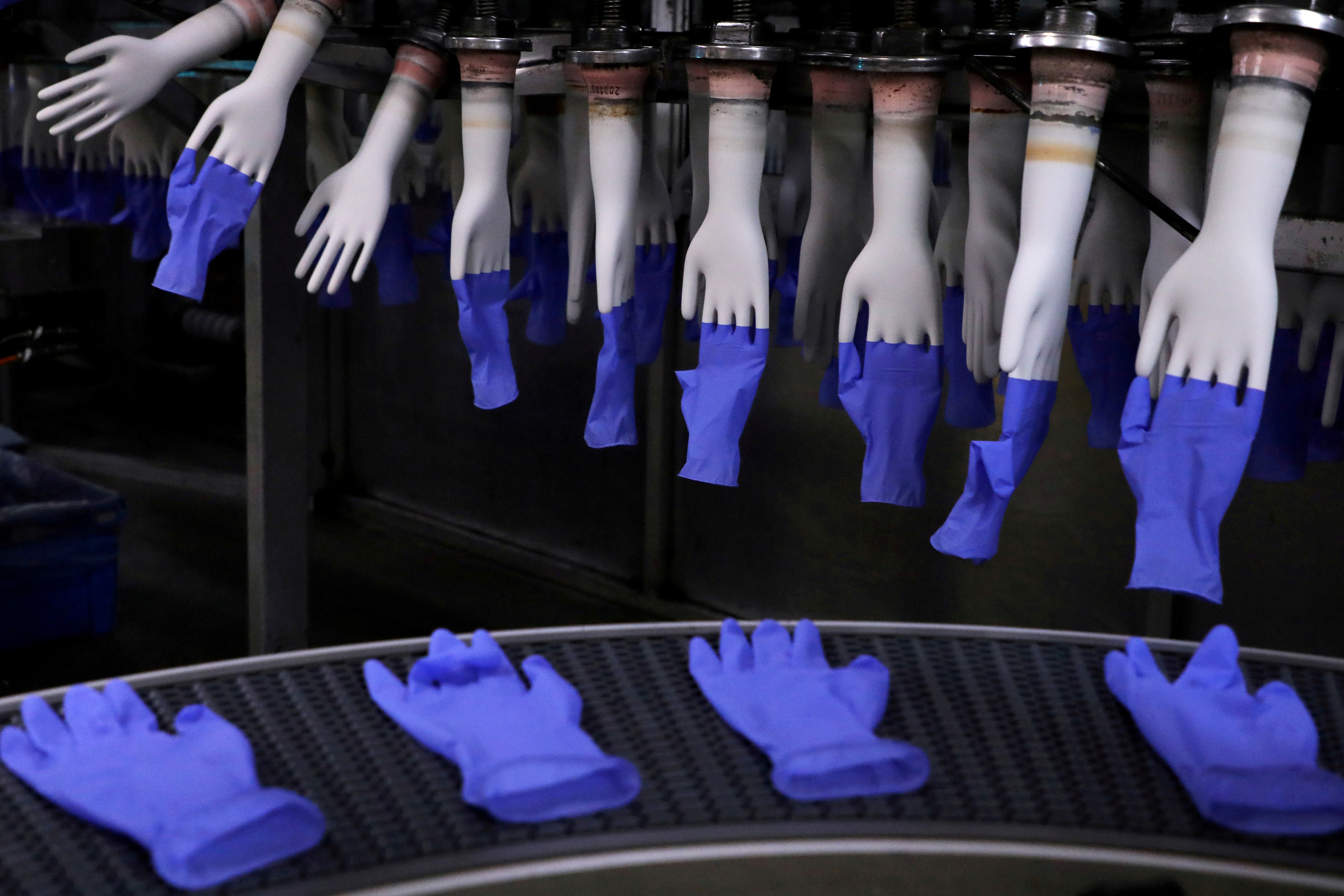 Newly-made gloves are pictured inside Top Glove factory in Shah Alam, Malaysia, August 26, 2020. REUTERS/Lim Huey Teng/File Photo
Malaysia's Top Glove Corporation, the world's largest medical grade glove maker, said on Saturday, January 16, some employees at 4 factories had tested positive for COVID-19 recently.
While the company did not say how many tested positive or when it received the test results, the news comes after more than 5,000 foreign workers at Top Glove were infected late last year and one died in what became Malaysia's biggest cluster of the coronavirus.
All employees at one of the 4 facilities have undergone screening and those affected are under quarantine, while a mass screening is ongoing at another on Saturday, the company said in a statement.
MYANMAR: Police scuffle with nationalist monk's followers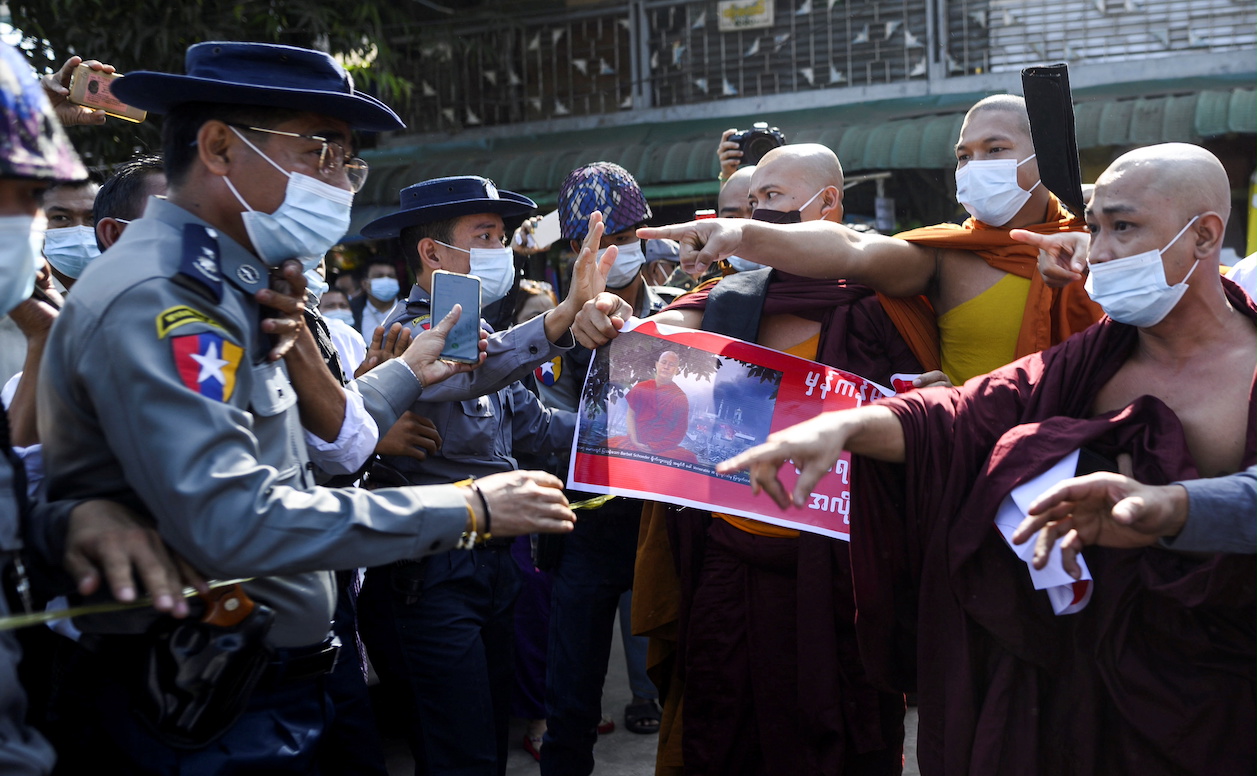 Police clash with Buddhist monks while they take part in a protest in support of the jailed nationalist right wing monk Wirathu outside Insein prison in Yangon, Myanmar, Saturday, January 16. REUTERS/Shwe Paw Mya Tin
Myanmar police scuffled on Saturday, January 16, with dozens of followers of Buddhist nationalist monk Ashin Wirathu at a demonstration calling for him to be put on trial more than two months after he handed himself in to face sedition charges.
Protesters, many of them monks, gathered outside the Insein Prison in Myanmar's main city of Yangon, where Wirathu has been held since November last year.
Police said they had not set out to break the protest up but had been provoked and has arrested one protester.
"We were trying to negotiate and that man talked back rudely and started fighting," Tin Latt, the head of Insein police station, told Reuters by phone.
The protest by about 50 people dispersed after the scuffle.
Wirathu is known for his rhetoric against minority Muslims, particularly the Rohingya community. But he has also been critical of the civilian government of Aung San Suu Kyi and supportive of Myanmar's powerful military.
INDONESIA: Divers find casing of crashed Sriwijaya Air jet's cockpit recorder
Indonesian divers have found the casing of the cockpit voice recorder (CVR) from a Sriwijaya Air plane that crashed into the Java Sea last week, but are still searching for its memory unit, a navy officer said on Friday, January 15.
Earlier this week, divers hoisted from the seabed the other so-called black box, the flight data recorder (FDR), of the 26-year-old Boeing Co 737-500 jet. Flight SJ 182 crashed into the Java Sea minutes after take-off from Jakarta with 62 people on board last Saturday, January 9.
Air accident investigators have downloaded data from the FDR, which they hope will help determine the cause of the crash though will also want to hear the cockpit voice recordings. "We've found the (CVR) body or casing, we've found the beacon and now we're looking for the memory," officer Abdul Rasyid told reporters aboard the navy ship Rigel, which was televised live.
Experts say most recorders have a strengthened housing containing the memory or tape, a chassis designed to fix it in place and an underwater locator beacon.
Abdul was confident divers would find the memory unit within the next few days, adding that a plane's black boxes were usually strong and could withstand a considerable impact.
Indonesia's National Transportation Safety Committee (KNKT) has successfully downloaded information from the FDR, which contained 330 parameters and "all are in good conditions," the committee said in a statement on Friday.
Parameters are a reference to the amount of data recorded from various aircraft systems including the flight path, speed, engine power and flaps configurations.
KNKT said the FDR data confirmed that both of the plane's engines had been operating when the plane hit the water, as it had earlier stated based on the wreckage.
KNKT plans to issue a preliminary report within 30 days of the crash, in line with international standards, the agency's head told Reuters on Thursday, January 14.
The search operation, which was initially planned for a week, has been extended for 3 more days to find more victims and recover parts of the plane.
The Sriwijaya crash is the biggest airline disaster in Indonesia since October 2018, when 189 people were killed onboard a Lion Air Boeing 737 MAX that plunged into the Java Sea soon after take-off.
LAOS: Communist Party names PM Thongloun as new leader
The Communist Party of Laos on Friday, January 15, named Prime Minister Thongloun Sisoulith as its new secretary general, replacing retiring chief Bounnhang Vorachit, state media reported as the long-ruling party wrapped up its three-day congress.
Thongloun, 75, was elected to a five-year term as head of the Lao People's Revolutionary Party Central Committee – the top post in the country.
Its party congress also chose 13 members of the Politburo, Laos' top political body, and 71 party Central Committee members, it said.
Thongloun takes charge as the landlocked Southeast Asian country faces challenges from a potential debt default and the global impacts of the coronavirus pandemic on its fragile, $18 billion economy.
On Thursday, January 14, Thongloun outlined a new five-year socio-economic plan targeting annual economic growth of 4% up to 2025 and aims to reach annual average per capita income of $2,887 in 2025, the Vientiane Times said.
The country of more than 7 million people has a current per capita income of just over $2,500, according to World Bank data.
As prime minister since 2016 and a former foreign minister, Thongloun has been the face of the country at international events and summits, including giving addresses to the United Nations General Assembly.
He is a veteran of the old guard of the party, which first came to power after communist fighters defeated a Western-backed government to form the Lao People's Democratic Republic in 1975.
The same party has been in power ever since, and Laos has traditionally mirrored neighboring Vietnam's political system, although China's sway has grown in recent years.
INDONESIA: Data from flight recorder of downed Sriwijaya Air jet downloaded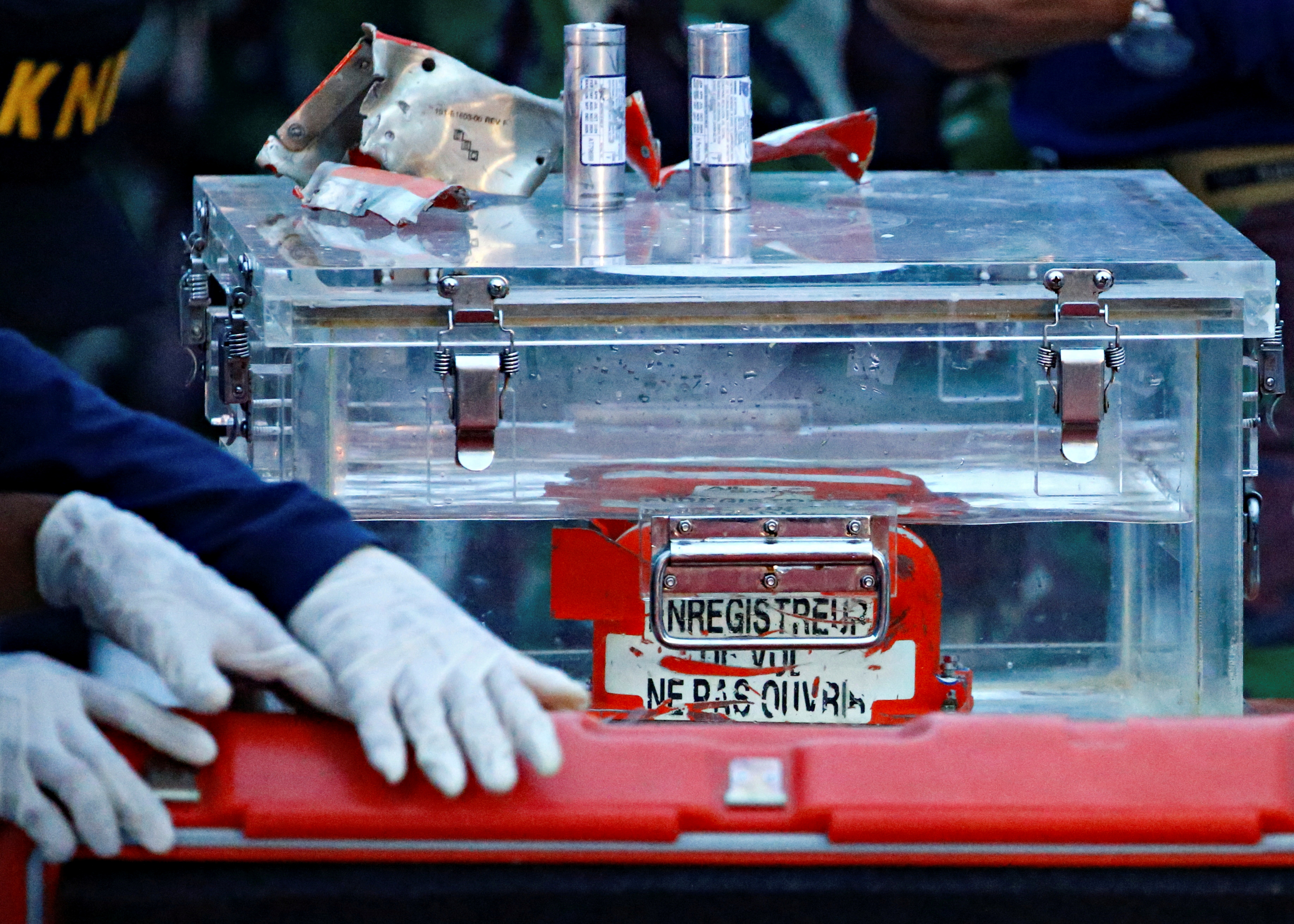 Indonesian investigators have successfully downloaded information from the flight data recorder (FDR) of the Sriwijaya Air jet that crashed into the sea last week, its transport safety agency said on Friday, January 15.
The recorder "has 330 parameters and all are in good conditions," the National Transportation Safety Committee (KNKT) said in a statement, referring to the available data.
Parameters is a reference to the amount of data recorded from various aircraft systems including the flight path, speed, engine power and flaps configurations.
Flight SJ 182 crashed into the Java Sea minutes after take-off from Jakarta with 62 people on board on Jan. 9, destroying the 26-year-old Boeing Co 737-500.
KNKT said the FDR data confirmed that both of the plane's engines had been operating when the plane hit the water, as it had earlier stated based on the wreckage.