The pandemic saw Rappler's audience grow outside Metro Manila and among the youngest segment, the 18 to 24 years old
For the second time in a row, Rappler capped another year with net income, brought about by a robust and diversified revenue stream and timely adjustments in the face of one of the world's longest lockdowns.
This good news comes as Rappler celebrated on July 25 its 10th year as a registered company. (The website was launched six months later, on January 1, 2012.)
Rappler's audited 2020 financial statement showed its revenue increased by 50% from the previous year. Thus for the second straight year and despite the harassment suits and threat of a closure, Rappler ended with income and positive EBITDA (earnings before interest, tax, depreciation, and amortization), which is the measure of a company's financial performance. (Read about 2019, our comeback year here.)
This growth has allowed Rappler to create, hire, and extend more benefits to employees – as well as introduce fellowship programs to journalists based in the provinces and in Southeast Asia as a show of solidarity in these extraordinary times. Even if Rappler has been working from home since March 2020, we managed to keep the office and grow our staff.
"Standing by our values makes for good business," said Rappler CEO Maria Ressa. "As the world fights against a virus, Rappler called attention to the virus of lies infecting our information ecosystem globally – making the mission of journalism even more important today. Resilience and trust come from facts, a shared reality, and robust communities of action."
Growth in provinces
While the lockdown derailed Rappler's coverage last year of news events, particularly sports, travel, and entertainment, our COVID-19 stories reached more Filipinos outside Metro Manila – as proven by the growth of Rappler audiences in all regions outside the National Capital Region, with the biggest jump coming from Central Visayas, Northern Mindanao, and Central Luzon.
The 2021 Digital News Report of the Reuters Institution for the Study of Journalism also showed that Rappler had the 4th widest reach among online news sites in the Philippines, behind the country's oldest and biggest media organizations such as GMA News, ABS-CBN, and Inquirer. (See table below)
This was despite the sustained attacks against ABS-CBN and Rappler since 2016 – both through disinformation and the use of government resources to silence and demonize the two companies. ABS-CBN was shut down in May 2020, at the height of the pandemic, while the Securities and Exchange Commission issued a closure order against Rappler in January 2018, which Rappler has appealed before the Court of Appeals. (READ: List of cases vs Maria Ressa, Rappler directors, staff since 2018)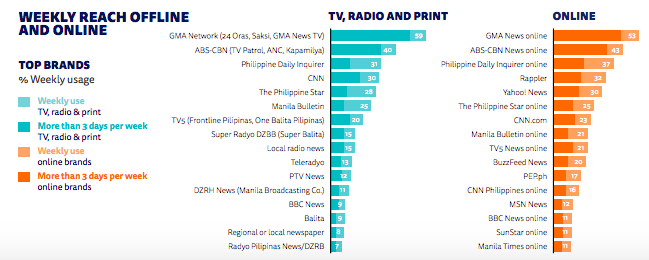 The biggest spike in Rappler demographics last year came from the youngest segment, 18-24 years old.
Readers who returned to the site multiple times in a month – what we call Rappler's brand lovers – also grew the most in 2020. They pushed the readership of Newsbreak, Rappler's investigative and public trust agenda unit, and Voices, our Opinion section that was relaunched in January 2020.
To address the needs of people stuck in their homes, Rappler introduced a combo of bite-sized, fast breaking videos, and immersive podcasts that tackle diverse topics – from crime to law to food. A trailblazer in this sector, Rappler is among the biggest political and current affairs podcast producers in the country.
All this springs from the key initiatives that Rappler pursued last year:
It's been quite a ride for Rappler – as we turned yet another crisis into opportunity, made possible by readers and partners who have shared with us their own lessons from the pandemic as well as timely feedback that helped us adapt, adjust, and do better.
"Technology has broken trust, and we need to be resilient enough to restore our faith in each other," Ressa said. "Our struggle today is to remember our shared humanity – to remind ourselves to walk in each other's shoes."
As Rappler enters the last half of 2021, it has rolled out the #CourageON: No Lockdown on Rights coalition and coverage of the coming presidential elections, #WeDecide: Atin ang Pilipinas.
We expect the final quarter to be a push of technology and civic engagement – when the Lighthouse platform meets communities of action that will make journalism more meaningful as we shape a better world. – Rappler.com