This is AI generated summarization, which may have errors. For context, always refer to the full article.
In pursuing his passion, Romi Garduce has chosen the harder route. He finds joy in the journey.
This compilation was migrated from our archives
Visit the archived version to read the full article.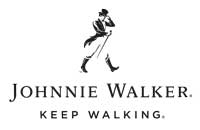 ---
Photos and videos by Adrian Portugal Design by DOMINIC GO
---
T
his is the perfect day to arrive in Lukla, announces the Sherpa. The climbing guide points out the ideal conditions: the weather is cool, but not freezing; there is no wind, and the sky is clear. This morning, a 14-seater aircraft, which regularly flies in tourists to this town, had no difficulty landing on what is dubbed the most dangerous airport in the world.
Across the airport, at the dining area of a wooden lodge, Romi Garduce is pouring himself a cup of hot lemon tea. Behind him is a wide glass window, and the clear morning revealed a rare view: beyond a forest of firs, in the distance, the dusty ice caps of the Himalayan range are easily visible.
This is Romi's second time back in Nepal since he reached the summit of Mount Everest 9 years ago. At the time, he was the third Filipino to do so, reaching the highest peak in the world just minutes behind another Philippine expedition team. He was also already known, back then, as the first Filipino to have climbed two 8000-meter "death zone" peaks: aside from Everest, in 2005, he also climbed Cho Oyu, the 6th highest peak in the world.
Up in the Himalayas #theta360 – Spherical Image – RICOH THETA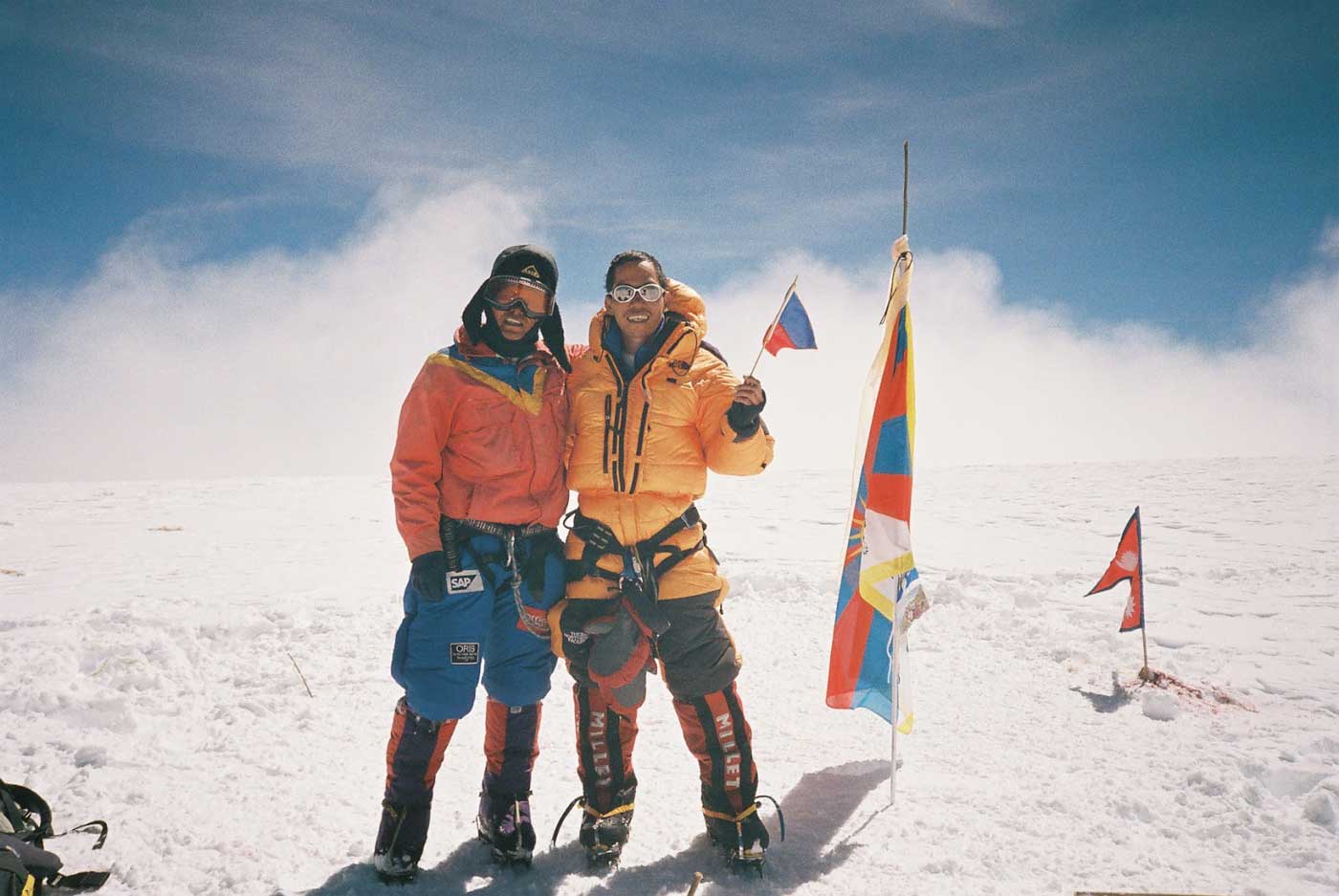 But he never stopped there. By 2012, he had set a new record as the only Filipino to climb the 7 highest summits in all continents across the world.
And now Romi is back in the Himalayas. He's celebrating his return with a cup of hot tea. This break is a brief respite before the long day of hiking that lies ahead.
He is also cracking jokes, checking his teammates' oxygen levels, and patiently showing one of the new trekkers how to adjust her walking stick. One wouldn't guess that Romi has not slept a wink. In fact, he arrived in Nepal's Kathmandu airport just 4 hours earlier, after a harrowing 24-hour delay from his connecting flight in Malaysia. He barely had time to prepare his own climb gear before racing to the airport for the 6am flight to Lukla.
The protocol was to arrive at least two days before the start of the expedition, to allow time to pack, rest, and buy last minute gear. But Romi chose to arrive a day later instead. His reason: he did not want to waste an extra day of his leave from work.
So dispel all notions of Romi as the consummate adventure junkie, who can abandon everything to traverse the Himalayas. Yes, this is Romi Garduce, the record-setting Filipino mountaineer, who has a distinct hobby of climbing the highest and most dangerous summits of the world. But he just also happens to be a man with a day job, and who still needs to count and save his leaves.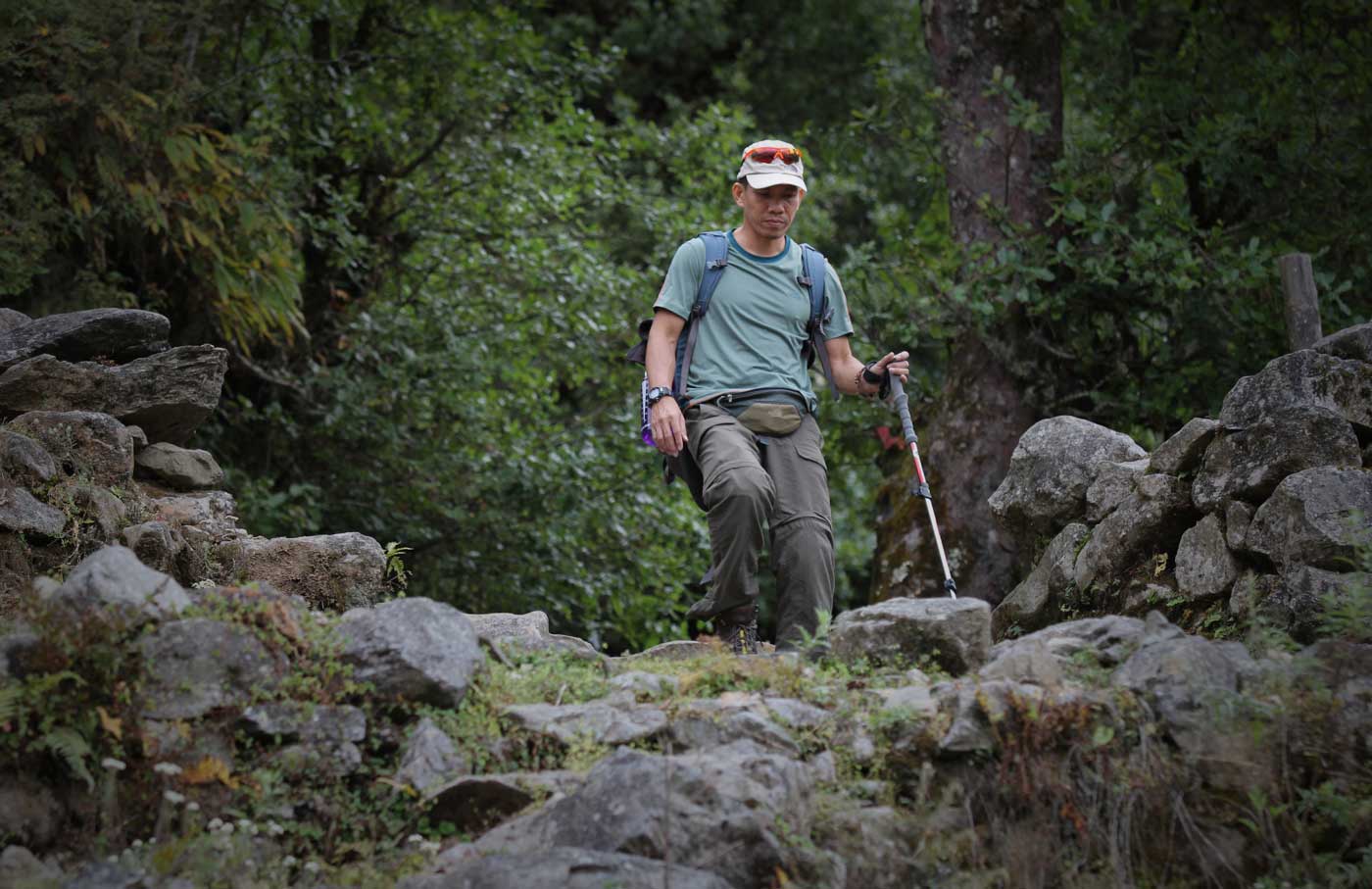 Choices, sacrifices
"Life is about choices, and when you say it's about choices, it's about sacrifices," Romi says. In his case, the so-called sacrifice ultimately made him happier.
Behind the postcard of each adventure, there's a story of hard work. It's not just the mental and physical preparation that's required for every expedition. Even as Romi looks forward to a big trip, he always needs to consider time away from his work and his family. He worries about acquiring enough funds for airfare, permits, and gear like new crampons and thermal suits.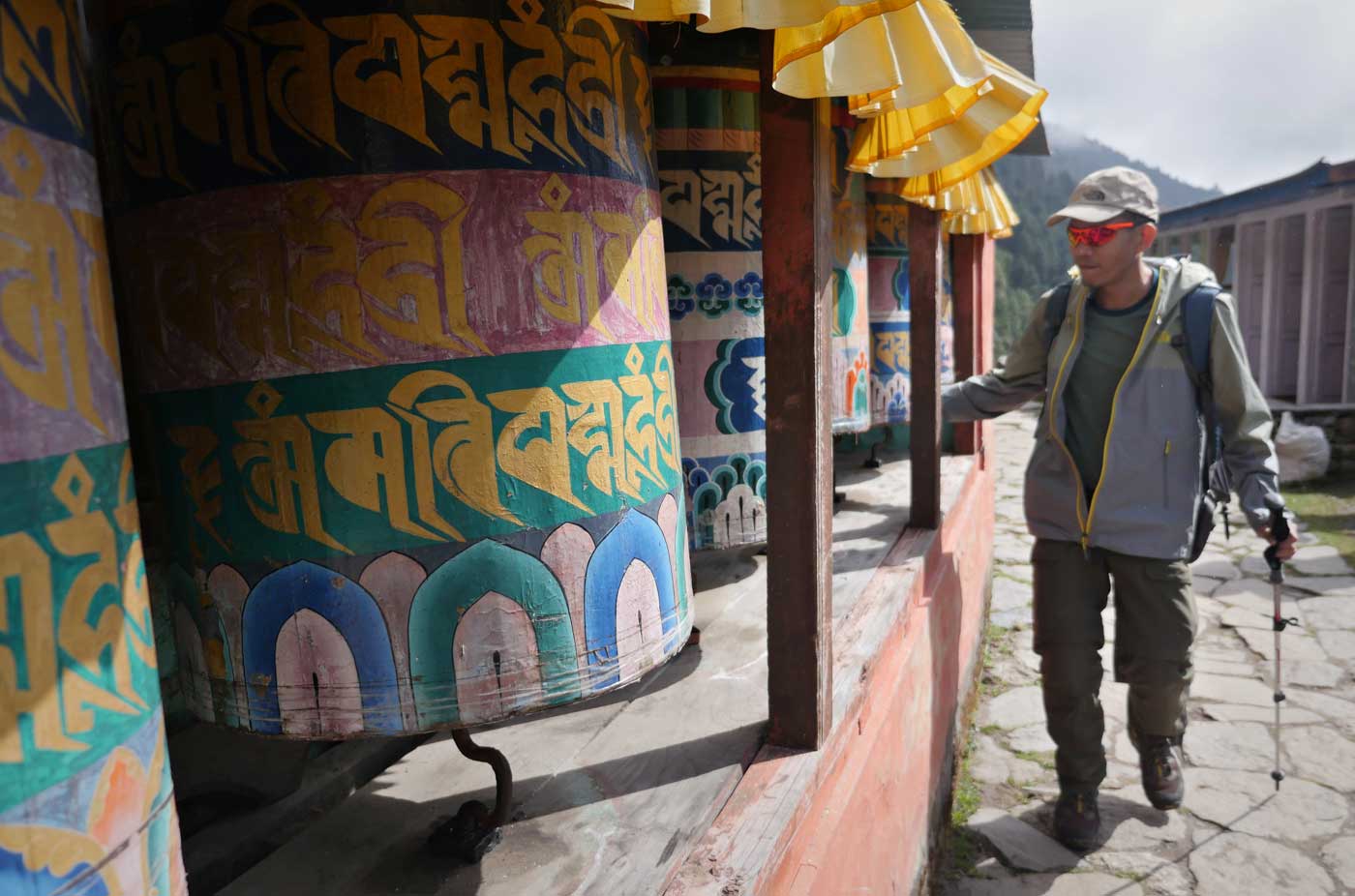 Currently, Romi works as a project manager for a multinational company. It's a good job that pays for the bills, though he still has to save diligently for his mountain treks. Romi admits that in the past, he has considered the chance to move up: to receive a bigger paycheck that would enable him to fund more plane tickets, travel permits, crampons, and thermal suits.
There would be a payoff, however: the promotion would mean gaining a bigger scope of tasks, and a less flexible schedule. He decided to stay away from the opportunity.
On his blog, in the environmental show that he hosts, and on numerous other stories written about him, Romi's stories paint a picture of man who has the means and ways to do what he wants. He has traveled all over the world, exploring not just mountains, but also deserts, canyons, glaciers, and jungles. He has written a book about his journey to the 7 summits. He is often invited to speak about his adventures to students and corporate groups. He is the ultimate life peg, living out the dream of many: to wake up every morning with only one question: "Where will I go next?"
For his day job, Romi opted to stay put.
In life, he ended up going further.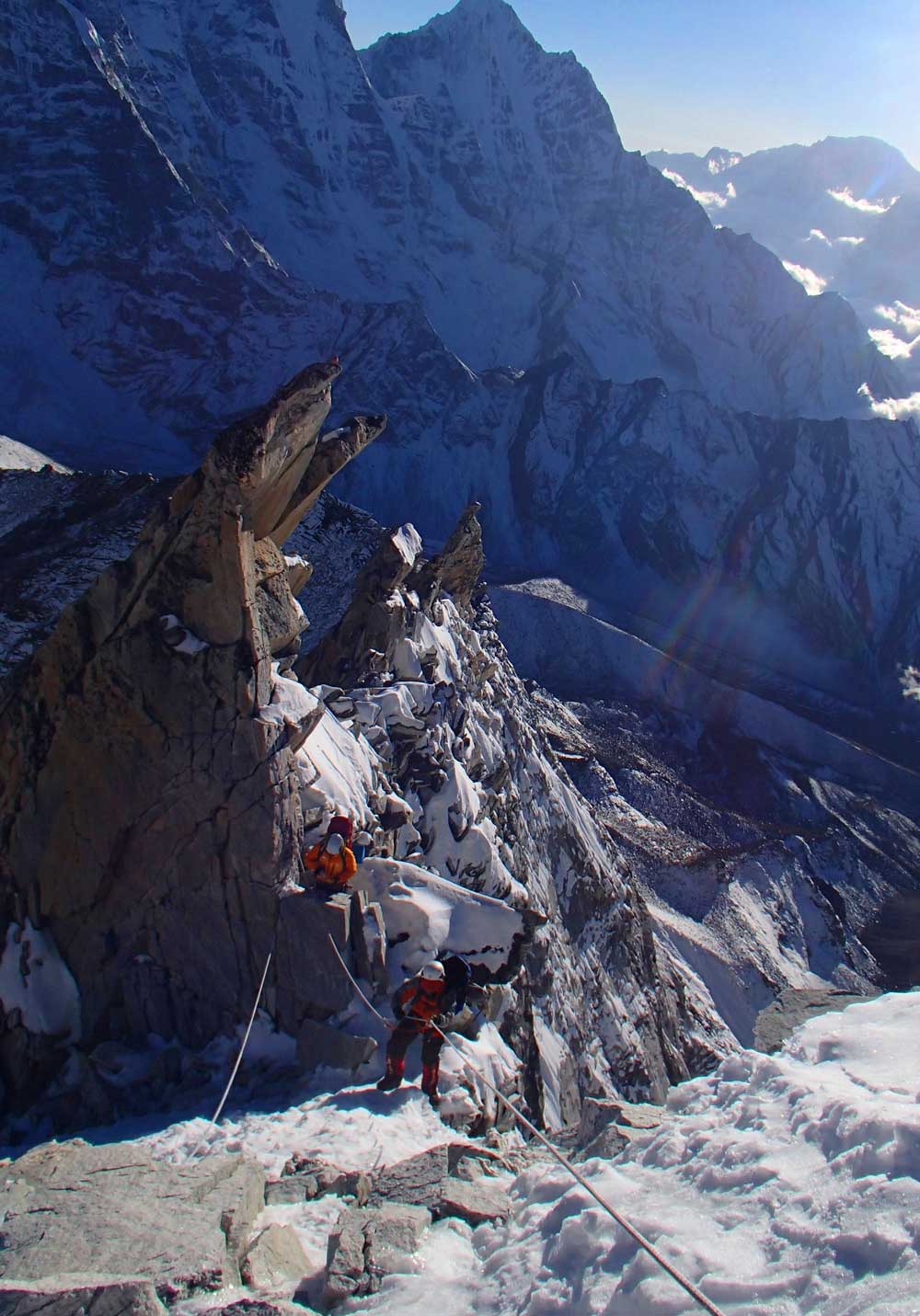 Man meets mountain
Romi is now headed towards Ama Dablam, an icy pyramid south of the Everest that rises over 6820 meters above the sea. Those trekking towards Everest Base Camp are familiar with its highest peak, flanked by two lower ridges that locals say resemble a mother's arms wrapped around her child. Ama Dablam is not on the list of the highest peaks of the world, but it is an intimidating climb nonetheless – feared and admired for its steep, vertical wall of ice and rock. Two other Filipinos, his longtime friends and fellow climbers from UP Mountaineers, will join him on this expedition.
He says that this trip is more than just a personal challenge. Ama Dablam, Romi explains, is a "prep mountain" for many other big mountains. After reaching Everest and the 6 other summits, the only other record left to break is to cover the "death zone" peaks: 14 icy summits that rise above 8000 meters, all located in the Himalayan and Karakoram ranges.
So far, Romi has climbed two on the list. "We have 12 more," he says. He is not expecting to be able to climb all 14. "But I wish to tick off a few more."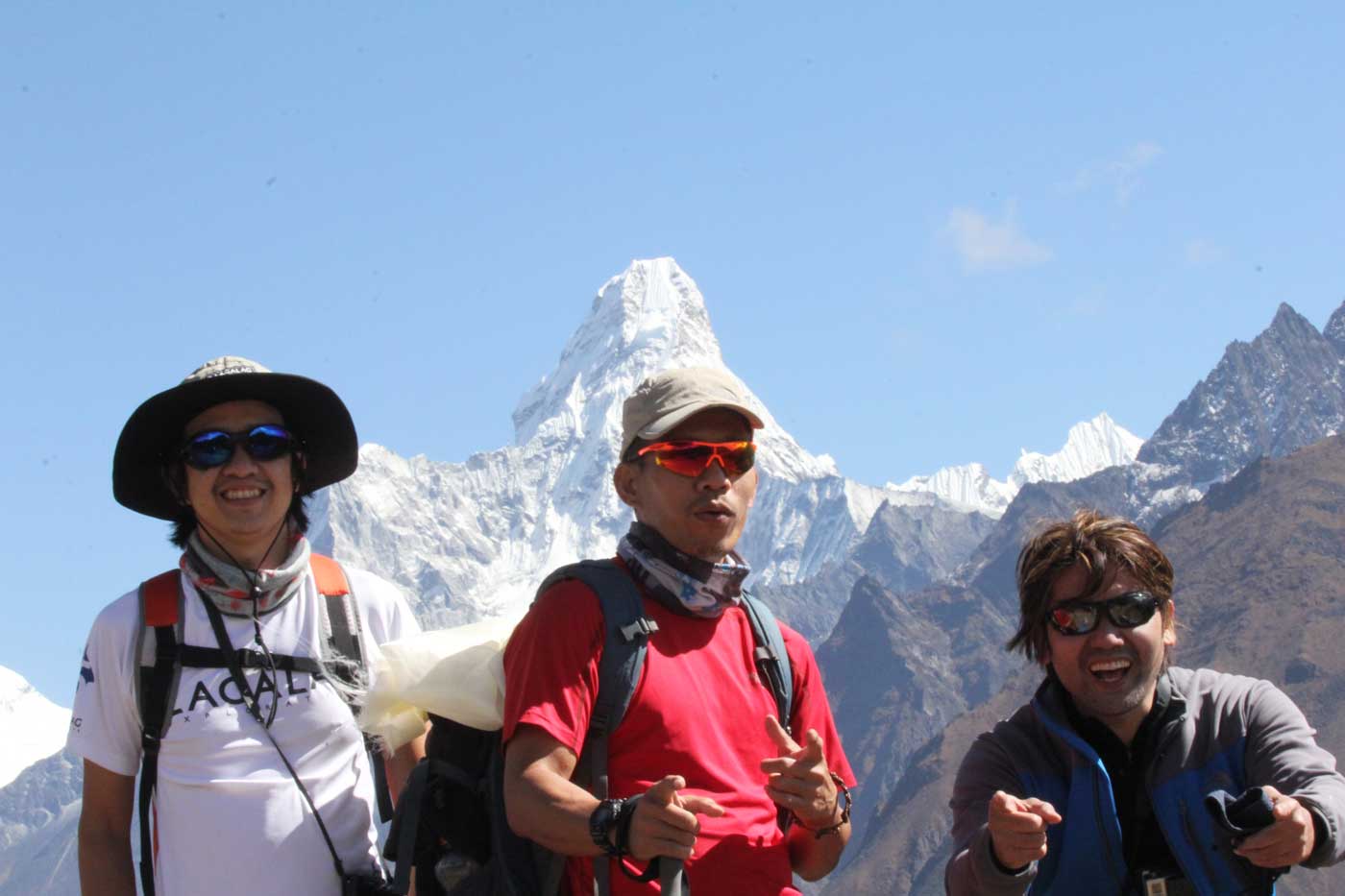 Romi wants to keep breaking his own record as a part of an all-Filipino team, instead of being a lone summiteer. But, he adds, it always has to be a personal goal for anyone who joins him. He does not want other Filipino mountaineers to be thrown into a narrow path where they'd have to risk their lives, just for the sake of setting a record.
He even wants to share the journey with as many people as possible. This particular expedition has three legs, to cater to mountaineers of all levels: the beginner group, to hike until Base Camp, the intermediate group, to climb until Lobuche, and the expert group, to join him in ascending Ama Dablam.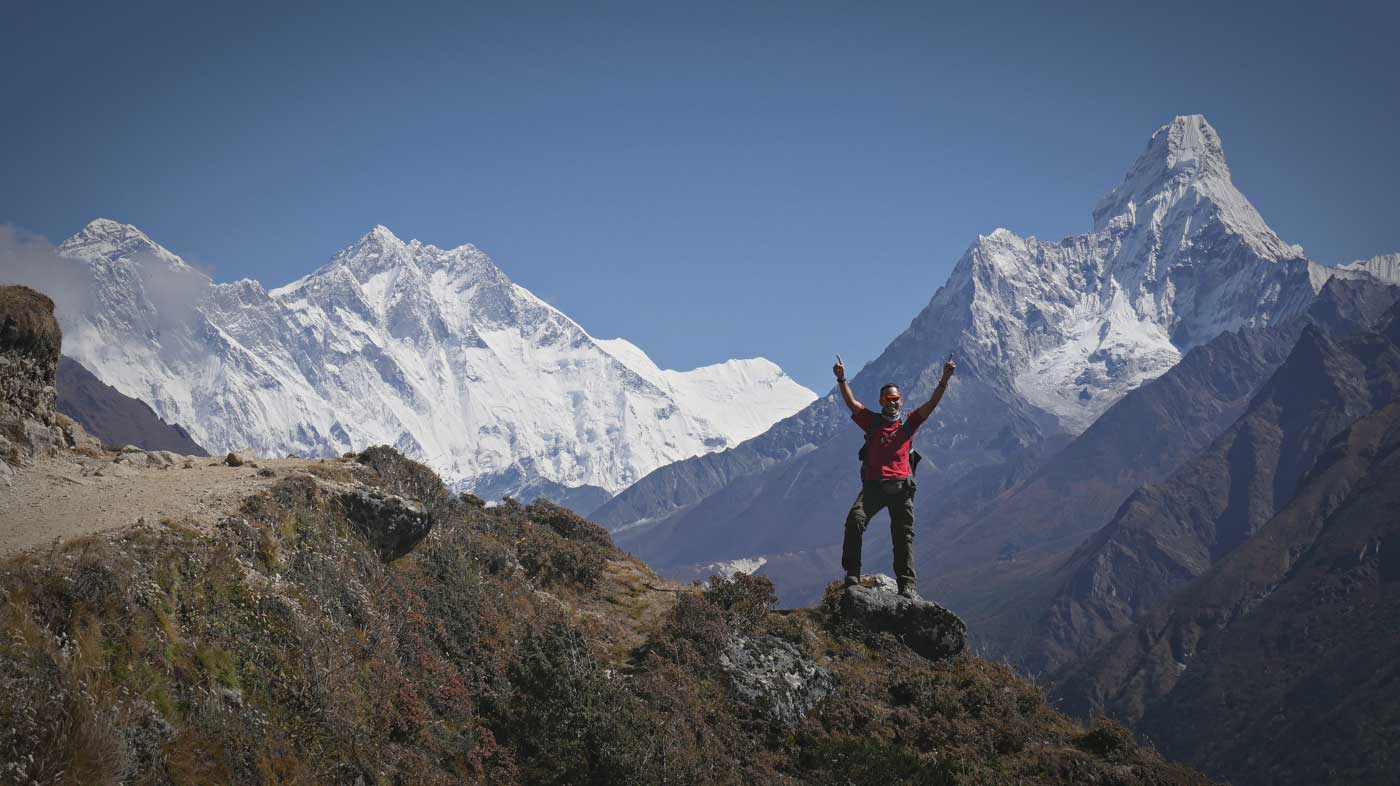 Undefined Fulfillment
When he was much younger, Romi saw mountaineering as a way to have fun: he wanted to see mountains, he wanted to travel, he wanted to experience the novelty of camping and walking for miles while lugging a big backpack. 
Now, he says, his perspective has changed. The joy of climbing a mountain, he repeats, is something very personal. It's an undefined fulfillment, he says. He describes it as the whole experience of the expedition, the friendships formed, and the rush of conquering a massive obstacle – literally and figuratively. At the summit, he says, there's something that triggers him to do it over again and again.
Though he cannot define that sense of fulfillment, he has a clear idea of how he wants to share that joy with others.
"What I do is not just about challenging myself," Romi says."It's more fulfilling if it's not just for me; if I see that there's something more valuable to it." Part of Romi's itinerary is to visit a secondary school in Monju. Its students are sons and daughters of the porters and Sherpas who guide trekkers and climbers on the trail. Through donations, Romi's team was able to raise about $6000 to contribute to the rebuilding of a classroom and the repair of the school's facilities.Like several of his past summits, Romi is doing this climb for a cause. This Ama Dablam expedition was already set for earlier this year, originally set to take place during the summer climbing season. But last April, a magnitude 7.8 earthquake struck Nepal. The death toll rose to the thousands. Homes, buildings, and heritage sights crumbled to the ground. The trails were closed, and an avalanche killed at least 19 people at Base Camp.
Back home, he also continues to be actively involved in several advocacies: supporting local brands, training his mountaineering group's rescue team, and promoting marine conservation.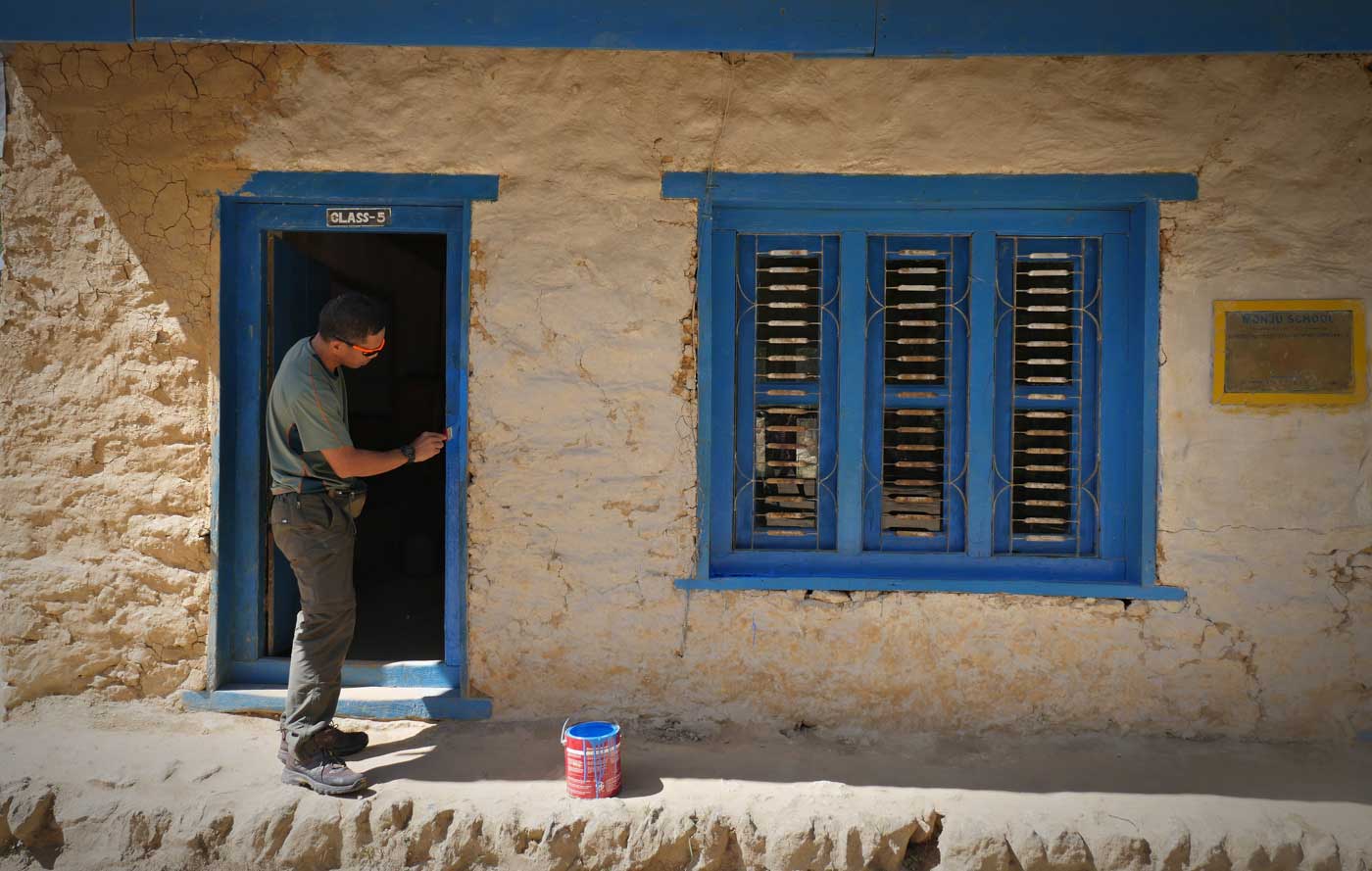 >"It's more fulfilling if it's not just for me; if I see that there's something more valuable to it."
Further and higher
Romi's bucket list is still full of items waiting to be ticked: he wants to do a complete un-motorized traverse of the South Pole, he wants to hike through Mongolia, he wants to go backpacking in South America. When he's not on the trail, he wants to do more advocacy projects.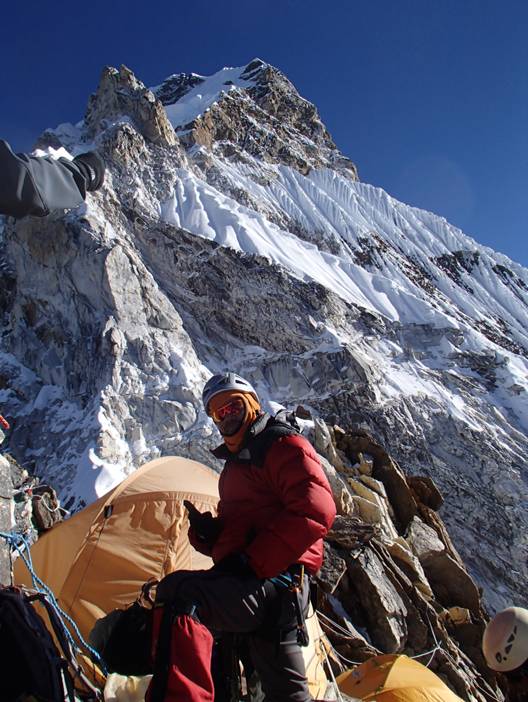 Still, he doesn't want his days to be a mere endless pursuit of these big goals. "Set your milestones, but don't skip life," he says. Much like his attitude on the trail, he would rather tread at his own pace, rather than concentrate all his energy on being ahead of the group. Life, he says, is not about the goals, but the journey from one goal to the other.
For if things were too easy, he explains, the fulfillment would not be there. "The path with no obstacle is the path that leads to nowhere," he says.To pursue his passions, Romi chose the harder route. But it does not mean that he is not pursuing his passion with wholehearted ardor. It does not mean that he is not having fun. He has chosen the better part, and it will not be taken away from him.
For every climber and mountaineer, Romi explains, success is a fleeting moment: after the toil of the climb, the summit is only a halfway point. You only have a few minutes to enjoy the view, and to be closer to the heavens than anyone else in the world.
After that comes the harrowing descent. At the base, there will be a new trail. A new mountain. A new goal, and a new set of obstacles. One simply keeps walking, and walking, and walking on.
The joy is in the journey. He would not have it any other way.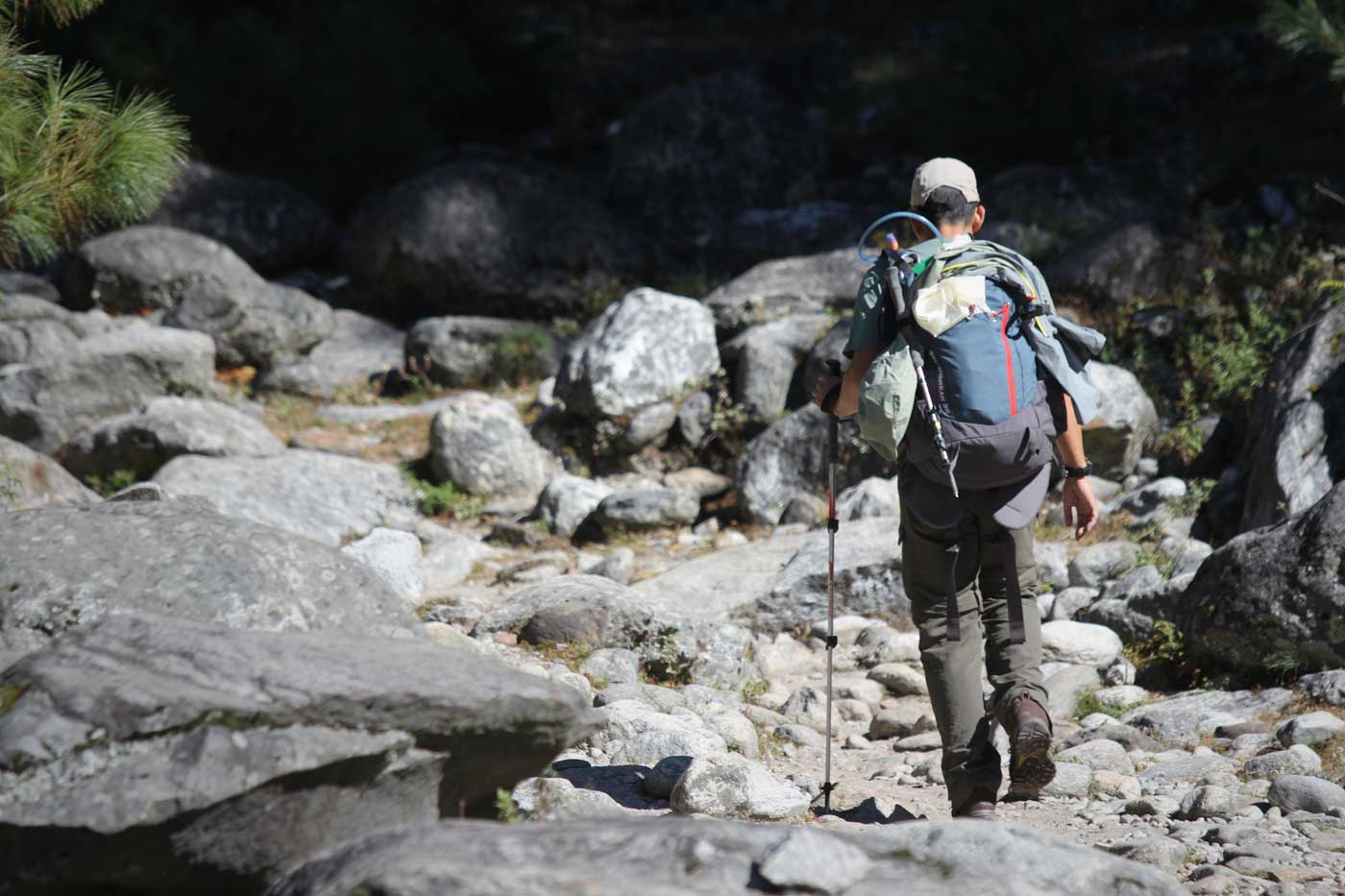 JOY WILL TAKE YOU FURTHER