Digitalization shouldn't just be a survival strategy for businesses; but also pave the way to a post-pandemic recovery
After more than a year and a half since the global pandemic began, people have learned that life can continue to thrive, especially in the digital space. For entrepreneurs, this means that the way we thought of how businesses should operate and exist has been challenged.
"Before, we used to think of our businesses as a physical store with a digital component. That was pre-pandemic. What we have to do now is think of our businesses as a digital space with a physical component," shares Valerie Fischer, a digital marketer who has combined her 20 years of advertising experience with her neurolinguistic programming practice to train and coach entrepreneurs in embracing brain-based strategies, technology, and digital platforms.
Fischer shares that as businesses there has been a shift in prioritizing digitalization, but that all these changes we are seeing now have been a long time coming.
"Digital transformation" was a buzz phrase that had been thrown around repeatedly for years, and it took a pandemic for businesses to finally start the process.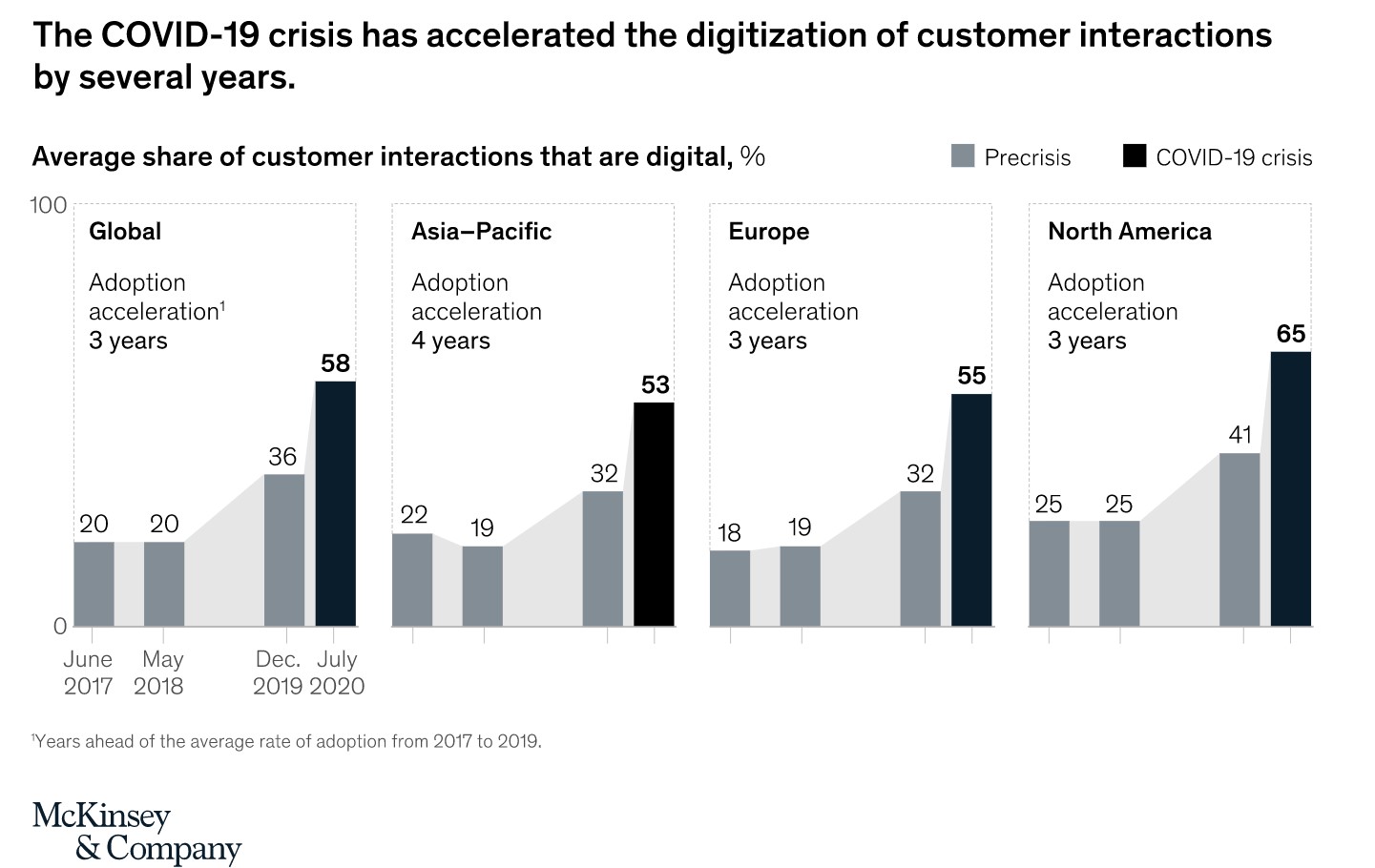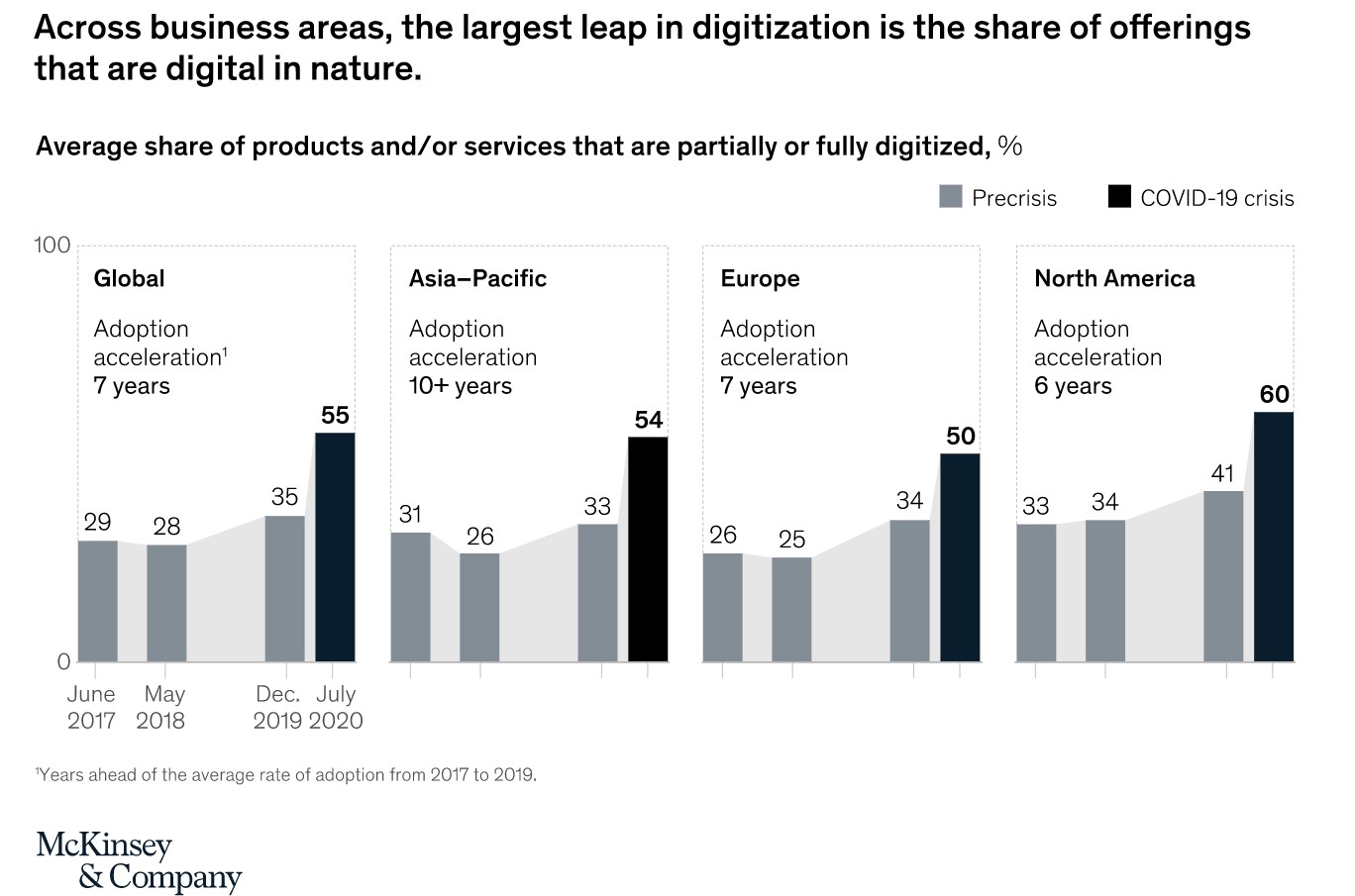 In fact, a survey conducted by global management and consulting firm McKinsey & Company showed that COVID-19 has not just accelerated online customer interactions, but also hastened digitization too. In Asia-Pacific, customer interactions from December 2019 to July 2020 are estimated to have accelerated four times the annual average, suggesting that about four years' worth of interactions were crammed during the start of the pandemic. The survey also estimated that the production of digitally enhanced products and fully digital offerings and services in Asia-Pacific resulted in 10 years' worth of increase within the same time period.
These accelerations were apparent in different industries, including manufacturing and packaging, and even more customer-facing elements of business operations.
In the Philippines, where digitalization was arguably at a much slower pace compared to the rest of the region in the years prior, businesses took to telecommunication companies like PLDT Enterprise for their digital transformation needs. As a response, PLDT Enterprise took the helm in developing a full suite of ICT solutions that were made more accessible to empower more businesses in the Philippines.
Familiar technology, newer innovations
While many would assume that it was only new technology that brought businesses back to life, it was really more of a shift in perspective and of course, creative innovation that led to where we are today.
Among the many innovations that stood out as the pandemic began was video conferencing, which is really a spinoff of video call technology that has been around since the 1960s. Virtual meetings through video calls became a regular part of life so quickly. Video conferencing is now used in other fields like medicine and even psychiatric help through online consultations and therapies, eliminating the risk of further physical exposure to COVID-19 while still preserving patient confidentiality. We now have trainers sending their clients gym equipment and overseeing their workouts through video calls. Even something as simple as auctioning off used clothing items is done online.
The same goes for other industries that have transitioned to digital tools like warehouse management, inventory, virtual technology, chatbots, and many more. There are also services provided by telecommunications companies like PLDT Enterprise that include a full suite of ICT solutions like establishing data centers, cloud services, cloud computing, and even workspace and collaboration tools for workforces.
George Westerman, the principal research scientist at the MIT Initiative on Digital Economy, explains that for businesses to really make sense of digital transformation, what they need is not a digital strategy. In an article posted at the MIT-Sloan Management Review website, he writes "Technology doesn't provide value to a business. It never has (except for technology in products). Instead, technology's value comes from doing business differently because technology makes it possible…You don't need a digital strategy. You need a better strategy, enabled by digital."
The digital transformation for these businesses didn't revolve around the idea of going digital for digital's sake, but finding the right tools that changed and improved the way operations worked. Today, people (producers and consumers alike) have gained a newfound trust for digital systems.
Revolutionary innovations
Both Westerman and Fischer agree that when it comes to talking about the future of businesses, automation is just a part of it. What's equally important for both of them is still putting people at the center of the business.

For a business to survive and thrive beyond the pandemic, it has to continue listening to what people need, have the flexibility in changing how products and services are delivered as necessary, and be brave enough to adopt new revolutionary innovations as the needs arise.
Adopting game-changing technologies and innovations doesn't mean being the next industry disruptor. Not every business needs to be the next Uber or Netflix. To join a tech revolution means being open to learning about new opportunities and creative approaches to business challenges.
It also doesn't necessarily mean having to navigate on your own. There are many innovators who share their pathfinding processes and the kinds of digital tools they employed. In the Philippines, one of the biggest gatherings of tech leaders, innovators, and C-suite experts is the Philippine Digital Convention, hosted by PLDT Enterprise.
Since 2014, the PH Digicon has been a haven for open discussions on the biggest innovations of the year, a venue for firsthand accounts of how technology and the business landscape are changing, and a gathering for both the learned and the curious to interact. This year, the three-day conference will be held virtually, exploring the theme of "REVOLUTION" as a means to encourage businesses to embrace revolutionary innovations.
The conference will be held from October 6 to 8, 2021. Join the revolution and register now for free at: phdigicon2021.com.
For more information, visit pldtenterprise.com/phdigicon2021. – Rappler.com
References:
ibm.com/thought-leadership/institute-business-value/report/covid-19-future-business
mitsloan.mit.edu/ideas-made-to-matter/digital-transformation-after-pandemic
sloanreview.mit.edu/article/your-company-doesnt-need-a-digital-strategy/
sloanreview.mit.edu/article/your-company-doesnt-need-a-digital-strategy/#article-authors
hospitalityinsights.ehl.edu/what-next-digital-transformation
forbes.com/sites/forbestechcouncil/2021/01/25/the-new-normal-and-the-future-of-technology-after-the-covid-19-pandemic/?sh=29ab25f96bbb