I joined the beehive and got out with honey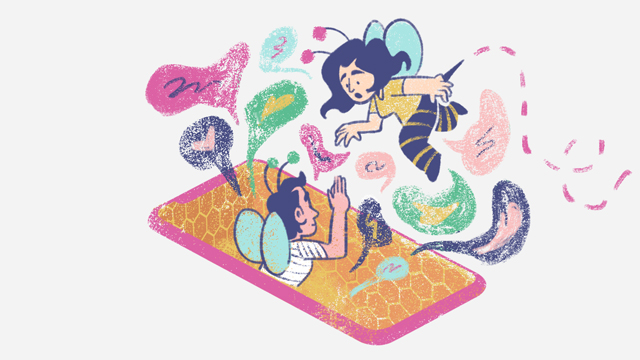 [Editor's note: Detours from home is a Rappler column where readers can share about the new things they have been doing while in quarantine. In this essay, a Comm graduate from Pampanga talks about online dating in the middle of a pandemic and actually finding a match. You, too, can share your own Detours from home story.]
Around a month after the quarantine started, I did something I never imagined I would do. I always told myself that I wouldn't thrive there because I can barely hold small talks and prefer the traditional way of meeting people: face-to-face. Aside from that, the idea of talking to people online scared me. With the number of catfishing stories that have surfaced the Internet recently, what are the odds of that happening to me, too?
As a huge introvert, I also have difficulty in opening myself up. As outspoken as I am with my beliefs, I'm weak at building intimate relationships.
If it's not obvious yet, I joined Bumble – while in quarantine.
My friends have been on the app since college. I never dared to use it despite their constant persuasion. I knew I wasn't as courageous as them to let myself known to someone from miles away and as patient as them to devote even the slightest portion of my time to a person I haven't even met in real life yet. And, to be honest, I wasn't looking for a relationship. So, what I did all those years is squeal with my friends in kilig whenever they shared snippets of their conversations and got asked out for a date.
But at the beginning of 2020, I told myself that it's high time for me to stop being so socially distant. I just graduated from college in 2019 and turned 20 last December. I realized that my early 20s is the perfect time for me to step out of my comfort zone. I don't want to spend my youth watching life pass me by just because I'm anti-social.
Then, COVID-19 happened.
Even after spending a month cooped up at home, devoid of real human connections aside from my family, the idea of trying out online dating didn't come to me naturally. It wasn't until a friend outside of my college circle shared with me that she downloaded the app and told me about the people she met that I mulled over the possibility of me doing the same. 
There was this guy who loves Harry Potter with the same passion as hers, and there's this other one who sent her voice recordings of him singing Can't Help Falling in Love the instant they started talking. I found her stories fascinating. And then, I thought, why the heck should I not do it, too? Everyone's in quarantine and I've got nothing to lose. So, I dropped everything and installed Bumble.
I still remember how I felt while I was setting up my account. I got panicky, much like whenever I do anything new. Minutes later, I found myself scrolling through my gallery to look for photos that should go into my profile. As a photographer who rarely gets photographed, my choices were limited, so I didn't spend a lot of time in that department. What took me long is typing my bio. I listed down things about myself that I thought were interesting enough for someone to consider me likable.
When I finished polishing my profile, the swiping commenced. I saw an unprecedented sense of liberty in the act of swiping left and right through a bunch of profiles based on their pictures and the short descriptions of themselves that they deemed worth sharing. A common denominator among the hundreds of bios I read was "Quarantine brought me here." So, I wasn't the only one. Great!
Moments later, I made my first match. My heart leaped out of my chest! I swiped some more and made new matches. Then, I got tired of the swiping game and decided it was time to talk to them.
My first conversations were dull. I struggled with my openers because I didn't want to begin the chat with a boring "Hey!" Eventually, some of them kicked off to a pretty great start. But they were just that—beginnings. I wasn't able to sustain any of them. I'm not sure if it was me or the other person or it just wasn't "meant to be."
Admittedly, although it's a dating app, I didn't go to Bumble to look for romance. I was only there to see how it feels like to meet new people. The heavens know how it took everything in me to do that and finally make myself visible.
It was not long after that I met someone who I felt an actual connection with. I swiped right because, based on his profile, we share the same interests. We also took up the same course in college, only in different universities. And frankly, I also thought he's cute. 
We kept talking until we got out of the app and transferred to a different platform. For some reason, he made it easy for me to be honest and I told him straight up about my personal, introvert problems. (I even confessed that I listened to a TED talk on how to be a good conversationalist because I'm just a nerd like that!) He was quick to accept those struggles and asked what would make it easier for me. It helped that he's very communicative and blunt—something I found to be a shock at first but beneficial at best.
I no longer use Bumble. There's no need for it anymore. But the experience was amusing. It opened my eyes to an entirely new world. And I'm glad I took the plunge because I got something good out of it.
When all this is over (and I say this with the fear that comes with the uncertainty of things right now), I will go meet this guy. I'm keen on seeing him in real life and not just the pixels that make him up on my screen. – Rappler.com
Patricia Rivera is a Communication graduate who does too many things that she can't summarize everything in a sentence. She loves Haruki Murakami. She lives in Pampanga.