The image of a boss that totes a briefcase and yells at his staff should be left at the distant past. Meet the boss of today
MANILA, Philippines – The lasting image of a boss today is certainly different from what it was in the past. The age of technology has given way to a wave of young industry leaders that does not conform, is not afraid of new ways and ideas, and are also at the forefront of the business world (Read: Executive Edge: 10 Business leaders to watch out for in 2015).
These young entrepreneurs have established a new form of management; one built more on empathy and effective leadership (Read: 5 lessons business leaders can learn from Pope). And as any entrepreneur would know, a company leader is only as good as the people behind him.
The modern boss exhibits traits that are a far cry from the ones of old. He or she is quite approachable and is well liked. He or she has an infectious enthusiasm and inspires the "team" (as opposed to "staff") by example. He or she also embraces technology by constantly being online and on the lookout for ways to promote or improve the business.
Above all, a modern boss is more than just a manager; he or she is a great leader (Read: Creating an ocean of change with PH's Young Global Leaders).
Here are some tips to consider for emerging bosses:
Keep an open mind to new ideas.
Online banking and tax services will save you time and the hassle.
Stay up to date with the latest technology and industry trends that you can adapt for the business.
Earn your employees' respect, not their fear.
Building a good brand image takes time and effort. Word of mouth through social media is key.
Check out the infographic below to also see what qualities a modern boss should possess in today's competitive business world. – Rappler.com
More on #BeTheBoss: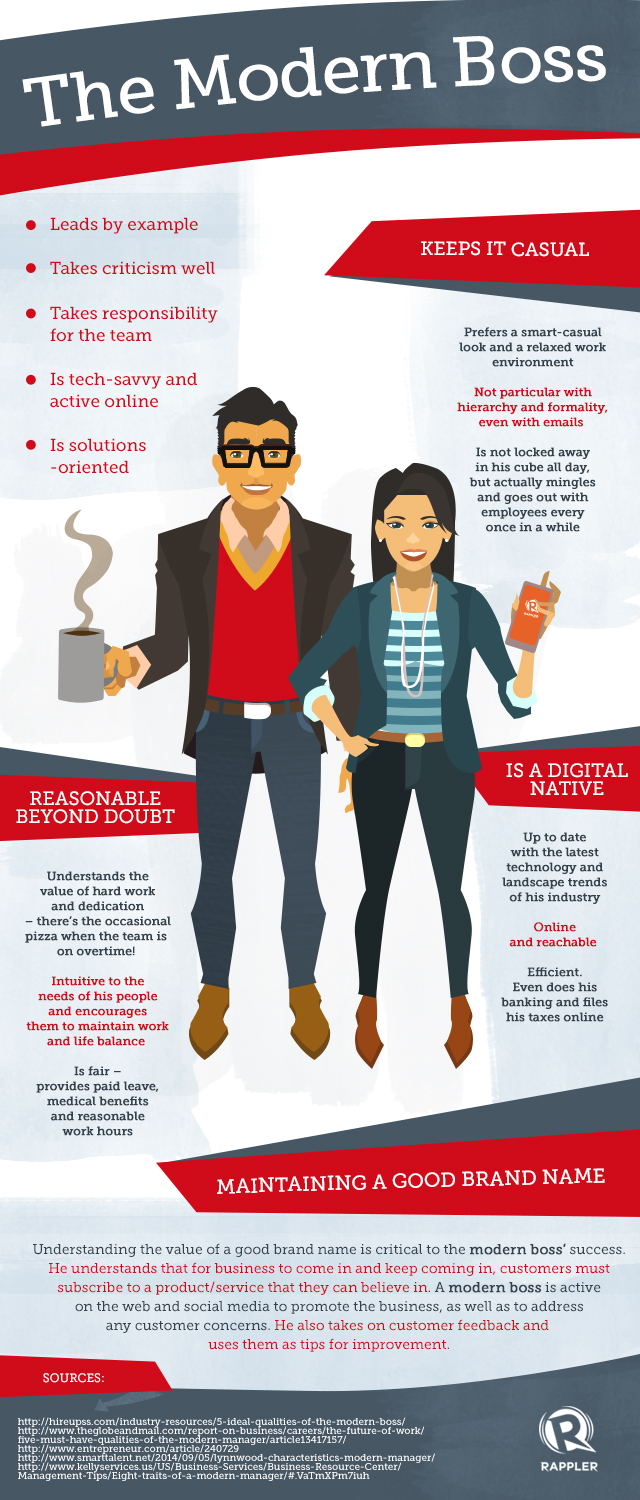 Visit rappler.com/betheboss for more information.