Most of the respondents share that they feel judged because of their age
Editor's note: Rappler and Pond's collaborated to develop this piece.

For a nation that puts a high respect for the elderly, ageism is still prevalent in the Philippines as shown in a revealing new survey conducted by Pond's among their Instagram followers. Age is still being considered a factor when hiring for some jobs. People are still expected to be in a socially-acceptable place in their lives once they hit a certain age. While both males and females are affected by ageism, this has become an extra sensitive issue for women.
From the survey, they found that one in two women refuse to reveal their age whenever someone asks them how old they are while two out of three have felt judged because of their age.
This just shows that while the Philippines is trying to be more progressive towards the "isms" – racism, sexism – of this world, there's still so much more to do when it comes to the problem of ageism.
Why is ageism a problem?
"Although we have a law eliminating age discrimination in the workplace, we still do not see older people being employed in groceries and other establishments or being given sufficient retirement benefits. Therefore, being old is, more often than not, equated with being less useful, less wanted, and less productive," said Mary Dorothy dL. Jose, social sciences associate professor at the University of the Philippines Manila, and coordinator of its gender program.
The thoughts shared by Pond's survey respondents are further proof of this phenomenon. One respondent said that she's worried she might lose some opportunities because people might think she's too old to do certain things. Another respondent said that what worries her is the toxic culture of seeing older people as no longer attractive.
Some of our readers also feel the same way about this seemingly awkward question. In a crowdsourcing post published on Rappler's Facebook page, our female followers shared interesting ways they respond to someone asking about their age:
"What do you think?"
"Take a guess!"
"Young but getting wiser."
"Old enough to love you."
"I don't get old, I just get wiser."
"It's a secret."
"19forgotten"
"Women should not be victimized into thinking that their worth depends on their youth; instead, they should be reminded that in every line hides a worthwhile experience; in every gray hair lies a lesson learned," added Jose.
Female celebrities are also a usual target of ageism in the country. In an interview with Pond's, actress, artist, entrepreneur, and advocate, Heart Evangelista, shared how when she was just starting out as an actress, she would get comments about her age.
"Growing up in showbiz, people would tell me na ah wala ka na (your career will end) when you reach a certain age," said Heart.
Meanwhile, actress, model, and former beauty queen, Alice Dixon, shared how she was questioned by her own family for wanting to freeze her eggs at 42. Why would she want to have a child at her age?
"As you get older, you really start hearing people say 'you're too old to do this and that," said Alice. "In my case, they couldn't believe my desire was to have a child."
Pond's as an anti-ageism brand
Pond's has long been a household name when it comes to beauty products. They, too, have Pond's Age Miracle, their own line of anti-aging products. But this time, they're daring to break the false promises of women looking 10 years younger than their age.
Instead of promoting their products as the fountain of youth and encouraging women to use these products to look younger than they really are, they are inviting women to embrace their age through the #CelebrateYourAge movement.
"Pond's is the country's #1 face care brand – chosen and trusted by millions of Filipinas – and we are committed to uplifting every woman's relationship with her self, her beauty, and her age. We believe that age is just a number, and it should never dictate a woman's life. A woman's best life can happen at whatever age she chooses to live it: her 20's, her 30's, her 40's or beyond. That's why aging should be celebrated, not feared," said Dorothy Dee-Ching, vice president, Beauty & Personal Care, Unilever Philippines.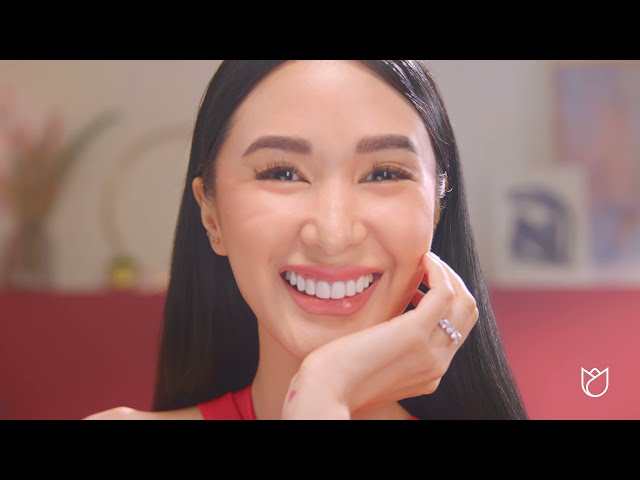 Celebrities are also supporting this advocacy by inspiring women with their very own experiences and learnings from battling ageism throughout their lives.
"I am a firm believer that as you grow older, better and greater things happen. I never imagined myself being an actress, but here I am, many years later, still with you all. More than that, I was able to work on my art and share it with you, too," said Heart.
"I knew I'd have naysayers, and if I allowed their judgment to get to me, I would have lost opportunities," said Alice about the comments she received about freezing her eggs at 42. "At my age, I am now a mother of a beautiful 3-month old and I couldn't be any happier."
"I was worried I was too old to vlog," said Marjorie Barretto. "But you know what's good about starting or finding yourself at an older age like 40s and 50s, you already have wisdom and experience."
Some may find it hard to believe that a brand that carries anti-aging products would talk about celebrating our age whether we're in our 30s, 40s, 50s, 60s, or older. But brands are now recognizing the role they play in helping women become more confident about themselves. And as a household brand, Pond's knows the power they hold when it comes to making women feel empowered and confident.
"In this youth-centered world we live in where old age is feared, if not frowned upon, Pond's #CelebrateYourAge campaign is a breath of fresh air," said Jose. "Indeed, campaigns inspiring women to feel beautiful whatever their age may be is a welcome respite from advertisements that encourage them to hide their real age by using anti-aging products."
With a household beauty brand at the forefront of this movement against ageism, there's hope that someday, age will truly be just a number. – Rappler.com