For school children, a healthy, well-rounded lunch box can be just as important as breakfast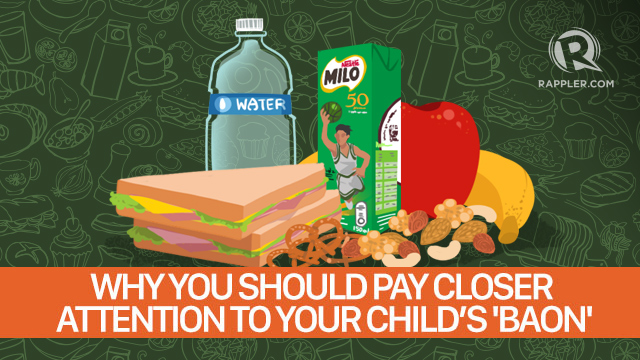 MANILA, Philippines – Most parents take great steps to ensure that their kids enjoy nutritious, well-rounded meals at home. Naturally, parents should also pay close attention to what their child eats at school.
School-age children can spend around 5 to 8 hours in campus. During this time window, the lunchbox or baon is one way for a parent to guarantee that their child eats healthy and right. 
In fact, a child's daily baon is just as important as breakfast. Aside from filling up his tummy, it should provide sufficient nutrients and energy so that he can stay physically active, mentally alert, and motivated throughout the day.
A follow-up to a healthy start
The benefits of breakfast are well-documented. Aside from affecting your child's cognitive performance at school, eating a proper breakfast has also been linked with better weight management and lower cholesterol levels.
Children, however, need more than a great breakfast to stay healthy. In between big meals, your child would need a healthy recess snack to replenish his energy levels without spoiling his appetite. (READ: Energy saves the day)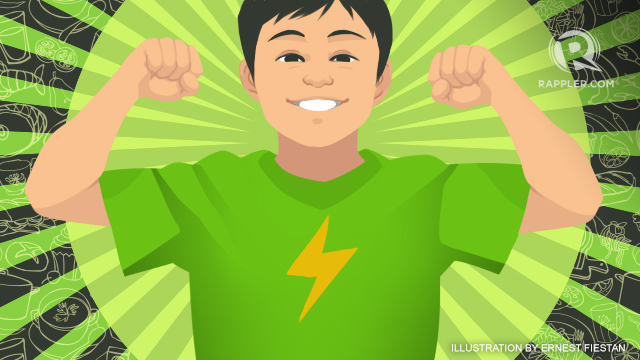 Children burn energy faster than adults
Did you know that younger children have higher metabolic rates than grown-ups? This means that kids burn energy faster than adults, even when they are resting. Throughout the day, your kid needs enough calories – but these should be good calories, not the empty kind.
Based on the Philippine Recommended Energy and Nutrient Intakes (RENI) chart, children aged 7 to 9 years old need 1600kcal of energy daily. The baon you prepare should supply 1/3 of your child's RENI levels.
Chips, cupcakes, and soda may be filling, but they are loaded with salt and sugar which may negatively affect your child's energy levels. Put in a mix of well-portioned meals, nutritious snacks, and non-carbonated beverages. (READ: How to keep your kids' energy level up for the day)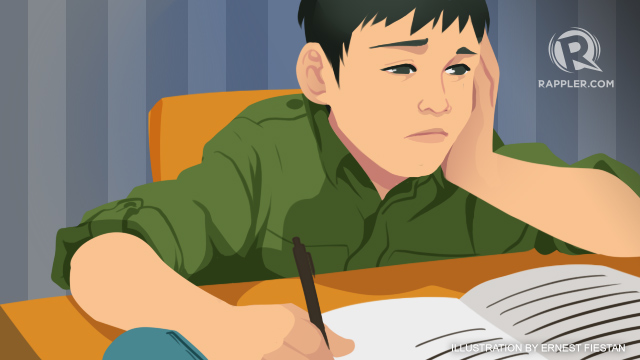 Energy fuels your child's future
Your child's performance in school is not just dependent on books and lessons. It can also be attributed to proper nutrition and the right eating habits.
Jus as with breakfast, skipping meals such as lunch may affect your child's cognitive performance. A child who is hungry and weak will be less focused and less alert in class. He will be less motivated to be active and play during breaks. At the end of the day, your child will also need enough fuel to be able to participate in extra-curricular activities that can round out his long-term development and progress.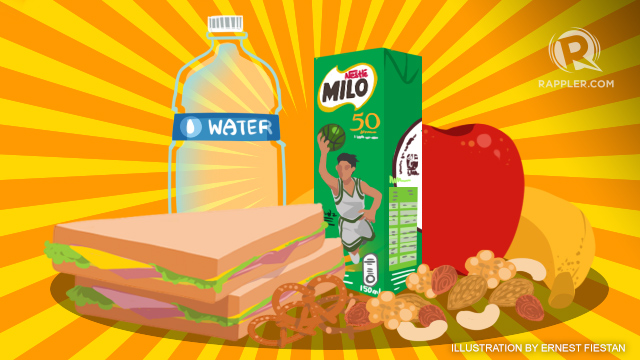 Make better baon for your child
To ensure your child's optimal progress in school, make sure that the right baon is part of the equation:
Pack meals with the right proportions. Make sure that your child's lunch set always includes sources of carbohydrates, protein-filled fish or meat, and fruits and vegetables. (READ: Tips for healthier lunchboxes)
Throw in nutritious snacks such as nuts or bite-sized sandwiches. For a recess or after school treat, give them ready-to-drink beverages.
Don't forget hydration. To encourage kids to drink more, always pack a water botte. As much as possible give them natural fruit juice or milk-based drinks.
Be patient and diligent in encouraging your child to eat healthier baon. Set a good example and pack nutritious meals for yourself, too. A little effort will definitely go a long way. Soon, your child will be able to bring these good diet habits outside the home, all the way until he grows up. – Rappler.com
---
MILO® Ready-to-Drink contains the malt extract PROTOMALT®, a mixture of carbohydrates that provides the energy and nutrients that the body needs. Let your kids bring MILO® Ready-to-Drink's energy to school!