This is AI generated summarization, which may have errors. For context, always refer to the full article.
The Downy Antibac+ Fabric Spray helps in killing up to 99.9% of virus and germs
How often do you clean your house?
The answer to this question will vary. After all, the sizes of our houses and the amount of time we can spend on household chores are all different. But we can all agree that, over the past year, we have learned that it is indeed important to keep not just our bodies but also our homes truly clean. Most of us, then, would have a ready answer for this question.
Here's a related question that some of us might not have considered yet: How often do you clean the hard-to-wash fabrics in your house?
Let us offer a guess: The answer is not often. While we might sweep and mop the floor everyday, we don't usually wash our sofa cushions, curtains, beddings, or mattresses a lot. This is understandable.
Since these fabrics are either difficult to clean because they are bulky and thus take up a lot of our time, we usually have scheduled laundry days for these hard-to-wash fabrics.
However, germs don't care about our laundry days. Deep-seated germs and viruses we call Germumus, or germs, bacteria, and pathogens can accumulate in the beddings where we sleep, sofas where we relax, and curtains that surround most rooms in the house.
"Dusting or vacuuming every few weeks may be helpful but bacteria and viruses can still grow in these items in between your general cleaning days," said Professor Joel C. Cornista, current president of the Philippine Society for Microbiology, Inc. "Exposure to these bacteria and viruses may lead to infections and trigger allergies, and so it will be wise to degerm these items daily."
It is therefore important to find a way to keep them clean and germ-free all the time. So how do we clean these hard-to-wash fabrics before the next laundry day?
Downy Antibac+ Fabric Spray
Before sitting on our sofas or lying down on our beds after a long day, we usually dust them off. But while pagpag, punas, (shaking off dust, wiping) or even vacuuming these are helpful, they are not enough. We also have to get rid of the unseen germs and bad odor in these fabrics.
So if your next laundry day is not today, why not use the new Downy Antibac+ Fabric Spray?
Downy is offering the Downy Antibac+ Fabric Spray as a new product that is dedicated to helping us with keeping our hard-to-wash fabrics clean. It is the latest among P&G's line of fabric refreshers and has recently become available in the Philippines.
Instabango and 99.9% Antibac
The Downy Antibac+ Fabric Spray complements washing fabrics as it penetrates deep into hard-to-wash fabrics to eliminate odors and kill viruses and germs.
This fabric spray offers Instabango that helps remove bad odor from sofa cushions, curtains, beddings, and other fabrics. It can also assist in killing up to 99.9% of viruses and germs, leaving nothing but Downy Freshness.
How to use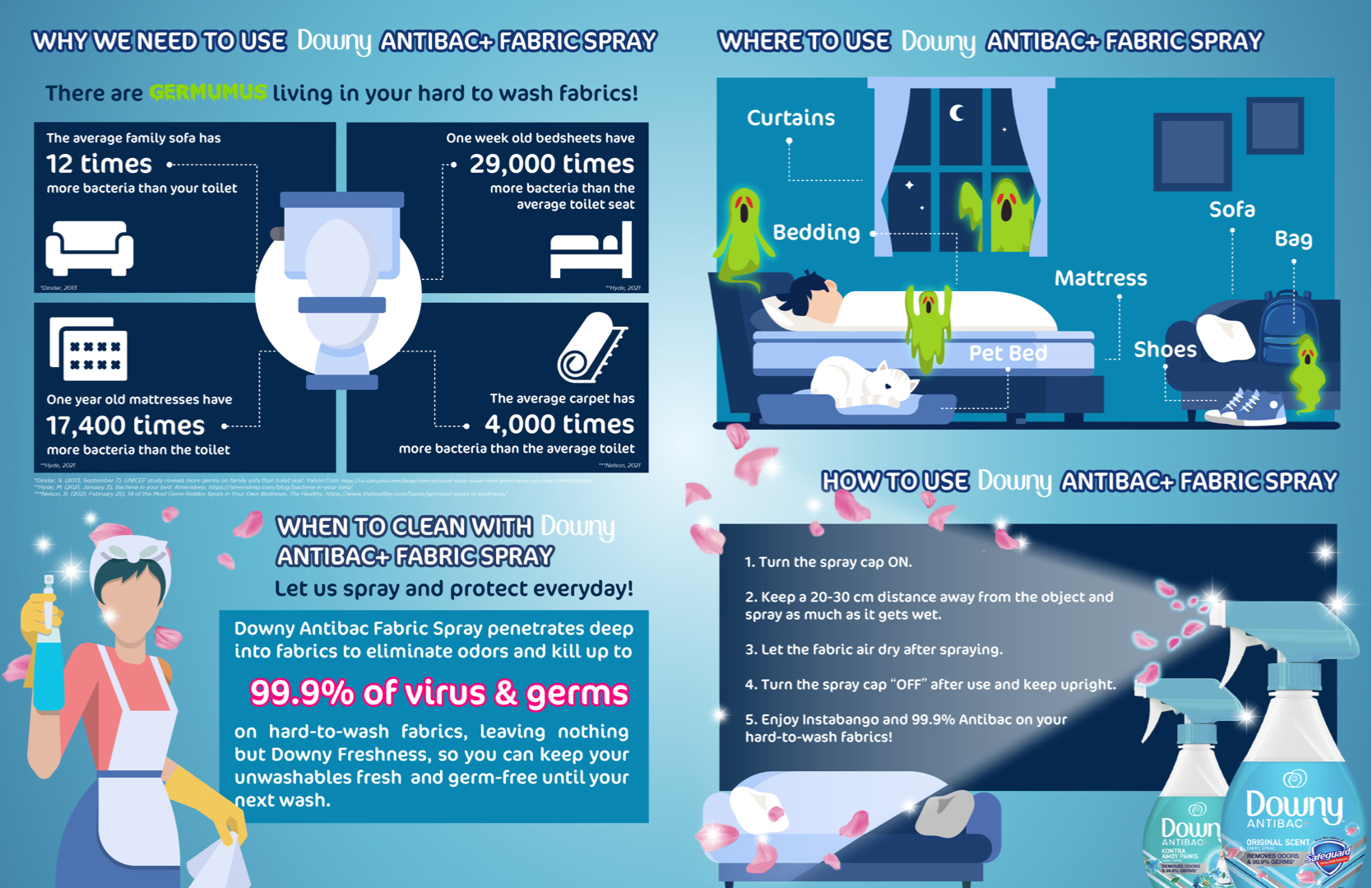 The Downy Antibac+ Fabric Spray is easy to use. Simply turn the spray cap on, position your hard-to-wash fabric 20-30 cms away from the spray, and spray until the fabric is wet. Let it air dry after so you can fully experience the 99.9% Antibac and Instabango freshness!
So the next time someone asks how often you clean the fabrics in your house, let the answer be as often as possible. Keep your hard-to-wash fabrics fresh and free of germs before your next scheduled laundry day. #LetUsSprayAndProtect with #DownyAntibacFabricSpray! – Rappler.com