NIDO® 3+ boosts your child's immunity and respiratory defense while also supplying brain nutrients
A conversation with any stay-at-home parent will tell you that it's not easy.
Feeding, playing, and nap time are all strictly scheduled, and in between, you have to get chores done. And in between those "in-betweens," you have to plan your next schedules, what to prepare for the next meal, and how to accommodate additional interruptions during the day.
It's like running a business except you're your own boss, secretary, customer, and even critic.
But raising a child presents unique challenges. And that voice at the back of your head tells you that your personal hardships shouldn't be a factor in giving your child the best of their needs – the best of what they deserve.
It's especially more challenging these days now that almost everyone is a stay-at-home parent. Add that to the work-from-home situation, and that's a killer combo.
So how do you make sure that your child's development needs are met? For many moms, they turn to growing-up milk filled with nutrition for their child's added defense. But do you truly understand what your growing up milk contains?
Finding the right growing-up milk
Nutrition, as we all know, is a key factor in overall health. And since nutritional requirements for childhood age groups are ever-changing, it's important to be in tune with what your child needs right now.
An especially scary time for parents is when they start to let go of their toddler's hands – when they begin to walk and talk and think. Children start becoming curious and independent at the age of 3, right when they enter preschool.
But finding the right milk isn't a simple matter of taste-testing. It's not just going to the grocery store and choosing the pack with the best colors and the most sulit price tag. Parents should check the labels and become familiar with complicated scientific names just to know what their children are consuming.
Now more than ever, they have to be given the right nutrition to face the world. Since this is milk they drink every day, it has to be equipped with the right ingredients for daily immunity and has to have added protection for their respiratory system since we all know how a simple cough or cold can send us in a frenzy these days.
#CheckTheLabel: More immunity nutrients
Luckily, the reformulated NIDO® 3+ and NIDO® 5+ has all of these and more. This new and improved NIDO® 3+ formulation has 50% more immunity nutrients like Vitamins A, C, E, and Zinc versus its previous formulation. Not only that! NIDO® 3+ and NIDO® 5+ are the only milk with LACTOBACILLUS PROTECTUS® to help todo protect your child's respiratory defense against pathogens that cause common coughs and colds in the upper respiratory tract together with 3 balanced meals.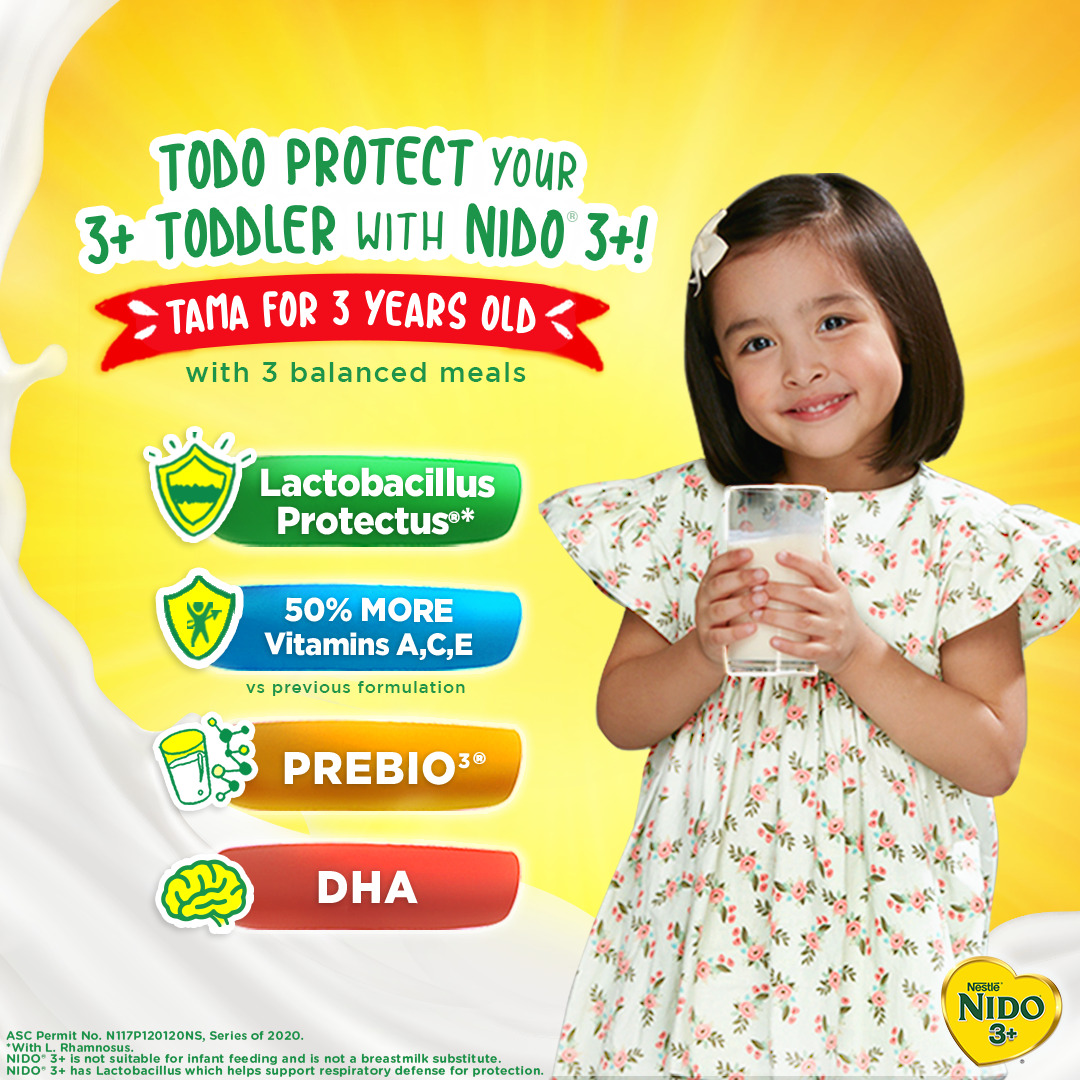 They are also todo in brain and growth nutrients, with PREBIO®3 Fiber to help digestion, while DHA, LA, ALA, and other essential vitamins that aid in overall growth and development vs the previous formulation.
NIDO® 3+ and NIDO® 5+ are made by experts for the specific needs and deficiency of Filipino toddlers ages 3 and above. They're encouraging parents to #CheckTheLabel to help educate and encourage them to be more aware of the nutritional breakdown of their child's growing up milk. Because of this, NIDO® 3+ has established itself as a reliable source of information for many Filipino parents.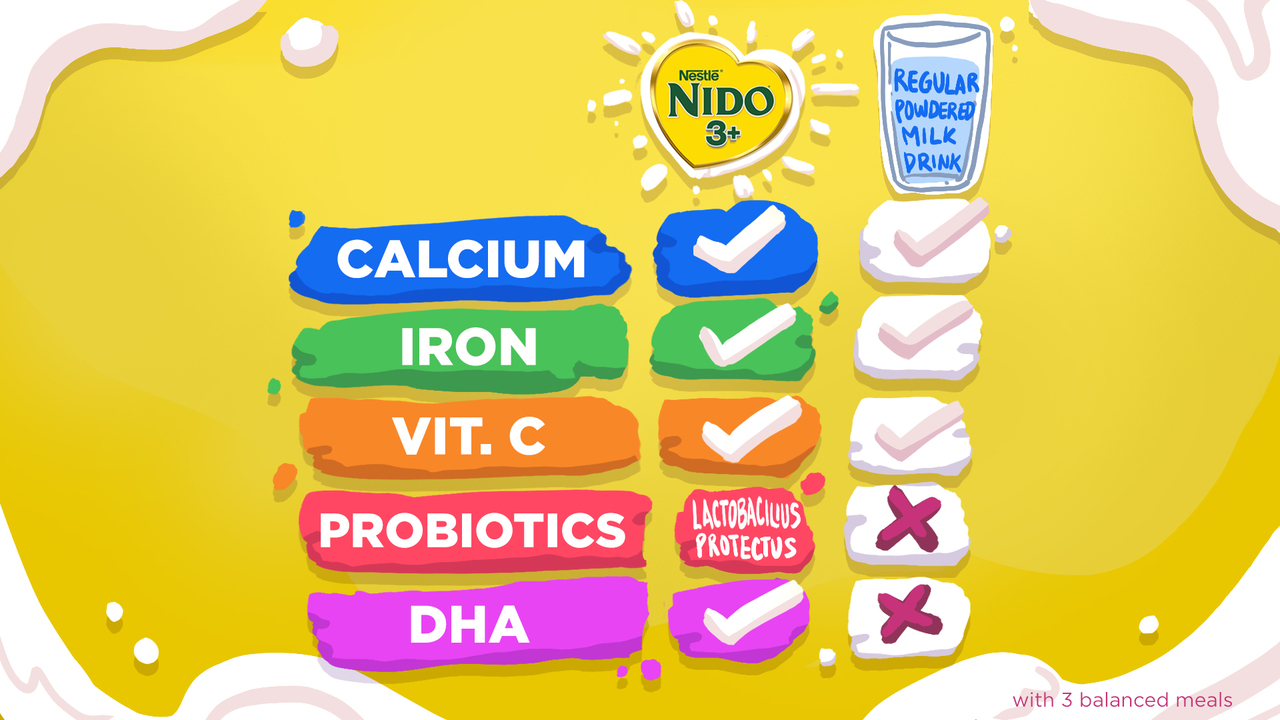 With no sucrose or added table sugar, growing children get all the benefits and goodness of milk without the negative effects of sugar.
Plus, it's also affordable for the everyday mom, all without compromising the age-appropriate nutritional elements in the formulation. This is really the milk that is made todo for toddlers. Todo in protection, brain, growth, and digestion nutrients. Nutritodo with 3 balanced meals but not todo in price.
As we live in an uncertain world, being a responsible consumer is a must – especially when it comes to our family's health.
Choose NIDO® 3+, the #1 milk for kids 3-5 years old. Give yourself and your home peace of mind by equipping your child with the right sustenance and health defense armor to face the day.
Shop these products on Lazada, Shopee, and GoodFood. For more information, follow NIDO® 3+ on Facebook. – Rappler.com
ASC REF CODE N009P120720NS