Over 6,900 Marikina students are incorporating eco-friendliness to their lives with Breeze's EcoProject
Editor's note: This content is sponsored by Breeze and was produced by BrandRap, the sales and marketing arm of Rappler. No member of the news and editorial team participated in the production of this piece.
Whenever storms strike Metro Manila, the nation often turns its eyes to the city of Marikina. The city holds a unique spot in the middle of a valley bordered by Rizal's mountainous terrain, while also being home to the Marikina River. This means that when ecological crises happen, the low-lying city is heavily impacted by its adverse effects, particularly through flooding in the wake of typhoons.
In addition to the frequency of storms in the Philippines which averages 20 a year, these typhoons have also grown stronger due to the effects of the climate crisis. For residents of a city like Marikina, every action counts to help protect their environment from the challenges of the climate crisis.
This is especially pertinent for the youth of Marikina, whose futures are still being molded alongside the city's. "Nararamdaman ko po [na] pag malakas ang ulan, mabilis tumaas ang tubig sa ilog Marikina at pagkatapos ng malakas na ulan, maraming basura ang naiiwan sa tabi ng ilog at karamihan dito [ay] iba't ibang produkto ng plastik," said Given Rich Claciete, a fourth grade student of Concepcion Elementary School.
(I notice that when the rain falls hard, the water rises quickly in the Marikina River and after the rain, a lot of trash is left by the riverside and most of them are plastic products.)
Some of the children in the city, like Leodegario Victorino Elementary School fourth grader Lois Nicolette Delos Santos, had already adopted environment-friendly behaviors instilled by the LGU. When asked if Lois was practicing eco-friendliness outside of school projects, she said: "Yes, [I do] a simple thing like not throwing garbage anywhere. Here in Marikina we practice 'Munting Basura, Ibulsa Muna' (For small pieces of trash, put in pockets first)."
Already gaining awareness of the climate crisis-impacted state of their environment, students as young as Given and Lois are ready to contribute to a better world with the right push from guided programs. To contribute to this, Breeze's EcoProject helps empower them to cultivate a passion to protect their home.
Promoting eco-friendliness as a lifestyle
The Breeze EcoProject was first launched in 2021 as a way to encourage students as young as nine years old to do good for the environment every day. The project, which was executed as a multi-platform and quarter-long syllabus, was piloted at Marikina schools for students from grade three who would benefit from internalizing the importance of responding to the climate crisis.
The EcoProject was rolled out last November 2021 in three phases: Educate, Engage, and Empower. The first leg involved creating mass awareness among  children through a partnership with the Knowledge Channel, which aired an EcoSquad educational film. The second zeroed in on engaging with particular schools through online lectures and guided hands-on workshops on creating recycled crafts like EcoPlanters made out of recycled bottles. The final leg let students take action on their own by accomplishing missions they documented in an EcoDiary, in which top performers would be awarded with special prizes like laptops that helped with their education, especially in an online set-up.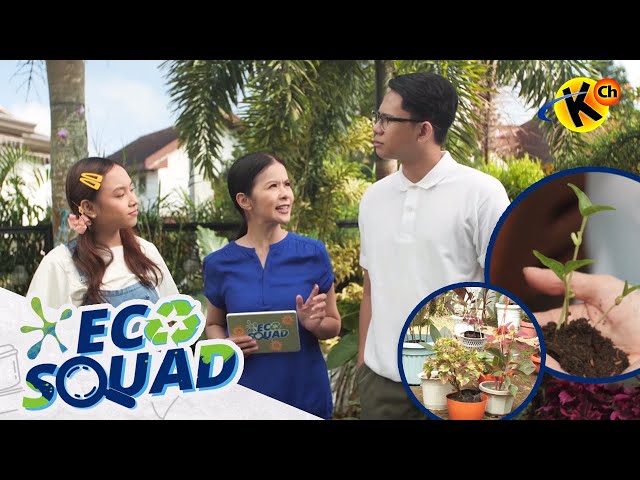 Concepcion Elementary School science teacher Mitzie Ross Culala shared how the project instilled a sense of action within the young students. "It impacted a lot [of] our learners! The activity gave them a heads up that all of us, not only them, [have] the responsibility to take care [of] and save our environment. That every one of us can be [a] hero in our own little way. That even just a little act of kindness and consideration to others can make a difference in everybody's lives," said Culala.
Finding fun in responsibility
An activity that resonated with students was the monggo seed planting, which taught them the value in encouraging life within their natural surroundings to grow. "My favorite activity in the program is planting monggo seeds. I am amazed to see how my plant grows day by day," said Allyza Nichole De Jesus, a fourth grader in Malanday Elementary School.
Through the activity, Allyza had found a love for gardening with her family. "I continue this activity by helping my grandfather to plant in their house. I love to water the plants too!"
The program helped students get introduced to simple environment-friendly principles that they can apply for a lifetime. According to the Breeze EcoProject's final report, the 2021 EcoDiary missions garnered 6,148 unique entries in the activities and resulted in an almost 90% participation rate among students.
Driving the advocacy forward
Now, the Breeze EcoProject is gearing up for its 2022 iteration. "I expect that more students [or] kids like me will join the EcoProject and more recyclable materials will transform into a beautiful piece of art," said Allyza. The program has exciting activities in store for kids like her, as the 2022 version aims to empower students to not only practice eco-friendliness but to create beauty with it.
Now that face-to-face classes are in session, the program will engage with elementary students through in-person EcoSquad activations, a recyclables collection program called ECOllect, wherein collected plastics from the students will be transformed into eco-furniture with the help of Breeze's upcycling partner The Plastic Flamingo, and a Vertical Garden installation which students can take care of even long after the culmination of the Breeze EcoProject.
Through it all, a passion for protecting the environment continues to be cultivated among the youth of Marikina. Perhaps, as these programs continue to create meaningful ripples across a new generation of Marikeños, the city can look forward to a brighter, more climate-ready future.
To stay tuned about the Breeze EcoProject, follow the brand's social media accounts on Facebook and Instagram. – Rappler.com