The awards, started in 1993, recognizes 10 outstanding local governance programs every year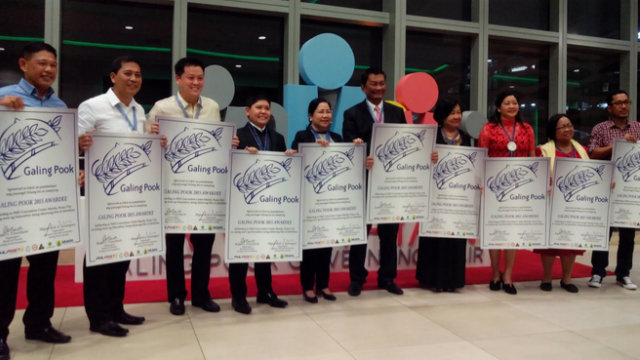 MANILA, Philippines – Inspiring good governance practices were acknowledged during the 2015 Galing Pook Awards held at the SMX Convention Center in Pasay City on Tuesday, September 1.
The 10 outstanding local governance programs, selected from 16 finalists, were as follows:
Philippine Cockatoo Conservation Program (Narra, Palawan)

Sirib Express: Involving the Youth in Community Development (Ilocos Norte)

LETS GO: A Model of Barangay Good Governance (Barangay Graceville, San Jose del Monte City, Bulacan)

Ambao Fish Sanctuary and Marine Reserve Area program (Hinundayan, Southern Leyte)

Humanitarian Assistance and Economic Development Program (Albay)

Local Garments Industry Institutionalization program (Taytay, Rizal)

Education 360° Investment Program (Valenzuela City)

Minahang Bayanihan: Small Scale Mining Program (South Cotabato)

The Friendly Drugs: A PPP On Health Plus Project (South Cotabato)

Pangkabuhayan Centers:A Way Out of Poverty (Siayan, Zamboanga del Norte)
The winners receieved cash awards from the Local Government Academy  (LGA) of the Department of Interior and Local Government (DILG).
Our business is the people
Speaking in behalf of the awardees, Siayan Mayor Flora Villarosa shared the challenges she faced when she started leading the town in 2010.
According to Villarosa, she was driven to run by Kara David's "Biyaheng Totoo" report which describes the municipality as the poorest in the country with a 97.5% poverty incidence.
Villarosa, who never had any political experience before, said that she has beaten a 43-year-old dynasty in the 2010 elections.  At the time she was proclaimed, she asked herself where she will start.
"If you become the municipal mayor of the poorest town in the Philippines, what will you do? I thought that we have to start focusing on the people. When you are poor, you become more demoralized if you don't see any improvement," Villarosa said.
How demoralizing was the situation in Siayan before? According to Villarosa, the town's roads were unpaved, the municipal hall was ugly, and they had no other forms livelihood. 
"98% po sa munisipyo or the community ay farmers. Tinanong nga ako 'nung panelists, sino 'yung 2%? Sabi ko 'yung 1% po teachers, 'yung 1% naman po nagtatrabaho sa munisipyo, and the rest po, lahat sila, magsasaka. So just imagine that kind of poverty," Villarosa added. 
"Around 98% of the population are farmers. The other 2% are teachers and municipal employees. Just imagine that kind of poverty," she added.
To turn things around, Villarosa shifted her focus on the people's business. The mayor said they had to motivate the people so they will be able to get out of poverty. The LGU asked the people what their dreams are, even asking them to draw it.
They wished to eat three times a day. They wanted good roads.
Those aspirations were sent to President Benigno S. Aquino III, which then asked Undersecretary Austere Panadero to convene and help the then poorest municipality.
The solution that was implemented was the Community Enterprise Development Program – Pangkabuhayan Centers (CEDP-PCenter) in July 2011 which pooled in the residents' resources.
"We are very happy to tell you that in December 2014, Siayan is already in #36. We're no longer the poorest municipality," Villarosa said.
2015 Galing Pook Citizenship awardees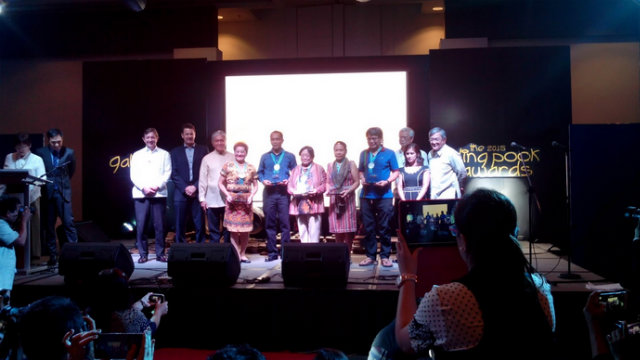 Aside from awarding the Ten Outstanding Local Governance Programs, Galing Pook also initiated its first Citizenship Awards recognizing private organizations and their contributions to the people that they serve.
Tagum Cooperative, Balay Mindanaw Foundation, Inc. and Concerned Citizens of Abra for Good Government, Inc. were selected from 5 finalists to receive the Citizenship Award.
The 117,000-member strong Tagum Cooperative is recognized as one of the biggest cooperatives in Mindanao, and has given programs that cover education, health care and financial literacy. One of their programs is the TC Youth Laboratory Cooperative, where they train future cooperative leaders on how to manage a cooperative. Their "womb-to-tomb" approach is described through savings programs for the youth, insurance for adults and burial benefits for bereaved families.
The Balay Mindanaw group of non-government organizations (NGOs), launched in 1996, serves more than 40 communities in Mindanao affected by conflicts and disasters through execution of peacebuilding efforts at the barangay level.
The Community-Based Monitoring of Government Programs and Services was the benchmark project of the Concerned Citizens of Abra for Good Government, Inc. It started 29 years ago when they pushed for the conviction of 11 engineers from the Department of Public Works and Highways (DPWH) for anomalies by sending a letter to then secretary Vicente Jayme. The case was successful and the department's projects in Abra were audited. This resulted to the CCAGG being part of the Pre-Bids and Awards Committee of the DPWH in the Cordillera Administrative Region.
The other finalists were Shontoug Foundation, Inc.'s "Community Health Care for Indigenous People in Sagubo, Kapangan, Benguet" and Mahintana Foundation, Inc.'s "Health Plus: Procurement and Distribution of Affordable Medicines" projects, both focusing on community health care. 

The 17-member National Selection Committee is headed by former Sarangani Governor and Galing Pook's first Jesse Robredo Leadership Awardee Miguel Rene Dominguez. 
The Galing Pook Awards, which gives recognition to innovative and excellent governance programs, was established in October 1993. – Rappler.com