PRESS RELEASE: PFCI aims to build the capacity of fact-checking organizations in the Philippines and encourage participation in global fact-checking networks
This is a press release from Internews
Does your organization want to build its capacity in fact-checking? Are you interested in the growing global community of independent fact-checkers?
Internews is launching the Philippine Fact-Checker Incubator (PFCI) to train and support more fact-checking organizations and provide mentorship for them to develop fully-fledged fact-checking units within their organizations.
The program aims to support up to six (6) media or civil society organizations to participate in the first PFCI, following global fact-checking standards like those of the International Fact-Checking Network (IFCN)'s code of principles.
Starting September 2021, selected organizations will receive a comprehensive support package including training, technical and financial support, and mentorship in an effort to build a strong fact-checking community in the Philippines. The PFCI will also establish collaboration channels to enable the newly incubated fact-checkers to work routinely and collegially with the fact-checking community in the Philippines.
PFCI aims to build the capacity of fact-checking organizations in the Philippines and encourage participation in global fact-checking networks.
This assistance package will be provided to selected organizations by Internews in partnership with VERA Files and Rappler.
This program is made possible by Facebook's funding.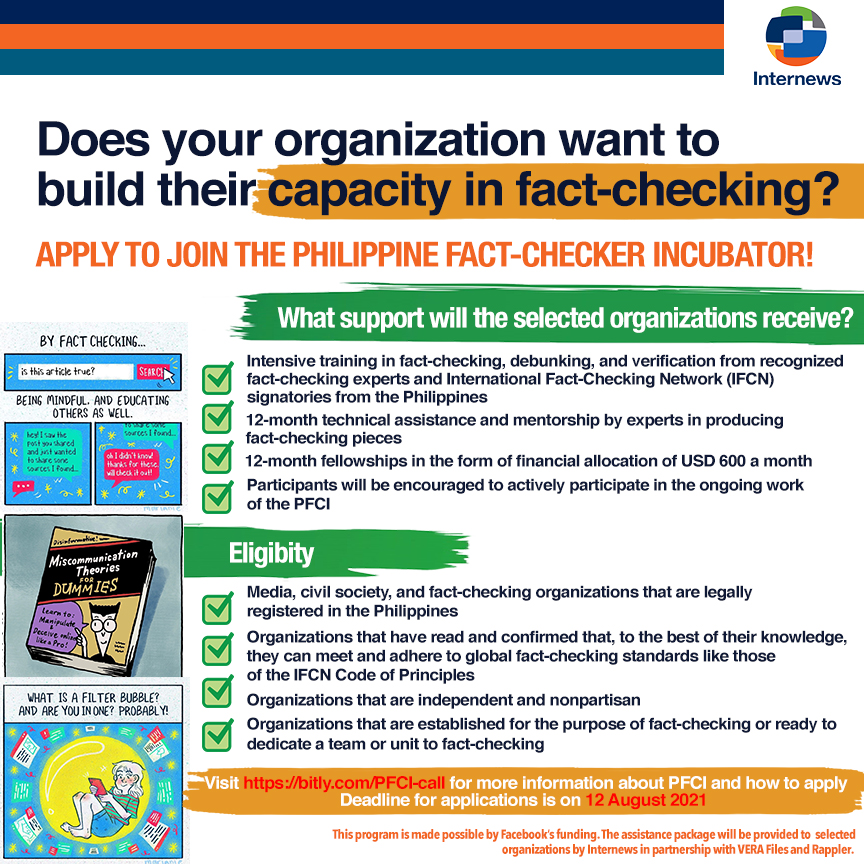 Eligibility
Applications are open to:
Media, civil society, and fact-checking organizations that are legally registered in the Philippines
Organizations that have read and confirmed that, to the best of their knowledge, they can meet and adhere to global fact-checking standards like those of the IFCN Code of Principles
Organizations that are independent and nonpartisan
Organizations that are established for the purpose of fact-checking or ready to dedicate a team or unit to fact-checking
Expected qualifications:
Track record of fact-checking, research, or coverage of public interest issues
Experience with fact-checking, debunking, or verification practices, and/or addressing the information disorder
A digital footprint that supports the organization/team involvement in independent, public service journalism or coverage of public interest issues
Capacity to produce outputs in more than one Philippine language is an advantage
Selection Process
Initial screening and shortlisting will be done by Internews.
Shortlisted applications will then be reviewed by the selection committee which includes members of the fact-checking community and Internews.
The selection criteria will be based on eligibility and qualifications. A maximum of six (6) organizations will be selected to join the Philippine Fact-Checker Incubator.
All documents and information submitted by the applicant will only be used for the purpose of the selection process and will be kept confidential.
Decisions are expected to be communicated via email by 23 August 2021.
How to Apply
The candidates must submit their application through this link: Expressions of interest for the Philippine Fact-Checker Incubator (PFCI) program.
Applications must include a cover letter and an organization's profile to be uploaded in the online application form.
The cover letter must explain the interest of your organization in joining the PFCI, and pledge readiness to avail time of journalist/researcher/writer and meet the commitments listed in this call for expression of interest if selected, along with the assurance that the fact-checking outputs will be widely circulated. The cover letter should express the applicant's commitment to support the local fact-checking community, adhere to global fact-checking standards and participate in global fact-checking organizations/coalitions.
Deadline for applications is on 12 August 2021, at 11:59 p.m.
If you have any questions about this call for expression of interest, please address them to gkehailia@internews.org, ylagman@internews.org, and kraymundo@internews.org, no later than five (5) days before the applicable deadline. – Rappler.com