The carmakers are assessing vehicles with products from Kobe Steel, which admitted falsifying data linked to the strength and quality of its products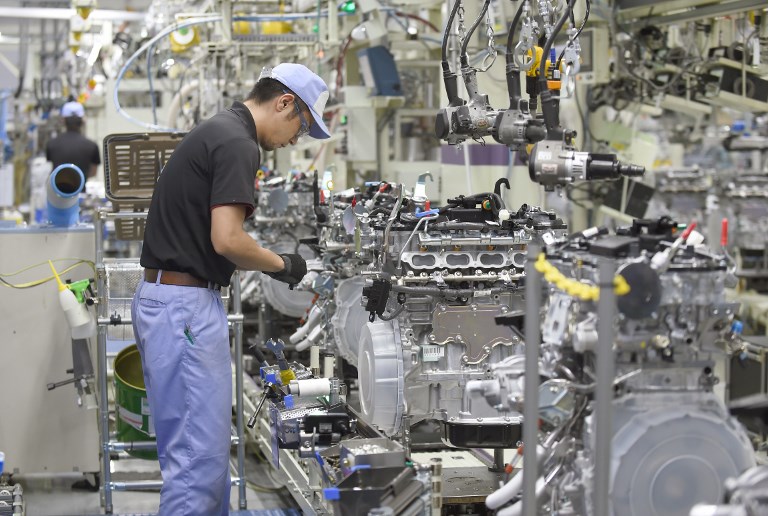 TOKYO, Japan – Top Japanese automakers said Wednesday, October 11, they were scrambling to assess the safety of vehicles containing products from Kobe Steel, which has admitted falsifying quality data in a growing scandal.
Toyota, Nissan, Honda, Mitsubishi Motor, Subaru, and Mazda joined aviation firms and defense contractors Mitsubishi Heavy Industries, Kawasaki Heavy Industries, and IHI that have used the steelmaker's products.
The brewing crisis is the latest in a string of quality control and governance scandals to hit major Japanese businesses in recent years, undermining the country's reputation for quality.
Japan's famous "Shinkansen" bullet trains also used Kobe Steel's aluminum, as did high-speed trains in Britain, according to engineering firm Hitachi.
"Products used [for both Japanese and British trains] met safety standards. But they did not meet the specifications that were agreed between us and Kobe Steel," a Hitachi spokesman told Agence France-Presse.
Honda spokesman Tamon Kusakabe said: "As to safety, we are still studying (a possible) impact."
"At this point, we don't see a critical problem as we have our own safety inspection on materials we use. But we are still investigating and it's premature to say" if recalls will be necessary.
Auto giant Toyota has already said Kobe Steel supplied materials to one of its Japanese factories, which used them in hoods, rear doors, and surrounding areas of certain vehicles.
The industry ministry has pressed Kobe Steel to work with its clients, spread over a wide range of industries, to conduct urgent safety analysis.
Kobe Steel also admitted Wednesday that it was in talks with one client who received steel powder that did not match specifications.
However, it declined comment on a media report that materials used in semiconductors were also impacted by the scandal.
Share value slumps
The Kobe Steel scandal broke on Sunday, October 8, when the manufacturer first admitted falsifying data linked to the strength and quality of products.
An internal probe has revealed that data were fabricated for about 19,300 tons of aluminum products, 2,200 tons of copper products, and 19,400 units of aluminum castings and forgings shipped to clients between September 2016 through August 2017.
The stock dived 22% on Tuesday, October 10, to finish at 1,068 yen ($9.50), its maximum daily loss limit – wiping almost $1 billion off the firm's market value.
On Wednesday it plunged a further 17.8% to close at 878 yen.
The company said the fabrications, which might have started a decade ago, could affect products sent to as many as 200 companies but it remained unclear whether the scandal affected product safety.
The problems at Kobe Steel are an additional headache for Nissan, which has already announced a recall of more than a million vehicles in the domestic market over a certification issue.
And it is just the latest in a series of affairs to embarrass Japanese industry.
Airbag maker Takata went bankrupt after defective products were linked to 16 deaths and scores of injuries worldwide.
Mitsubishi Motors last year admitted that it had been falsifying mileage tests for years. 
And electronics giant Toshiba has admitted that its executives had pressured underlings to cover up weak results for years after the 2008 global financial meltdown. – Rappler.com