Ahead of the ASEAN Summit in Manila, Rappler looks at how economies in the region compare in terms of infrastructure development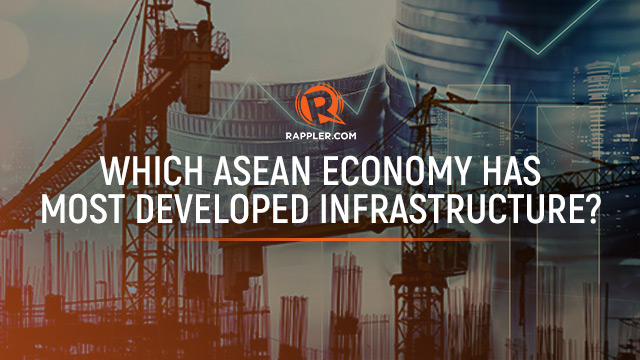 MANILA, Philippines – Under the limelight of China and India, the economic bloc of the Association of Southeast Asian Nations (ASEAN) has slowly been starting to flex its muscles and become more recognizable in the world. Significant investment in infrastructure, however, is needed for the region to achieve its full potential.
Ahead of the ASEAN Summit in Manila from November 13 to November 14, Rappler looked at how economies in the region compare in terms of infrastructure development, according to the latest global competitiveness report of the World Economic Forum (WEF).
Among the 9 Southeast Asian economies covered by the WEF's Global Competitiveness Index, 5 have increased their score in overall infrastructure, with Indonesia and Brunei Darussalam making the largest strides. Singapore, the Philippines, Cambodia, and Lao People's Democratic Republic have seen their scores decrease in the 2017-2018 report, from that of 2016-2017.
Even if Singapore's overall infrastructure score did not improve, it remained to be the economy with the best infrastructure when it comes to ASEAN. Its consistent high performance reflects Singapore's quality of facilities across all modes of transportation.
The WEF looked into the quality as well as availability of roads, railroads, ports, air transport, electricity, and telephones of each economy to produce an overall ranking.
I. ROADS
In terms of the availability of roads, Singapore scored the highest in ASEAN and the 2nd best in the world, based on data from the 2017-2018 WEF report. The Philippines, meanwhile, scored the lowest in ASEAN and ranked 104th of 137 economies when it comes to quality of roads. (READ: How safe are road users in ASEAN countries?)
Having the 2nd smallest population in ASEAN, Singapore was able to ensure nearly all of its 3,496 kilometers of roads are paved. Meanwhile, only about 86% of the Philippines' road network of about 270,000 kilometers are paved. A study by the Japan International Cooperation Agency (JICA) had reported that the Philippines would lose P6 billion every day by 2030 if worsening traffic congestion is not resolved and roads remain inadequate. To address this, the administration of President Rodrigo Duterte has been implementing its P8-trillion infrastructure program.
Compared to the 2016-2017 scores, Indonesia is the most improved ASEAN economy in terms of quality of roads. It scored 4.10 out of 7 in the 2017-2018 report, from 3.9 in the previous report. Just like the Philippines, Indonesia has also started its big infrastructure push after years of underspending, a Reuters report said.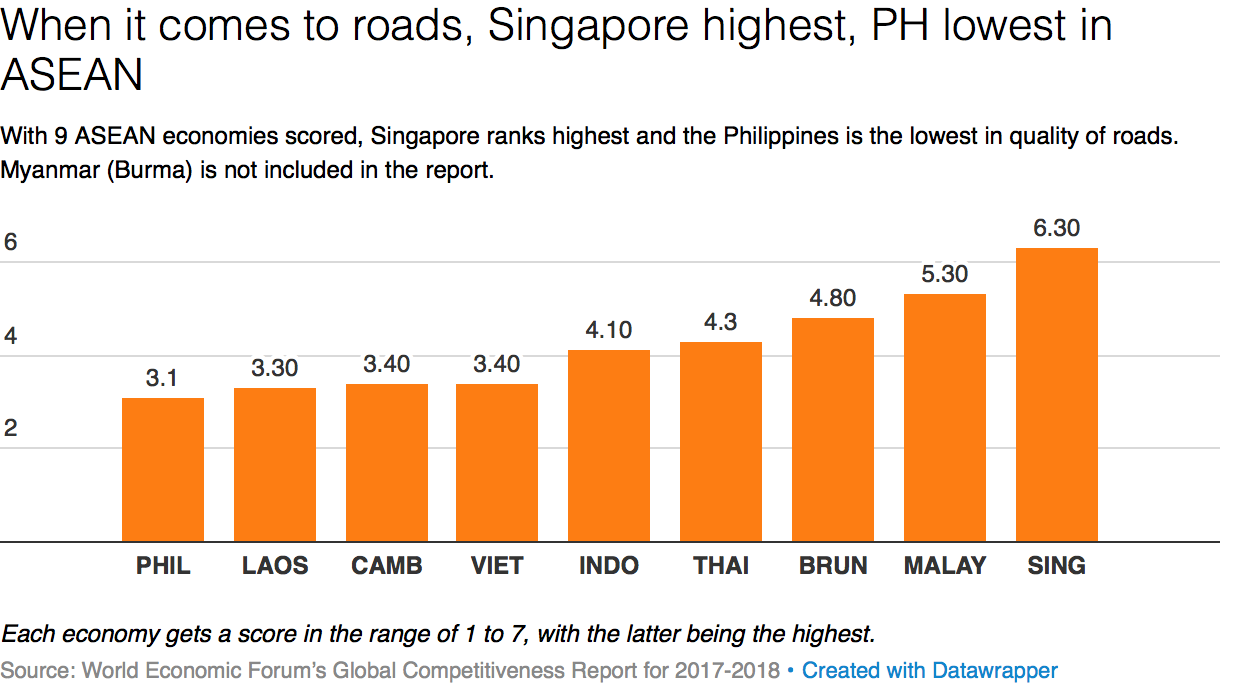 II. RAILROADS
When it comes to railroads, Singapore continues to lead the ASEAN economic bloc, while Cambodia lost competitiveness against other member nations. 
Getting around Singapore is easy with its mass rapid transit (MRT) and light rail transit spanning the entire city-state. According to SMRT Corporation, Singapore's MRT network alone consists of 119 stations and 5 main lines, spanning 198.6 kilometers.
For Cambodia, its railway problem has hampered growth. According to a case study by the Centre for Public Impact, railway traffic in Cambodia declined "because of the poor condition of tracks and equipment, which rendered the railways increasingly unreliable and slow." To address this, the Cambodian government in 2007 partnered with the Asian Development Bank for the rehabilitation of its railways.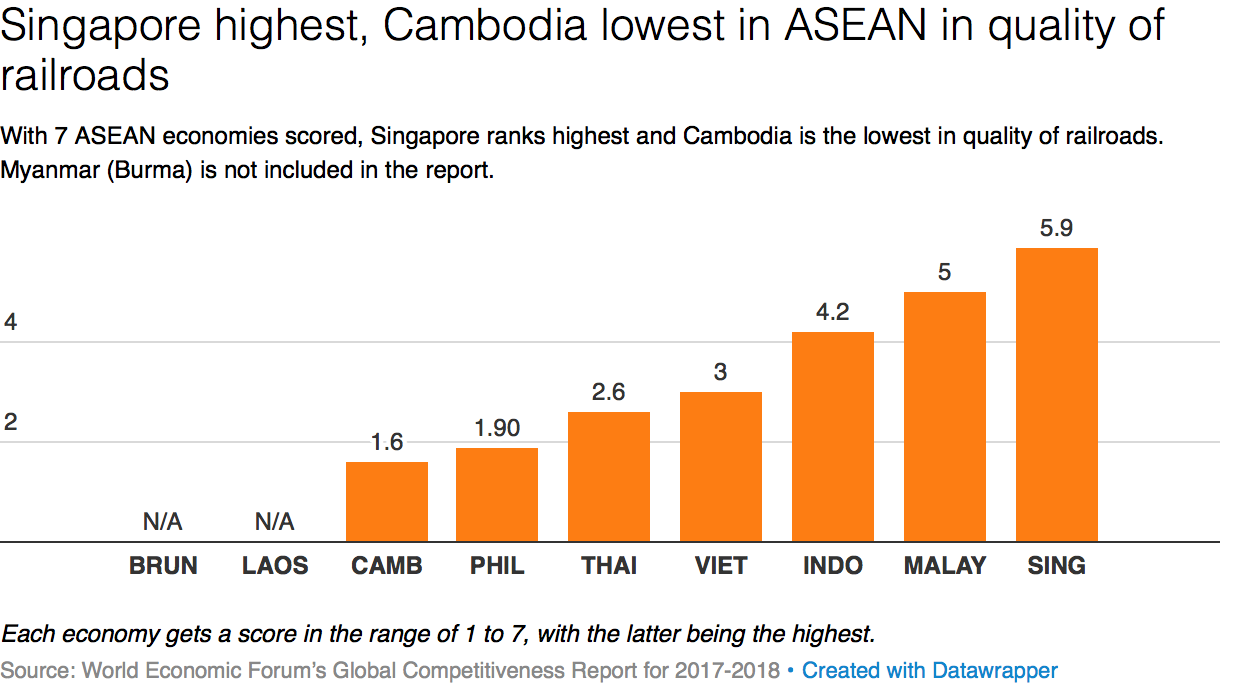 III. PORTS
Ports play an important role in opening the doors to trade between two economies, and Singapore knows it best. Because of its strategic geographical position and its "better ports facilities," Singapore has become the preferred choice of those in the shipping trade, according to a report from Asean Today.
The Port of Singapore operates 67 berths with a handling capacity of about 40 million twenty-foot equivalent units (TEUs) each year. Meanwhile, Laos scored lowest in ASEAN in terms of quality of ports.

As a country enclosed by land and having no navigable route to the sea, Laos has no ports or harbors.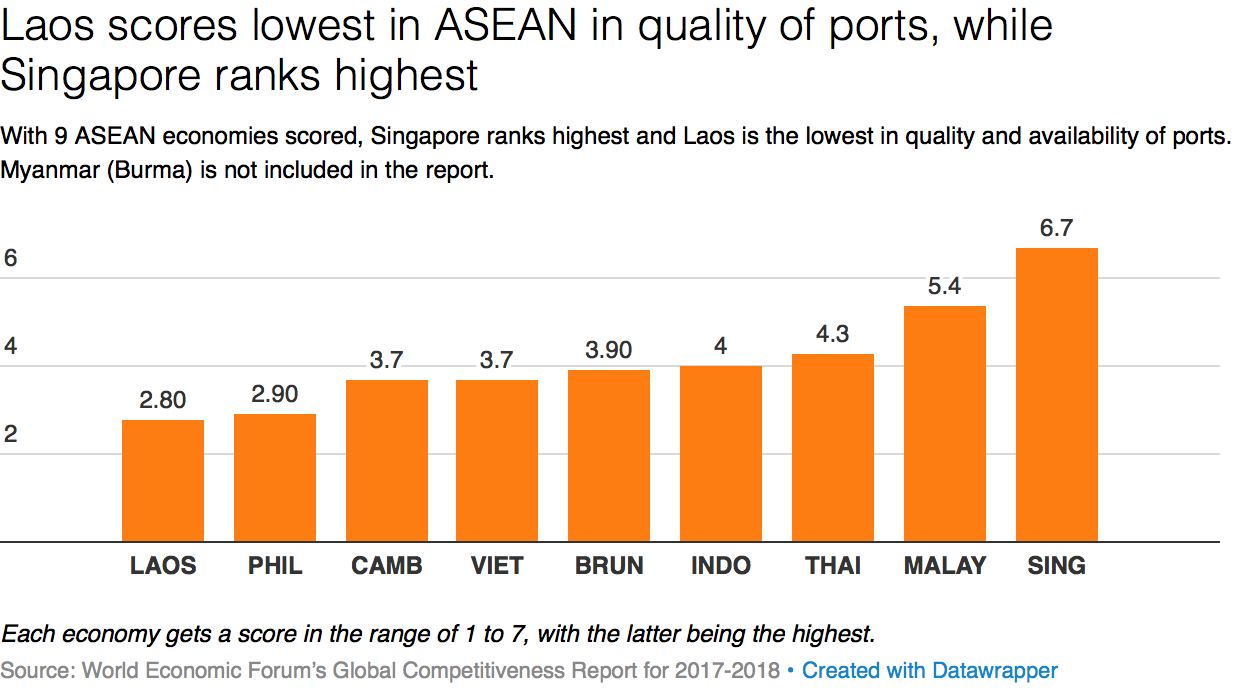 IV. AIR TRANSPORT INFRASTRUCTURE
The future bodes well for Singapore in terms of air transport infrastructure. Quoting the International Air Transport Association (IATA), a report from Straits Times said aviation could be worth $88 billion to the Singapore economy come 2035, thanks to expansion and upgrade works at its award-winning Changi Airport.
Scoring the lowest among ASEAN neighbors, the Philippines was urged by IATA to act on airport development proposals immediately. By 2035, IATA said it expects about 140 million passengers passing through Manila airports annually, from the current 60 million. It expressed concern over the country's lack of air transport infrastructure. (READ: IATA to PH gov't: Act on airport proposals now)
But after several years, the latest survey released by travel website The Guide to Sleeping in Airports last October showed that the Ninoy Aquino International Airport is no longer included in the top 20 worst airports in the world, and even in the top 5 worst airports in Asia for 2017. (READ: NAIA no longer among 'worst airports' – survey)
Showing signs of improvement, 4 regional airports in the Philippines remain among the top 25 best airports in Asia this year, the survey showed.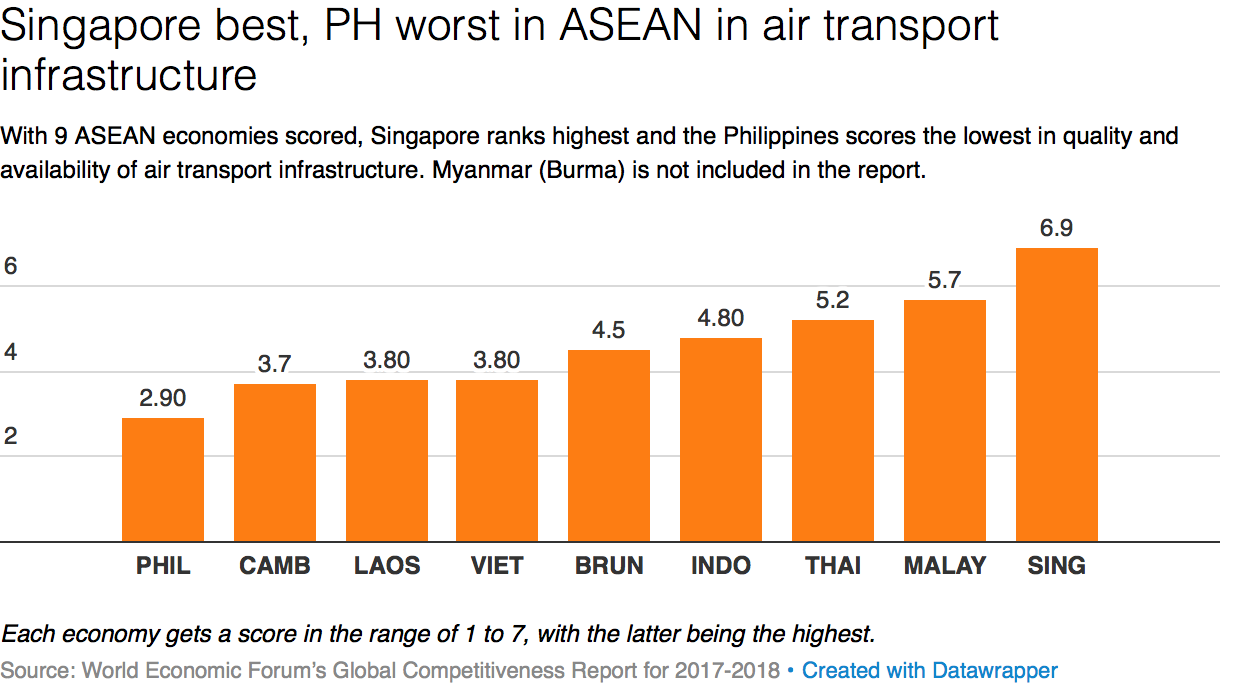 V. ELECTRICITY SUPPLY
Singapore also leads ASEAN in electricity supply. The Business Times reported that come April 2018, Singapore will start to fully liberalize its power market, with households in the Jurong district getting the first chance to choose their electricity retailers.
Singapore has also been choosing cleaner energy sources. According to Straits Times, natural gas now makes up 95.5% of the fuel mix in Singapore, while renewable energy is on the rise.
Cambodia, in contrast, has the worst quality of electricity supply in ASEAN, the WEF report states. Some of the challenges in Cambodia include high electricity prices, low energy access, as well as great dependence on traditional biomass for cooking.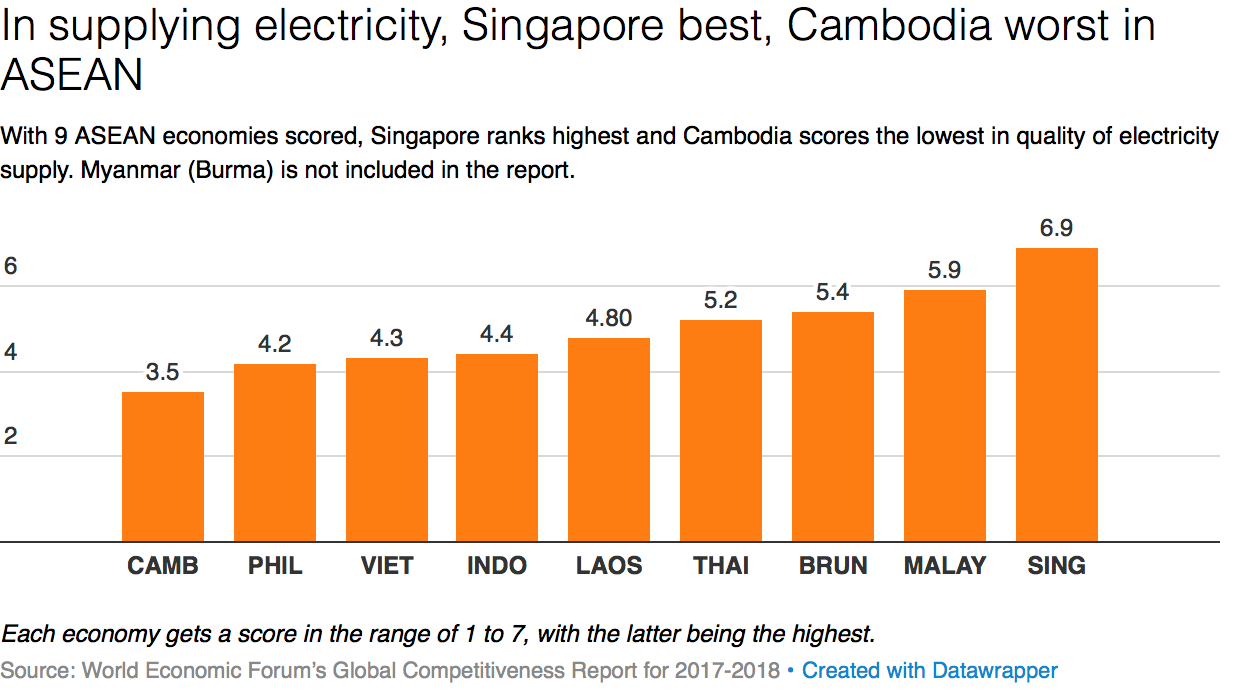 If the 10 members improve on where they are lacking, Malaysian Prime Minister Najib Razak had said that Southeast Asia's economic bloc has the potential to be the world's 4th largest economy by 2030. (READ: What's next for the ASEAN economy in a post-American world?)
After all, subpar infrastructure restrains economic growth and competitiveness scores for any country.
This was echoed by the Institute of Southeast Asian Studies (ISEAS), which said in a report that filling the region's infrastructure gap and promoting interconnectivity is key to fully integrate ASEAN.
"Countries have realized that the availability of soft and hard infrastructure at the national level is a prerequisite if they are to benefit from regional economic integration," Sanchita Basu Das, ISEAS senior fellow, said in a report.
She said developing infrastructure networks within and in between neighboring countries is key to ASEAN integration. – Rappler.com