Lakepower Converter Incorporated agrees to reinstate 64 employees, after the Department of Labor and Employment intervened to settle their dispute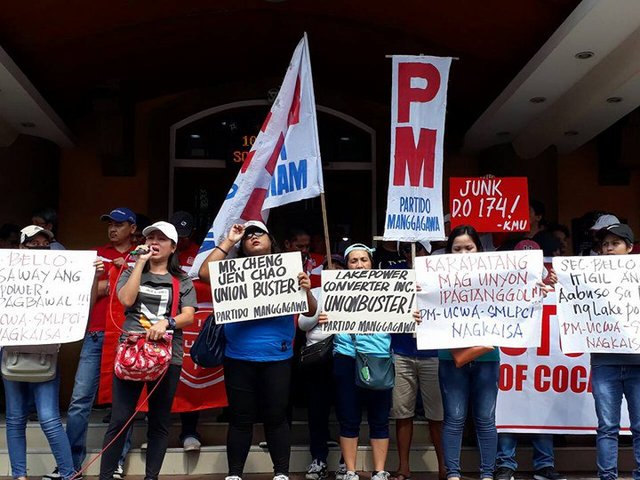 MANILA, Philippines – A dispute between the management and workers of an electronics firm in Cavite was resolved with the intervention of the Department of Labor and Employment (DOLE).
Lakepower Converter Incorporated, a Taiwanese manufacturing company based at the Cavite Economic Zone in Rosario, agreed to reinstate 64 terminated officers and workers.
"In resolving the dispute, workers and management of Lakepower Converter Incorporated agreed to amicably settle their differences [and] withdraw the workers' notice of strike, with the company vowing not [to] initiate any legal action against the workers," DOLE said in a statement on Wednesday, April 25.
Under the settlement, workers were also asked to "respect and abide by the rules and regulations of the employer" and to refrain from "releasing negative publicity to the media that may ridicule the company."
Late last year, the Samahan ng Manggagawa sa Lakepower Converter Incorporated Independent had accused management of union busting, including illegal termination and harassment.
The union, consisting of mostly female workers, went on strike in December 2017.
Union president Mercy Tanginan previously told Rappler that they formed their group in June 2017 due to unjust working conditions and harsh disciplinary actions.
In a statement on Wednesday, Tanginan said: "We are thankful to the company because we can now report back to our jobs. We had difficulties before in negotiating with the company but now, they are hearing us out and [this] resulted in the resolution of the case."
According to Lakepower lawyer Maria Carmen Espinosa, "the management had thought of middle ground."
"We came out with the terms and conditions which are reasonable to the workers and gladly, the union accepted [these] terms," she added. – Rappler.com