The Lucio Co-owned firm accepts the offer of its joint venture partner, Lawson Japan, to buy its 70% equity interest in PG Lawson for an undisclosed amount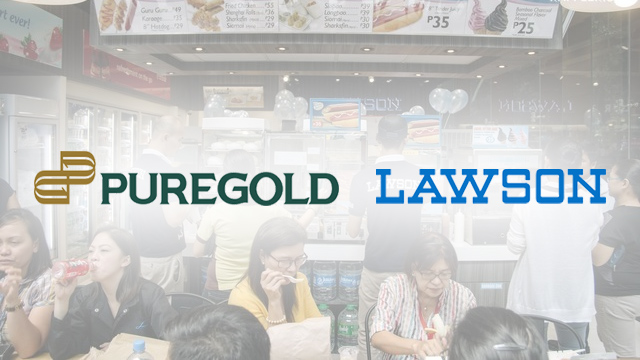 MANILA, Philippines – Lucio Co-owned Puregold Price Club Incorporated is exiting the convenience store business, 4 years after venturing into this space, with the sale of its entire 70% stake in convenience store chain Lawson.
Puregold told the local bourse on Friday, April 27, that it has accepted the offer of its partner Lawson Japan, to buy its 70% equity interest in Philippine joint venture PG Lawson Incorporated for an undisclosed amount.
"The divestment decision will enable Puregold to rebalance its risks portfolio in the grocery retail sector and focus its resources in the further development and strengthening of the Puregold brand," the listed firm's disclosure read.
Puregold has 33 Lawson stores, mostly in Metro Manila, as of end-2017. (READ: Puregold to focus on original store format)
Back in 2014, Puregold partnered with the Lawson group to establish PG Lawson, which plans to build and operate a chain of convenience stores all over the Philippines with a target of 500 stores by 2020.
Puregold subscribed to a total of 3.5 million common shares in PG Lawson for a total investment of P350 million, while Lawson subscribed to 1.5 million common shares worth P150 million.
Puregold subscribed to sn additional 1.4 million common shares for P140 million last year.
Puregold has said it will spend P3.7 billion in capital expenditures for 2018, mainly for the construction of new grocery stores  and for an IT system upgrade.
Funding for this year's capital expenditures will primarily come from internally generated cash and short term loans, if necessary.
Puregold saw a 5.7% increase in net income to P5.84 billion in 2017, from P5.53 billion recorded a year ago on double-digit growth in sales.
Consolidated net sales increased by 10.6% to P124.5 billion in 2017, slightly exceeding its full-year net sale target of between 8% to 10%.
Puregold operates 372 stores with 518,000 square meters net selling area, as of 2017.
 Puregold expects net sales to grow at a slower pace of 6% to 8% this year. – Rappler.com