Finance Undersecretary Karl Kendrick Chua says underperforming private schools are very profitable and enjoy tax perks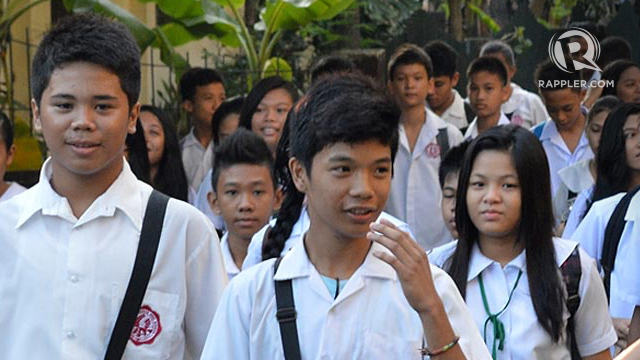 MANILA, Philippines– While the Department of Finance (DOF) assured Filipinos that the second package of the Tax Reform for Acceleration and Inclusion (TRAIN) law would be revenue-neutral and hence be non-inflationary, a group of private schools expressed concern that the proposal would increase school fees and "weaken" educational institutions.
In a statement given to Rappler, Coordinating Council of Private Educational Associations of the Philippines (COCOPEA) legal counsel Joseph Noel Estrada said the government should go about the tax reform a way that still "recognizes the complementary role of private education in the delivery of education in the country." (EXPLAINER: Why the government is pushing for 2nd TRAIN package)
Estrada also said that the move would pose more challenges to schools, given the struggles in the transition to K to 12 program and the implementation of free tuition in state colleges and universities (SUCs).
The organization said that private education complements the government's capacity from elementary (9%), secondary (20%), senior high school (46%), and tertiary education (54.3%). Moreover, private schools provide majority of the supply for programs under science and technology, accountancy and business, and humanities and social sciences.
Estrada also appealed to government to look into the "unreasonable regulation of tuition and other school fees" which hinder them from raising salaries for faculty to compete with public schools and improve quality. "I therefore appeal to our legislators and the government to look at the education sector holistically and take into consideration the accessibility of quality education in both public and private education," Estrada said.
DOF Undersecretary Karl Kendrick Chua insisted that schools should perform better if they want to keep incentives.
"We studied some schools and we found out that they are very profitable, paying dividends, but not all have good performance. We are concerned why we are giving them special rates," Chua said during the 5th hearing of the House ways and means committee on the 2nd package of TRAIN.
Chua said the top 50 private schools in the country were able to remit some P500 million to the government and pay taxes at only 10%.He also noted private schools' lagging performance and the lack of faculty members with advanced degrees.
The DOF's proposal was questioned by the vice chair of the committee,  Albay 2nd District Representative Joey Salceda. 
"There is a provision in the constitution that the highest priority of the government is education. So, whatever the government cannot provide, they might as well use incentives," Salceda said.
"You [Chua] cannot lift incentives just to make people behave… leave that matter to the Department of Education and Commission for Higher Education," he added.
Salceda said he wanted to have a different proposal for incentives concerning schools and hospitals, as there are "various provisions in the constitution" that protect these sectors. 
Several industries have previously expressed concern over the removal of fiscal perks. – Rappler.com