Meralco lawyer Victor Lazatin tells the High Court the bids submitted by generation companies trading at WESM 'do not have any economic relation'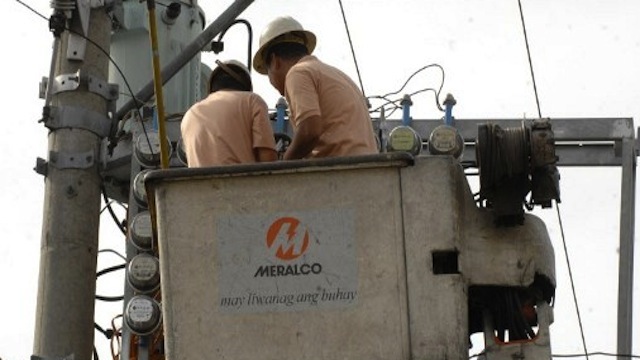 MANILA, Philippines – If legal representatives of the Manila Electric Co (Meralco) are to be believed, the power distribution firm was simply a victim of arbitrary bids that messed up pricing at the electricity spot market.
A day before the presidential palace made an issue of "unjustifiable price hikes" being passed on to consumers, Meralco defended its controversial power rate hike before the Supreme Court. (READ: Meralco asks SC to lift TRO on rate hike)
On the second day of oral arguments before the SC, Tuesday, February 4, a fast-paced 25-minute exchange between Justice Antonio Carpio and Meralco lawyer Victor Lazatin zeroed in on the trading rules at the Wholesale Electricty Spot Market (WESM). 
WESM is a central venue for buying and selling electricity that operates at an hourly trading interval. Power generation companies, which produce power, sell their supply at WESM. Distribution utilities, which distribute power to residences and businesses, buy in bulk from the market.
Unlike a stock market, however, the buyer in the spot market has no power over pricing.
Power costs for the hour – what is called the clearing price – are based on the highest-priced bid by generation companies. 
With Meralco tied down by the current WESM rules, the generation charge that is passed on to consumers is determined by the clearing price.
Lazatin criticized the price offers of power generation companies trading at WESM. "Because right now, your honor, the bids do not have any economic relation. Some bid at zero or minus even," he said.
He proposed that members instead "bid to cover not only their costs but even the profit." Distribution utilities should also pass on power generation costs based on separate bids and not on the market's clearing price. 
Passed-on charges
Carpio, in his questions to Lazatin, hinted at what system of price determiniation was best for consumers. 
He gave a scenario where there were 3 bidders with different power supply capacities, and passed-on charges to consumers reflecting each of the separate bids, instead of the clearing price.
"So, if this was only 5.5 MW at 62/KWH, that's it. This one, P5 at 100MW, that will be passed on to consumer. And the other one at P3 at 1,000 MW, that's what's going to be passed on to the consumer, correct? That's the best?" he asked.
"Your honor, if I have the will and the power to change the rules, that's what I would do, your honor," answered an exasperated Lazatin.
Must-offer rule
Apart from the bids of trading WESM members, Meralco also wanted to reform the market's "must-offer rule."
Rule 3.5.5.1 of the spot market states, "Each Scheduled Generation Company including Generation Companies with bilateral contracts shall submit a standing generation offer for each of its scheduled generating units for each trading interval in each trading day of the week in accordance with the timetable."
This rule, said Meralco, forced its contracted generation company, Therma Mobile Inc, to bid out its supply at WESM. Meralco and Therma Mobile have a bilateral contract. (READ: Meralco inflated charges, SC told)
Meralco said the rule must be scrapped.
"Yes…we think that the must-offer rule should be deleted insofar as those that are fully contracted [are concerned]. And it should only apply to those who have spare or reserves to offer to sell… our wish is that those that are a hundred percent fully contracted and do not have any capacity, they should not even offer," Lazatin told Carpio.
Trading rules at WESM were formulated by the Department of Energy (DOE) and industry participants in the power sector. – Rappler.com