Nine missed their targets, including the 3 biggest ports – all in Manila, where a truck ban has been in effect since late February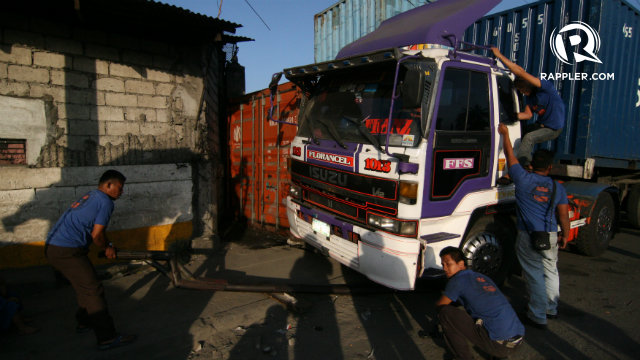 MANILA, Philippines – Nine of the country's 17 ports reported a drop in revenues for February, missing their collection targets.
Three of the ports that incurred shortfalls are located in Manila, which implemented a daytime truck ban that has affected revenues. 
A preliminary report by the Bureau of Customs (BOC) showed the Manila International Container Port (MICP) incurred the biggest shortfall with P1.84 billion. 
The Port of Manila (POM) came in second, missing its P6.44-billion revenue target with only P4.8 billion in collections, incurring a deficit of P1.64 billion. The Ninoy Aquino International Airport (NAIA), meanwhile, incurred a P641.7-million deficit, against its P2.69-billion collection target.
Six other ports fell short of meeting their revenue goals:
Legaspi – P10.7 million

Iloilo – P41.9 million

Zamboanga – P3.5 million

Surigao – P100,000

Clark – P71.5 million

Limay – P830 million
The BOC has not yet recorded collections in Tacloban – which has yet to recover from the devastation brought by Super Typhoon Yolanda (Haiyan) – and Aparri. In total, the bureau incurred a deficit of P3.82 billion for the period.
The BOC acknowledged that Manila's implementation of a truck ban adversely affected revenue collections.
Customs Commissioner John Sevilla said the Manila ports lost P150 million a day because of the ban.
In a statement on February 25, the BOC reported a drop in revenues in its two largest ports on the first day of the truck ban. The MICP reported only P262.8 million in revenue on February 24, down from a daily average of almost P360 million.
Meanwhile, the POM generated only P134.4 million from a daily average of P253 million.
MICP district collector Elmir Dela Cruz said truck operators and the BOC are starting to return to normal operations.
He added: "I think that truckers are starting to adjust. It (release of containers) is back to normal and revenue (collection) is approaching the normal for the period." – Rappler.com