PayrollHero recently drew attention with its 'karaoke clock in' feature, but the SaaS company has long been one of the most successful of its kind in the Philippines.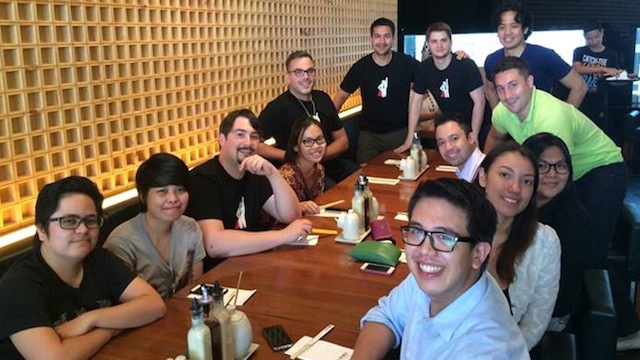 MANILA, Philippines – How do you clock in at work? Maybe you swipe an ID card. Perhaps you sign in at a timesheet. Or maybe you log in at a computer. The tech company, PayrollHero, allows – among its other neat features – employees to sign in for work via a "karaoke clock in." How's that for a business idea truly localized to Filipino culture?
PayrollHero is quickly becoming one of the most successful tech startups in the Philippines. I may also add "quietly" to that description, given that PayrollHero, unlike other Philippine tech companies that deal directly with consumers, has a B2B model.
As a SaaS (software as a service), PayrollHero provides businesses with an "easy to use solution" for their employee "clock in and out process." Their current client list includes: BreadTalk, Candy Corner, Krispy Kreme Donuts, The Coffee Bean and Tea Leaf, Zendesk, and Faburrito.
How did they get such an impressive client list? I spoke with co-founder Stephen Jagger about how he built up PayrollHero into what it is today, particularly as it relates to the challenges of doing SaaS and operating in the Philippines.
Finding your niche  
PayrollHero is not Jagger's first company. Prior to Payroll Hero, he already had the experience of building 3 other companies with business partner, Michael Stephenson. These include Combustion Hosting ("a web hosting company that we build and sold to a competitor"), Ubertor.com ("a real estate website platform build for residential and commercial realtors"), and OutsourcingThingsDone.com – ("leased labor business providing outsourced teammates").
Despite having the experience of a successful serial entrepreneur, Jagger still faces challenges when pitching PayrollHero to prospective companies. In fact, he described the process of targeting and following up with leads as being "relentless."  
He explained, "We use the web, email, text, infographics, videos, social media and the like to get the attention of our preferred leads. We then push for calls / meetings with decision makers and present our solution. When presenting the platform we use white papers, benefits of our platform and testimonials as part of our story on why PayrollHero is a fit for their business."
"But most important is that we focus on a small target market," Jagger went on. "We are not working to be everything to everyone. We are focused on restaurants, retail and office environments. We will expand that later, but for now, we want to be amazing for a small group, rather than stretching ourselves too thin trying to be everything to everyone."
Since Jagger and his team are focused on "a small target market," it's easier for them to anticipate and overcome the objections a decision-maker might pose to PayrollHero.
Jagger said, "Costs sometimes come up as an issue, but we work to show them how implementing our platform reduces costs, systemizes their business and helps built the company culture. Many times PayrollHero is being implemented into a company that had nothing in the past, so it is a new expense, a new way work working, etc. So education on the benefits of software, the cloud, etc are all part of dealing with objections."
SaaS in the Philippines
Jagger hails from Canada. He is a part of growing trend of entrepreneurs who recognize promising opportunities in Southeast Asia in general and the Philippines in particular. When I asked him if there were any unique challenges about doing business here, he described the dynamics of working with family-owned businesses.
"Family businesses are big here with unique challenges in each one," Jagger said. "They need to be figured out to see who is actually making the decisions as sometimes the CEO is not making all of the decisions. But on the flip side of that, sometimes family businesses make quick decisions and can be very efficient to deal with. The key is understanding the internal dynamics as quickly as possible so that you can navigate the process effectively."
That Jagger and his team have successfully navigated the Philippine business environment is most evident in their plans. The Philippines is not the sole market that Jagger wishes to capture – instead, it would be more apt to view the country as a launching pad / proving ground for bringing PayrollHero across Southeast Asia.
"We have big plans for Southeast Asia!" Jagger proclaimed. "We currently offer time, attendance, scheduling, HRIS and analytics worldwide, with payroll launched in the Philippines. We plan to expand the payroll offering to other countries in the region shortly."  
Jagger went on, "On top of that we have many new products in our pipeline to continue to help companies systemize their businesses, grow their teams and build their company culture." He includes among these products the aforementioned "karaoke clock in" that plays on the well-known affinity that Filipinos have for any opportunity to sing.
For any technopreneur who may want to launch an SaaS business like PayrollHero in the Philippines, Jagger had this advice: "The market is wide open, cloud computing is coming fast, companies are getting used to the concept and moving from manual, offline solutions to cloud based, systemized platforms. A great opportunity!"
He further broke down the SaaS business climate in the Philippines into what he sees as challenges as well as what he sees as advantages. Jagger counted the "language, culture, currency, and customs," as some of the challenges, but was also quick to point out that "each country we are looking at has unique challenges, but with challenges comes opportunity."
In the case of the Philippines specifically, Jagger sees many advantages of doing a SaaS business here. He counts among these advantages as a "growing middle class, economy that is on fire, almost 100 million people, Internet / smart phone adoption growing, cloud computing becoming acceptable."  
He concluded, "I think there is opportunity everywhere in the Philippines. Things are growing so fast. But in general, there are interesting opportunities in banking and transportation." – Rappler.com
Rappler business columnist Ezra Ferraz graduated from UC Berkeley and the University of Southern California, where he taught writing for 3 years. He now consults full-time for educational companies in the United States. He brings you Philippine business leaders, their insights, and their secrets via Executive Edge. Follow him on Twitter: @EzraFerraz
Read previous articles:
A thesis project that grew into a booming business
Bringing your 'raket' into the digital age
Building your hundred-million-dollar biz