This is AI generated summarization, which may have errors. For context, always refer to the full article.
(UPDATED) This team of Filipino smartphone game developers wants to see a household name emerge out of the Philippines
When you think of Philippine tech, the first thing that comes to mind is not necessarily video games. But that's exactly what Gabby Dizon, the CEO and co-founder of
Altitude Games
, wants to change.  
Dizon leads Altitude Games with four other veterans of the Philippine game industry – Luna Cruz, Marc Polican, Paul Gadi, and Chester Ocampo – all of whom he had worked with at some point during his 11-year game development career. Together, they want to distinguish the local video game scene through the creation of "original midcore games." 
Dizon explained what midcore games are by explaining the type of games on either side of it. On one hand, according to Dizon, there are hardcore games like shoot 'em ups or roleplaying games. On the opposite side, there are so-called casual games like Match-3 ("think Bejeweled or Candy Crush" said Dizon) or Hidden Object ("think Criminal Case or Mystery Case Files" he said). These primarily target women and are made up of very short sessions.
Midcore games fill the gap between hardcore and casual gaming – they have some gameplay elements of more hardcore PC or console games, but are easy to pick up and play and are consumed in very short play sessions. "We feel that these type of games are perfect for mobile and tablet devices, where you are looking for a short but intense gaming challenge when you have a little spare time," Dizon said.  
Altitude Games first run at a midcore title is Run Run Super V. Dizon described the process of making a game like Run Run Super V as a very collaborative one. "Generally, you have three different disciplines – art, code, and game design – all working together to create a game that not only works well on the target platform, looks good aesthetically, and is actually fun to play," he said.
According to Dizon, there are also people doing quality assurance, server operations, data analysis, and project management to meet your milestones. Some development companies prefer to do all this internally, while others outsource to partners or contractors, but the overall process is still more or less the same. 
Of course, each game brings with it its own set of challenges, both technical and nontechnical. With Run Run Super V, for instance, the Altitude Games team found it difficult to tune the gameplay to match the target players' skillsets and expectations of the game.
"During our initial alpha release for Google Play players in the Philippines, the players found the controls and difficulty too hard even though we thought it was easy internally," Dizon said, adding that it took a few adjustments and updates before they found a difficulty level that players were comfortable with.
On the technical side, Altitude Games had to content with learning a new game engine at the same time they were starting a new company. They previously used different technology at their other jobs, so they had to learn the game engine Unity while trying to make the initial prototype of Run Run Super V.
"We spent a lot of late nights in the early days of the company just trying to figure out how we could express what we wanted to create," Dizon said. According to him, Unity had very robust tools and a learning curve that was not too steep, so they were able to create a public prototype in time for Casual Connect Singapore after only 10 weeks of development. 
Altitude Games released Run Run Super V to the Google Play Philippines store to get initial feedback on the game and see how players would react to it. Dizon said that they got a lot of feedback, both positive and negative, such as the fact that some players found Run Run Super V too hard and the control structure a little confusing.
While Altitude Games temporarily pulled Run Run Super V from the Google Play Philippines store, they still have big plans for the game. They are encouraged by many of the players who praised the overall theme and gameplay of Run Run Super V.
"We are now continuing the alpha test with an improved version of the game in Thailand and Malaysia, and are officially launching the game in the Philippines with our investor, Xurpas distributing the game for us," Dizon said, adding that the game was recently re-released on December 19 in the Google Play Store. (Editor's note: Nix Nolledo, the president and CEO of Xurpas, is also a member of the Board of Rappler).
The Philippines as a hub of video games
In 2015, Dizon and Altitude Games team plans to push Run Run Super V to the rest of the world as well as begin working on their next title. Still, the team has even larger goals. "Our vision is to create globally recognized intellectual property via original mobile games," Dizon said. "We love to create mobile games because it has the potential to reach billions of players worldwide."
Dizon has a vision for the Philippine game industry, too. While he notes that the local talent has mostly been utilized to create games for other people, Dizon believes that there is now enough talent in the country to come together and make the "first truly globally popular game that is Filipino-made."
Dizon wants to see a household name emerge out of the Philippines. "We have had some pockets of success here and there (notably Kuyi Mobile's Streetfood Tycoon series), but there has been no Minecraft or Angry Birds type success to come out of the Philippines," Dizon admitted, but added, "That will change soon."
Dizon said that the best way to learn how to make games is to ship games, and that there are plenty of resources, technologies, and communities available to the aspiring game developer that he can access online for free. "You really have no excuse anymore not to learn as long as you have a computer and Internet access," he said.
According to Dizon, the most common mistake of first-time developers is to set out trying to recreate their favorite Final Fantasy or World of Warcraft games. Instead, he recommends finding some people to work with, creating a small project together, and having people play it so that they can give you feedback.
As a final note of advice, Dizon said, "Don't be afraid to make bad games; this is how good games are eventually made." – Rappler.com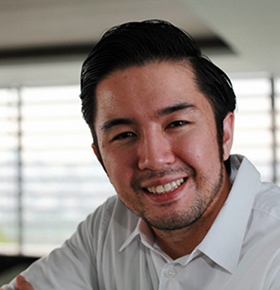 Rappler Business columnist Ezra Ferraz is also the chief content officer at ZipMatch, a tech company backed by Ideaspace Foundation, Hatchd Digital, IMJ Investment Partners, and 500 Startups. He brings you Philippine business leaders, their insights, and their secrets via Executive Edge. Connect with him on Twitter: @EzraFerraz