(UPDATED) Except Region 8 which suffered from Super Typhoon Yolanda (Haiyan), all regions show a decline in unemployment, the National Economic and Development Authority reports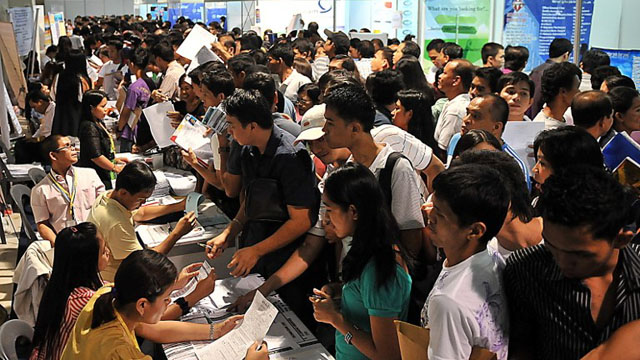 MANILA, Philippines (UPDATED) – The number of employed Filipinos increased by over 1 million to 37.5 million in January 2015, from 36.4 million 2014, the National Economic and Development Authority (NEDA) reported Thursday, March 12.
Figures for unemployment, unemployment, and underemployment all improved during the period, based on the January 2015 Labor Force Survey (LFS) results.
Employment grew by 2.8% to 37.5 million from 36.4 million in the same period in 2014, the Philippine Statistics Authority (PSA) reported.
This means an additional 1.04 million Filipinos were employed from January 2014 to January 2015, almost 4 times the 281,000 jobs generated in the previous year.
"The labor market was boosted by a stronger growth in all sectors, mainly driven by services which grew by 3.9%, contributing a 766,000 net employment gain in January 2015," NEDA Director-General Arsenio M. Balisacan said.
Also, the unemployment rate in January 2015 declined to 6.6% from 7.5% in January 2014.
Specifically, the number of unemployed went down by 334,000 to 2.6 million during the period, Balisacan added.
NEDA defines underemployed people as those who are working but want more work.
Robust labor market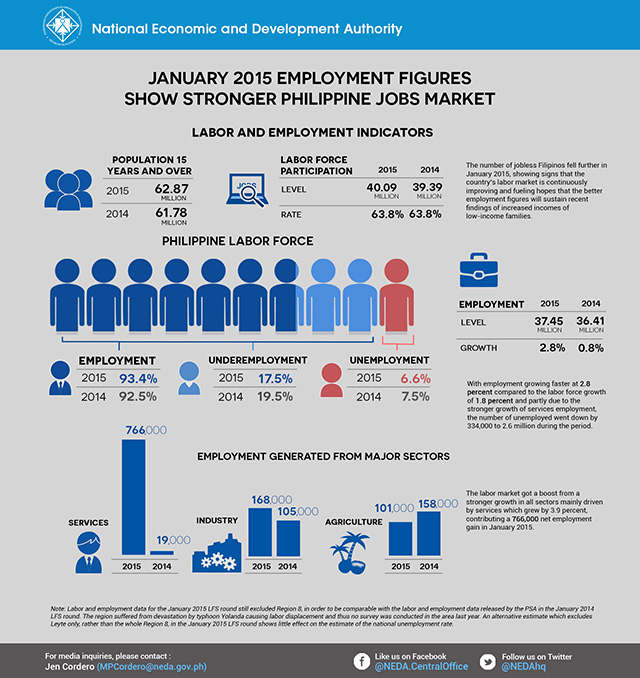 Notably, all regions posted a decline in unemployment rate during the period, NEDA said.
Unemployment rate among the youth (15-24 years old) dropped to 15% from 17.3% in January 2014.
Underemployment went down to 17.5% from 19.5% a year ago, translating to a reduction of underemployed workers to 6.5 million in January 2015 from about 7.1 million a year ago.
"The number of underemployed persons contracted among wage and salary workers, as well as self-employed workers, which possibly means greater availability of more remunerative jobs and more profitable ventures," Balisacan said.
He added that the improving figures are signs of a strengthening labor market. (READ: The myth of joblessness)
"We hope that this will continue and further benefit the poor, especially as the economy grows faster at a higher trajectory," Balisacan added.
Palace: PH bucks trend
Malacañang welcomed the good news.
"Since 2010, driven by our belief in good governance as good economics, the Aquino administration has continued to enact widespread reforms, which have increased public trust in government and spurred economic growth," Presidential Spokesperson Edwin Lacierda said in a statement.
Lacierda said it was "a surge in investor interest in the country" brought by the administration's reforms that have generated opportunities and have "resulted in not just more jobs but also more meaningful livelihoods for our citizens, as indicated by the lower underemployment rate."
He  said the survey results show "the Philippines has continued to buck the trend and surpass expectations" despite "concerns about increased global volatility and slower growth," but vowed the administration would keep working towards sustaining the growth.
"Rest assured that the Aquino administration remains committed to pursuing even more growth for the country and to making sure that this translates to real benefits for the Filipino people. Moving forward, let us collectively work toward further entrenching our good governance reforms and making permanent the gains we have achieved," he said.
Sustaining gains
To ensure the gains in employment and income, the government must ensure that these are not eroded by high food prices.
Specifically, the government's poverty reduction efforts through better quality jobs and higher incomes must move forward along with cheaper food prices, NEDA noted.
"Elevated rice prices are of particular concern, as rice takes up about 20% of the budget of the poor," Balisacan said.
Also, in a report on March 11, a United Kingdom-based think tank called on the Philippine government to address the persisting brain drain problem in the country.
The Institute of Chartered Accountants in England and Wales (ICAEW) said in its latest Economic Insight report that the Philippines should instead be benefitting from the productivity gains enjoyed by developed economies where Filipino migrants work.
The labor and employment data for the January 2015 LFS round still excluded Region 8, to it an be comparable with the data released by PSA the same period in 2014.
Region 8 suffered from the devastation of Super Typhoon Yolanda (international name: Haiyan) causing labor displacement and thus no survey was conducted in the area in 2014.
An alternative estimate which excludes Leyte only, rather than the whole Region 8, in the January 2015 LFS round shows little effect on the estimate of the national unemployment rate, NEDA shared. – Rappler.com