Urban farmer Dennis Tacio has turned an idle lot into a lettuce farm – one of the patches comprising 200 hectares of agricultural land spanning 16 barangays of Baguio
For more than five years, Dennis Tacio has been tending approximately 800 square meters of land in Bengao, Bakakeng Central, a 15-minute drive from Baguio City's central business district. What used to be idle land now produces between 1,000 to 1,500 kilos of lettuce per harvest.
Vegetable prices are "fluid," Tacio told Rappler in an interview in early November. He cited the price of lettuce during the first week of November, which ranged from P90 to 100 per kilo. After a few days, he went to sell his harvest and found the price down to P45 to 49 per kilo.
That was just enough to earn a small profit, the urban farmer said. With a good harvest and price, Tacio said his net earnings range from P15,000 to P20,000 per harvest.
"As long as the price doesn't go down lower than P30 per kilo, we can recover our expenses," he said.
Tacio's farm is one of the patches comprising 200 hectares of agricultural land spanning 16 barangays of Baguio. The City Veterinary and Agriculture Office (CVAO) said that these areas cultivated for high-value crops produce 4,000 to 5,000 metric tons of assorted vegetables and cut flowers annually.
Farming in an urban setting was an advantage at the height of the Luzon-wide lockdown, Tacio told Rappler.
Even with losses, Tacio said they could continue selling their produce directly to their neighbors, adjacent barangays, and the public market.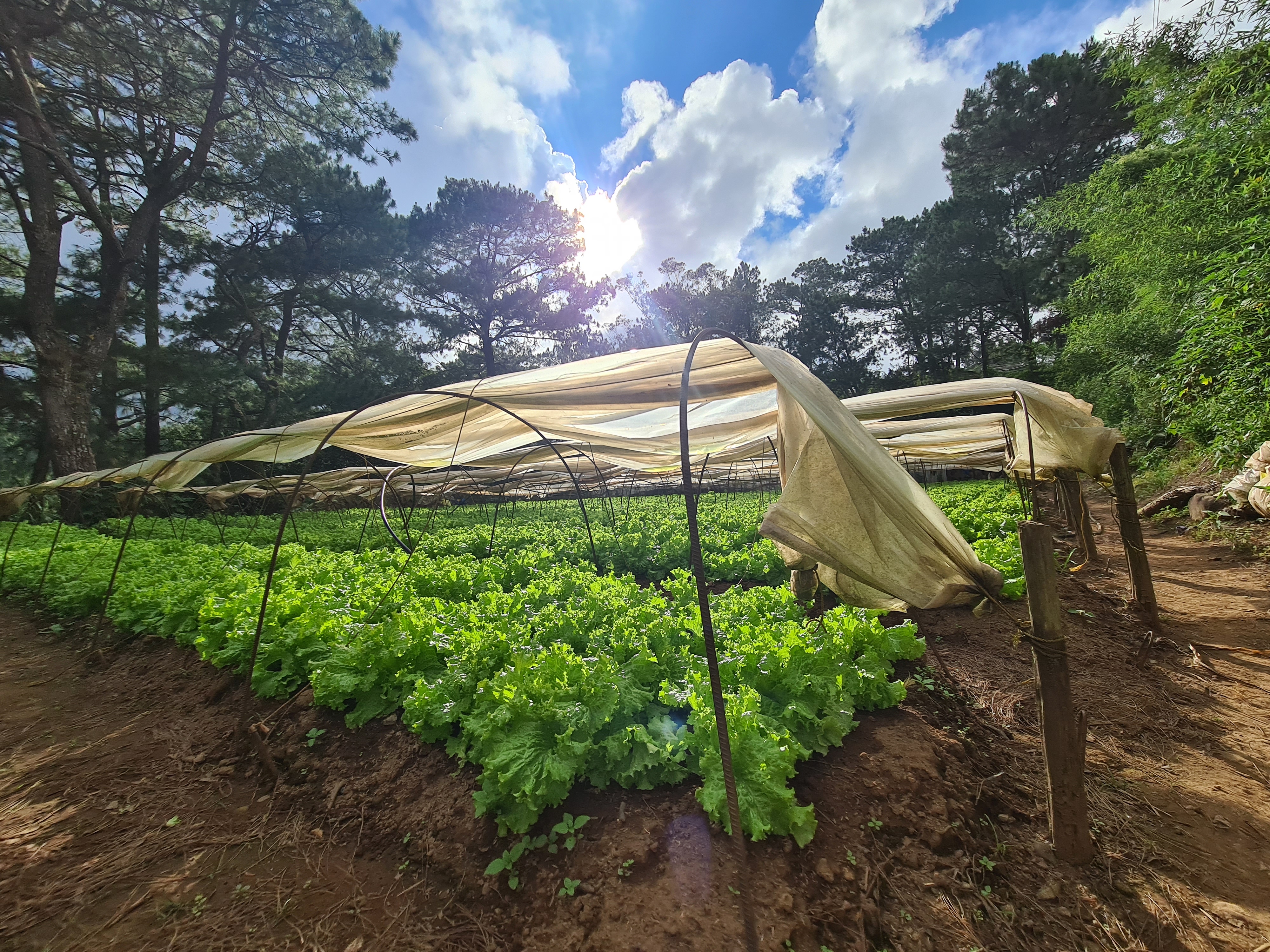 Baguio Senior Agriculturist Marcelina Tebelin said that commercial agriculture has thrived in Baguio for a long time, but the city created the agriculture office only in 2018.
"Our office used to be the City Veterinary Office, solely for veterinary services because under the Local Government Code, [the agriculture office] is optional to maintain in cities after the devolution," she told Rappler in an interview.
Under Article 116 of the Implementing Rules and Regulations of the Local Government Code, the city agriculturist is not among the 14 mandatory appointed officials. However, the city mayor may designate one if necessary.
"Eventually, our legislators realized that there are still agricultural activities even if Baguio is already a highly urbanized city. There is also the city's quest for food [security] since we have been very dependent on outside sources, so they decided to create the office," Tabelin said.
Survival garden
Tabelin said the city's agriculture support has increased over time, from around P1.5 million in 2018 to about P8 million in 2021, the highest allotment for agriculture since the establishment of their office. She said this is on top of at least P40 million from other government agencies.
For the strawberry farm alone, the city allotted P5 million. One of the city's top crops, strawberry is being developed as a go-to for agricultural tourism.
CVAO recorded around 1,500 commercial farmers in the city from its recent survey, producing mainly cut flowers, sayote (chayote), lettuce, broccoli, and bitsuelas (green beans).
Tabelin said that the number of residents engaged in agriculture increased during the pandemic.
"There were those who started earning from ornamental plants with the surge of plantitos and plantitas (plant enthusiasts)," she said.
But the most notable, she said, is the more than 3,000 families that took part in the city's Survival Garden Program.
Days after the government imposed the Luzon-wide lockdown in March, the city launched the Survival Garden Program to ensure access and supply of vegetables for residents as part of its COVID-19 response.
CVAO distributed short-season crops like lettuce, beans, and spinach, among others.
"Many of them continued their gardens even after the contest for the best Survival Garden ended (in July 2020); some even became their main source of livelihood," Tabelin added.
The CVAO agriculturist shared that when they tried to monetize gross earnings from 74 respondents to a questionaire, it reached P650,000 in just one production cycle.
"Besides the economic benefit, we also evaluated the social and environmental benefits," she said.
"Many of those who joined the campaign said they started to have healthier lifestyles. For some individuals, gardening became their exercise and stress relief during the lockdown," she added.
Tabelin said they have yet to account for the city's agriculture revenue, especially from the commercial farms, but believes that the sector significantly contributes to the city's economy.
"We are now encouraging them to develop community-led agritourism, managed by the farmers group in agricultural barangays and hope that in the coming days we can integrate farm production and tourism beyond our strawberry farms," she said. – Rappler.com
Sherwin de Vera is a Luzon-based journalist and an awardee of the Aries Rufo Journalism Fellowship.