Bert Lina also says there's a need to 'redefine' balikbayan box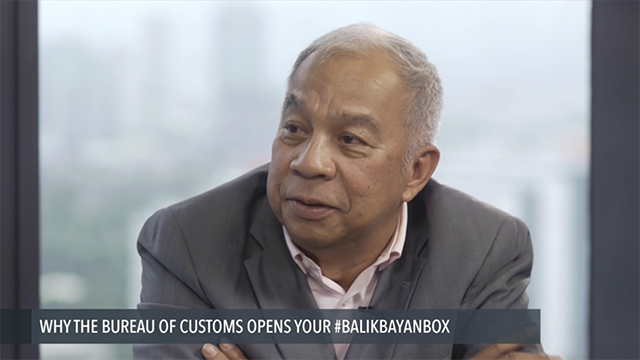 MANILA, Philippines – Bureau of Customs (BOC) Commissioner Alberto "Bert" Lina appealed to Filipinos who are sending or bringing items home to honestly declare them so the agency can collect appropriate taxes.
Lina said in a Rappler Talk on Monday, August 24, that Filipinos abroad should "declare honestly what's the content of the boxes (and parcels). If we see the items, we'll pass. If the value [of the items declared] is too high, we'll tax them."
The BOC allows only one consignment per sender during a one-month period.
Canned goods, grocery items and other household effects must not exceed a dozen a kind, while apparel, whether used or new, must not exceed 3 yards per cut. Guns, drugs, porn, gambling paraphernalia are not allowed.
Current duty is 1% but it can go higher depending on the value of the item. The value added tax (VAT) is 12%.
The clarification was made after netizens protested a supposed BOC plan to increase taxes on balikbayan boxes. (READ: No tax increase on balikbayan boxes – Customs)
"The desire is to collect, not raise taxes," Lina said.
"The BOC has paid greatly in revenue losses through these smuggling activities, and more importantly, the affected industries," the bureau earlier said.
Enhancing transparency
Lina, who is in the freight forwarding business, said BOC is stricly implementing the law to curb illegal activities, like brokers or freight forwarders colluding with other people to insert or pilfer items in a balikbayan box sent either by an overseas Filipino working abroad or a returning resident to the country. (READ: 'Don't abuse balikbayan box privileges' – Customs)
He clarified that BOC is not zeroing in on balikbayans or overseas working Filipinos (OFW), but it is enhancing transparency and efficiency, as well as facilitating trade at the level of brokers and freight forwarders.
Lina, who said he has an OFW sister, said BOC is not being adversarial to OFWs but is trying to help them to ensure that the items they send are received by their loved ones back home.
BOC is also being asked why it is seemingly focused on the balikbayan boxes when it should be channeling its efforts toward running after big time smugglers, particularly those illegally shipping rice, sugar, even exotic or luxury cars into the country.
Lina said, "We're in pursuit of them. We also filed cases against erring brokers, importers before the DOJ (Department of Justice). [We're doing this as] part of the Daang Matuwid reform of the Aquino administration."
Redefine the term 'balikbayan box'
Lina also said that the term "balikbayan box" should be redefined.
Balikbayan boxes are those brought to the country by Filipinos who are returning home, and that based on a presidential decree issued by former President Fidel V. Ramos, they are tax exempt of up to P10,000 ($213.67).They would have to pay the tax in excess of the exemption.
But if the items are bought, say on a shopping spree abroad, these have to be declared and the taxes due them should be paid, Lina said.
Items sent via balikbayan box or padala package are assessed for duties and VAT. There would be no need for BOC inspectors to open the boxes and check the items inside if there is a packing list and invoice.
But the customs chief said under the law, the BOC can in fact conduct a 100% check on all boxes that are shipped into the country.
But citing manpower limitation, Lina said they can inspect up to 2% of boxes shipped into the country. For instance, if there are 800,000 boxes that arrived in the country, BOC can inspect about 16,000 or 2% of these boxes. And under the law, Lina said, it can inspect all these 16,000 boxes or randomly inspect any of these.
The random inspection would be aided by X-rays or CCTVs installed on freight forwarders' site, which would send the boxes to the intended recipients. (READ: Where's my balikbayan box?)
Senator Ralph Recto earlier said the Senate Finance Subcommittee will ask agency officials on the status of non-intrusive inspection techniques as programs aimed to catch smugglers are funded under BOC's budgets. He added such techniques will pave way for detection of contraband goods without the need to open balikbayan boxes sent by OFWs.
An estimated 5.5 million balikbayan boxes are sent to the Philippines annually, about 40% arriving during the so-called "ber" months approaching Christmas. – Lynda C. Corpuz / Rappler.com