This is AI generated summarization, which may have errors. For context, always refer to the full article.
The Philippine economy can post an average growth of over 7% in the next 10 years – with quality workforce and an attractive investment climate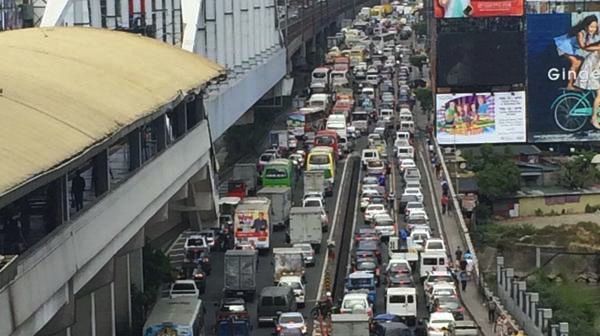 MANILA, Philippines –  The Philippines' top economic officials said the two best stimulants of economic growth in the coming decades are human capital and infrastructure.
During the 28th Philippine Economic Briefing in Pasay on September 30, economic managers said the Philippines can graduate to a stage where economic growth is faster, sustained for the long term, and more inclusive.
The country, after all, is within the "demographic window" starting this year until 2050 – where a great majority of the population are of working age, a situation that could accelerate productivity.
Based on estimates, countries that enter the demographic window post an average growth of 7.3% for the first 10 years of entry to the window.
But for the Philippines to seize the opportunity, economic officials said there should be quality workforce and an attractive investment climate. 
Invest in human capital
Bangko Sentral ng Pilipinas Governor Amando Tetangco Jr said during the briefing that investing in human capital and infrastructure development serve as a good foundation for further progress.
"In order to move us forward and on a higher economic growth trajectory, we need to make even more specific steps to further institutionalize governance, raise human capacity, and build infrastructure," Tetangco said.
Finance Secretary Cesar Purisima said his department is committed to a whole-of-government approach to develop human capital and to improve infrastructure.
"Our partnership with the people is the ultimate PPP (public-private partnership). Leveraging our continually rising budgets for education, health, and infrastructure is a sure-fire way to optimize our demographic dividends. This is the investment we pay forward for future generations," Purisima said in a statement.
"We are projected to be Southeast Asia's biggest economy by 2050; investing in our own people and infrastructure will ensure we have one that is inclusive and sustainable," the finance chief added.
Change for the better
Socionomic Planning Secretary Arsenio Balisacan said the structure of the Philippine economy is changing for the better, given improved governance and implementation of prudent policies. 
He said investments in human capital development should coincide with this.
"Structural transformation is now happening, and this must be further facilitated by preparing the workforce," Balisacan said. "We owe it to ourselves to get it right this time."
Balisacan said that if the Philippines seizes the opportunity brought about by the demographic window, it has the potential of sustaining GDP growth of at least 7% year-on-year, which could bring the economy to a higher middle income status with gross per capita income of $4,000 by the end of the next administration. 
He also said sustaining that pace of growth for 3 more administrations could bring the economy to high-income status with gross per-capita income of $12,700 by 2040.
To develop human capital, the following are some of the projects and programs cited during the economic briefing:
Substantial increase in annual budget for health and education
Curriculum reforms to better meet industry requirements
Technical skills development
Expansion of the Conditional Cash Transfer (CCT) program
Speed up infra projects
On infrastructure development, details of the Transport Roadmap were presented during the economic briefing by Noriaki Niwa, chief representative to the Philippines of Japan International Cooperation Agency (JICA). 
The roadmap outlined a plan toward 2030 for sustainable development for Metro Manila, Central Luzon (Region III) and the Cavite-Laguna-Batangas-Rizal-Quezon (Region IV-A) that will require P2.61 trillion ($65.3 billion) in investment and a budget of P4.76 trillion ($101.85 billion) from 2014 to 2030.
The Transport Roadmap is meant to ease mobility and ensure sufficient infrastructure to meet the requirements of a growing population and rising business activities in the covered areas.
"The Transport Roadmap, which used to be called a Dream Plan is no longer just a dream; it's already part of the roadmap of the Philippine government," Department of Public Works and Highways Secretary Rogelio Singson said in the panel discussion on infrastructure development.
Singson said his department is confident that all road projects included in the roadmap will be done even before 2030.
With the comprehensive components of the Transport Roadmap, its implementation is expected to significantly decongest Metro Manila and surrounding areas, and to support sustained growth in business activities. – Rappler.com
$1 = P46.73