This brings average growth for the first 9 months of 2013 to 7.4%, still above the government's full-year target of 6% to 7%
MANILA, Philippines (3rd UPDATE) – Philippine growth eased in the third quarter, but it was still at the high end of the government's full-year target and one of the fastest in the region, the government announced Thursday, November 28.
In a press conference, National Statistical Coordination Board Secretary-General Jose Ramon Albert said the country's gross domestic product (GDP) grew 7% in the July to September period, slower than the rates recorded in the first two quarters, as losses from a series of storms weighed.
Nevertheless, the administration said the economy remained well placed, pointing out the third quarter was the fifth straight three-month period in which growth was at 7% or above.
"This solid growth demonstrates the continuing resilience of the economy in the face of global economic challenges and natural calamities," said Finance Secretary Cesar Purisima.
The third-quater figure was slower than the 7.7% and 7.6% rates in the first and second quarters, respectively.
It brought the nine-month average to 7.4%, still above the government's official 2013 target of 6% to 7%. 
With this, the Philippines kept its status as Asia's rising star, growing the fastest in the region, next only to China. China's economy expanded 7.8% in the September quarter.
(READ: PH is Asia's rising star)
(READ: Philippines a rising tiger – World Bank)
Agri least performing sector
The services sector remained to be the main driver of growth, expanding 7.5%, on the back of strong real estate and renting activities, Albert said.
The industry sector grew 8.2%, thanks to increased manufacturing, while the agriculture sector posted a measly 0.3% growth due to damage wrought by 10 storms.
The Philippines endures an average of 20 typhoons or tropical storms annually, many of them deadly. Most strike in the second half of the year and often cause flood damage to rice and other crops.
Typhoon impact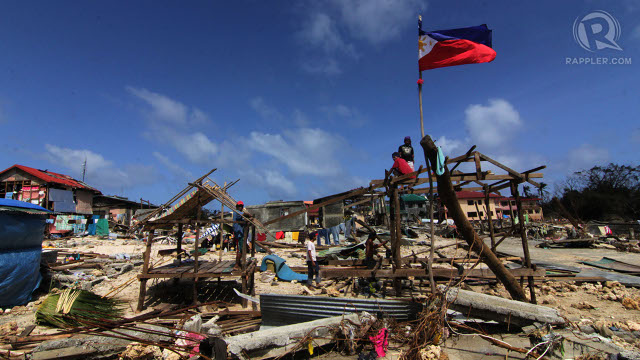 A devastating typhoon this month will slow momentum further, according to Socioeconomic Planning Secretary Arsenio Balisacan.
Super Typhoon Yolanda (Haiyan), which hit on November 8, was one of the strongest ever recorded and generated giant storm surges that laid waste to dozens of coastal settlements and vast swathes of farmland in Visayas.
More than 5,500 people have been confirmed killed and four million lost their homes. Damage has reached P24.5 billion so far.
Balisacan said Yolanda is expected to cut up to 0.8 percentage points from the fourth-quarter GDP. (READ: Yolanda to cut PH growth – NEDA)
But he said the economy was still doing "very well," and the government's long-held full-year growth target of 7% remained achievable. – Rappler.com, with a report from Agence France-Presse