Despite the slight uptick, February's inflation of 2.5% is still within the target for 2015, the country's economic chief says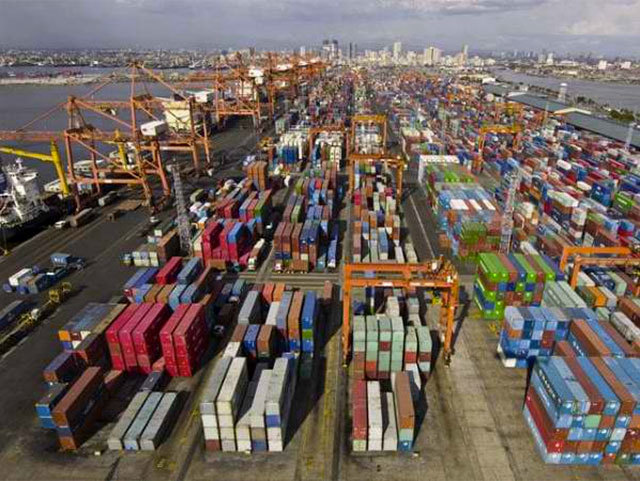 MANILA, Philippines – The normalization of the supply chain and the relatively stable peso resulted in moderate inflation for the first two months of 2015, the National Economic and Development Authority (NEDA) reported Thursday, March 5.
The absence of new, major economic shocks such as adverse weather conditions also kept inflation at a manageable level for the January-February period.
February's inflation inched to 2.5% from January's 2.4%, attributed to the uptick in petroleum prices and higher utility rates, NEDA said.
Inflation is the general increase in prices of goods, while the inflation target is defined in terms of the average year-on-year change in the consumer price index (CPI) over the calendar year.
Despite the slight increase, headline inflation for February was well within market expectations and slower compared to the 4.1% level in February 2014.
The Development Budget Coordination Committee (DBCC) decided to keep the current inflation target at 3%, plus or minus 1 percentage point for 2015 to 2016. The DBCC also kept the inflation target for 2017-2018 at 3%, plus or minus 1 percentage point.
Core inflation rises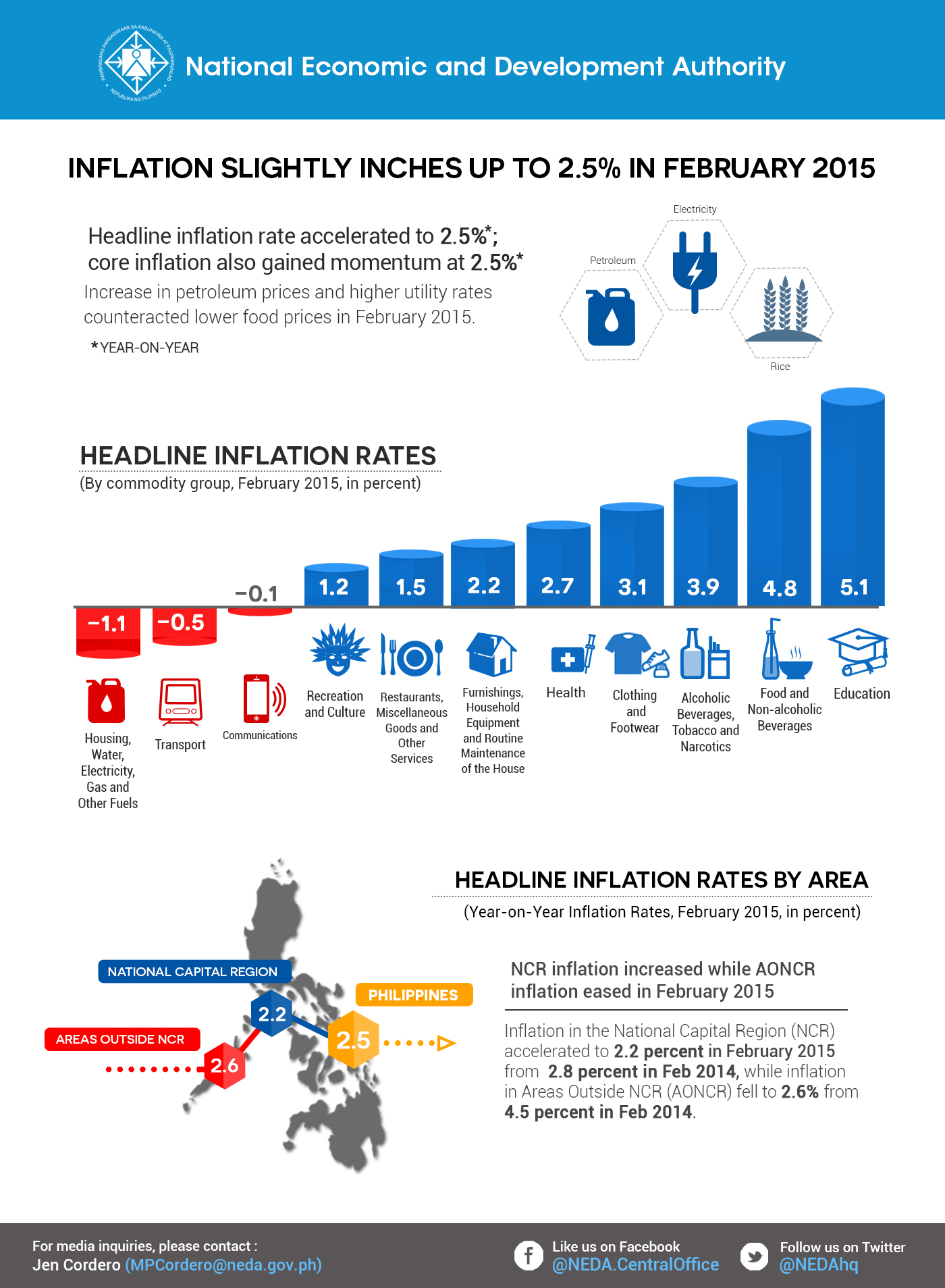 Core inflation, which excludes selected volatile food and energy prices, also went up to 2.5% in February 2015 from 2.2% in January. It is still lower though compared with 3% in the same period in 2014, NEDA said.
Prices were also significantly lower, NEDA said, due to the relatively lower reduction in the prices of electricity, gas, and other fuels (-8.9% from -11.3%), reflecting an increase in oil prices in February 2015.
The recent increase in oil prices was the result of cutbacks in the production and exploration of international energy firms triggered by soft oil prices, Socio-economic Planning Secretary and NEDA Director-General Arsenio M. Balisacan said. 
"Outlook for prices in the medium term, however, remains modest given a backdrop of strong world crude oil supply growth and weak global demand," Balisacan explained.
For electricity rates, Manila Electric Company (Meralco) charges were up by 5.4% year-on-year equivalent to P0.30 ($0.0068) per kilowatt hour (kWh). The spike was due to higher generation and transmission charges because of lower power plant availability in January 2015 – considered as an after-effect of the low demand after the long holidays.
Also, the increase in transport services to 3.3% in February 2015 from 1.5% in January came after the implementation of higher Light Rail Transit (LRT) and Metro Rail Transit (MRT) fare rates.
Food inflation decreases
Food inflation, meanwhile, continued to decrease in February 2015 to 4.9% from 5.6% in January due to softer upward adjustments in the price indices of rice, meat, and vegetables.
Inflation of rice continued to ease in February 2015 due to more favorable supply conditions and lower farm gate prices.
Favorable outlook on the production of agricultural commodities, particularly palay (rice) and corn, should further ease local price pressures in the coming months, Balisacan said.
But the lingering possibility of El Niño occurrence in the first quarter of 2015 poses risk of inflation within the immediate term, Balisacan noted.
Thus, programs to increase productivity and ensure the sufficiency in the supply of key commodities are needed, he noted.
Risks ahead
The looming power woes, plus maintaining the ports at normal levels, should be addressed to reduce production and transport costs, Balisacan noted.
Malacañang announced on March 2 that the ports of Manila are back to normal, following months of congestion.
However, business players are still skeptical of such and is on a wait-and-see mode on what would happen by the second half of 2015.
European Chamber of Commerce of the Philippines president Michael Raeuber said they are estimating the damage done by the so-called port congestion to run to probably hundreds of millions of US dollars. – Rappler.com