Energy Secretary Alfonso Cusi reiterates the need for reserves, saying that the cost of lack of power would be higher
The Energy Regulatory Commission (ERC) on Tuesday, April 27, warned that generation companies may face penalties for extended unplanned outages, which threaten the thinning power supply in the Luzon grid.
In the joint congressional hearing on the power outlook for "summer" or the hot dry season, Senator Sherwin Gatchalian said there are 9 power firms that have possibly violated the ERC's reliability index.
ERC Chairperson Agnes Devanadera clarified that there are more – "about 15 or 16" generation companies based on their monitoring – but their analysis has yet to be completed.
"Our engineers are not able to go and make the physical inspections. We're just doing the virtual inspection right now. That's the constraint," said Devanadera.
"When we are done with this (analysis), the most logical thing for us to do is really to implement and impose penalties where they are needed," she said.
According to ERC Resolution No. 10 in 2020, unplanned shutdowns should be resolved within the allowed days of outage. In the case of geothermal and oil-fired thermal plants, outages should be up to 14 and 28 days, respectively.
Gatchalian said the resolution is a "good step forward."
"We need to make sure that the resolution is being enforced also or else accountability fails," he said.
Need for reserves
So far, power consumers in the Luzon grid have been told that there would be no blackouts despite thinning supply – as long as there are no additional plant outages.
Energy Secretary Alfonso Cusi on Tuesday said the solution to the problem is to contract ancillary services (AS) or power reserves.
The Department of Energy (DOE) issued Department Circular No. 2019-12-0018, which mandates the National Grid Corporation of the Philippines (NGCP), as system operator, to contract AS to ensure reliability of the grid.
The DOE's presentation to the joint congressional panel showed that the NGCP has yet to fully comply with the AS requirement.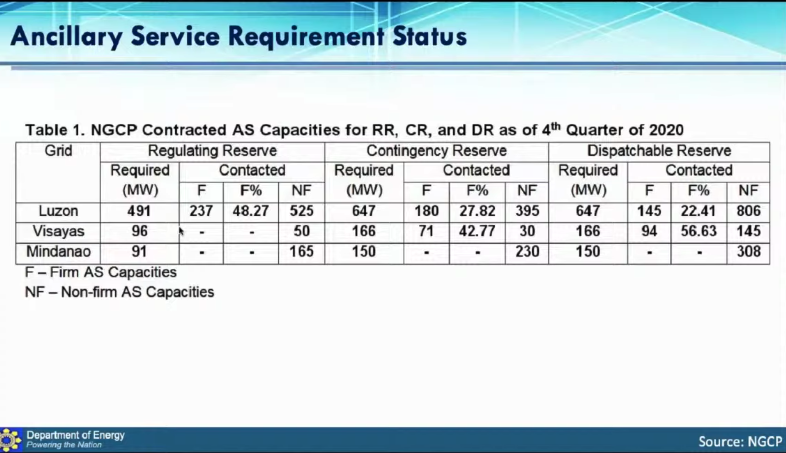 Asked by Senator Nancy Binay if contracting AS would mean additional costs for power consumers, Cusi answered in the affirmative.
"There is a cost that we have to accept. No investor would put into those without the generating revenue to recover the investment," said Cusi.
The energy chief likened procuring AS to having a spare tire for vehicles, but he stressed that the cost of having blackouts would be higher than paying for AS.
"The cost of lack of power is higher than the cost of reserves – that (blackouts) will affect our GDP (gross domestic product). We need to have a reliable, dependable energy supply," Cusi said.
Gatchalian said that according to his office's internal study, AS costs would amount to P2.25 per kilowatt-hour.
NGCP Assistant Corporate Secretary Ronald Dylan Concepcion agreed that AS costs are "much more expensive."
"A reserve can only be procured when there is sufficient supply of power. If there is no supply, there is no reserve, no ancillary services to be procured," Concepcion explained.
Given the impasse, Gatchalian said the issues on AS will be discussed further in another hearing. – Rappler.com