WHAT YOU NEED TO KNOW
Buy, sell, or hold? Who are the top gainers? How about the biggest losers? Are the bulls winning over the bears? Which company is going public next?
Bookmark and refresh this page for the latest news and analysis on stock market movers, corporate and financial news, business deals, and the economy in the Philippines.
LATEST UPDATES
Dito CME gets SEC nod for share-swap deal
Dennis Uy-led Dito CME Holdings on Tuesday, August 31, said that its share-swap application for the backdoor listing of Dito Telecommunity has been approved by the Securities and Exchange Commission (SEC).
In a disclosure to the local bourse, Dito CME said it received the certificate of approval from the SEC last Friday, August 27, which green-lights the increase in its capital stock to 40 billion shares.
Get the details here.
Jocot de Dios is new Manila Water president and CEO
JV Emmanuel "Jocot" de Dios was named president and chief executive officer of Manila Water Company effective Wednesday, September 1.
He takes over from Enrique Razon Jr., just two months after Razon took the helm of the utility firm.
Razon will remain chairman of Manila Water.
More on new appointments here.
Peso-dollar exchange rate – August 31, 2021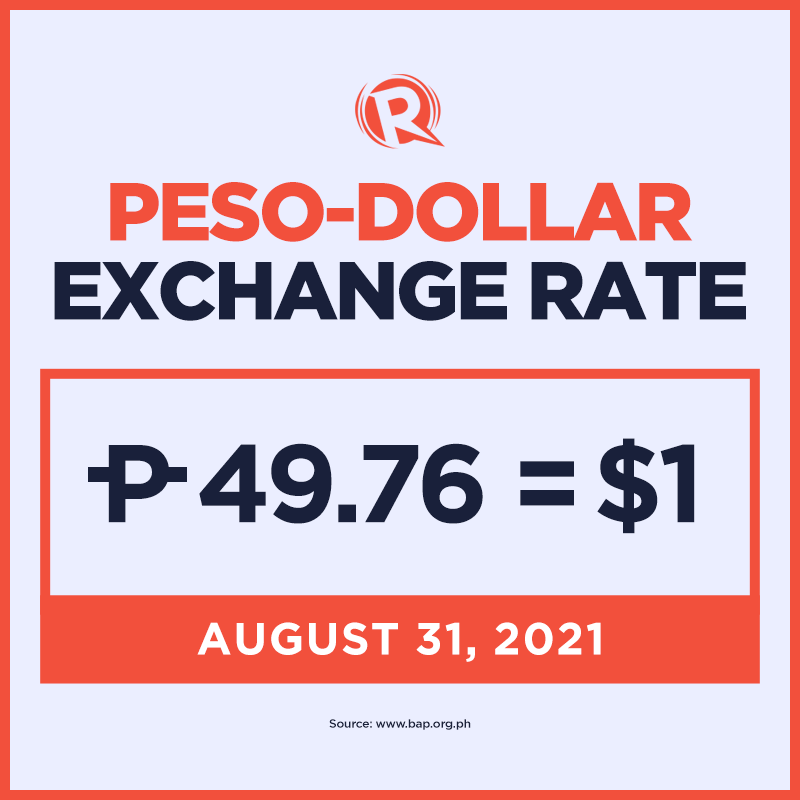 Philippines' debt rises to P11.6 trillion in July 2021
The Philippine government's debt climbed further to P11.6 trillion as of end-July, as the country borrowed more to fund programs amid falling revenues.
The latest figure reported by the Bureau of the Treasury is 4% higher than the end-June level, mainly due to the peso's depreciation and both domestic and external debt.
Cebu Pacific flies to Hong Kong almost daily in September
Cebu Pacific will be flying to Hong Kong almost every day in September, as the special administrative region banned Philippines Airlines flights until September 11.
On Tuesday, August 31, the listed carrier announced that its Manila-Hong Kong flights will resume starting Wednesday, September 1, and that it intends to fly six times weekly except every Saturday during September.
More details here.
Most active stocks and PSEi closing – August 31, 2021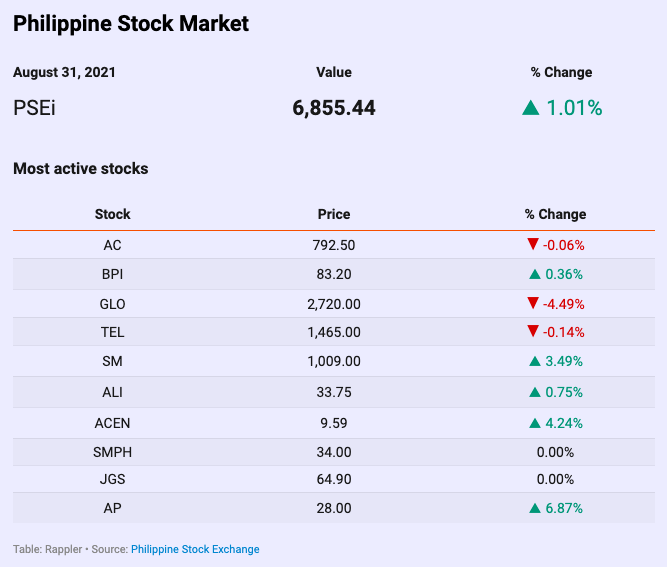 Delta variant puts Philippine economy among most vulnerable in Asia
The Philippine economy is now among the most vulnerable economies in Asia, as the highly transmissible Delta variant of COVID-19 spreads in the country despite longer lockdowns, research arms of debt watchers said.
Moody's Analytics ranked the Philippines 15th out of 20 countries in Asia Pacific in its relative economic risk ranking, just above Indonesia, Malaysia, Vietnam, Sri Lanka, Thailand, and Malaysia.
Here is the full story.
Hong Kong bans PAL flights until September 11 over COVID-19 cases
Hong Kong is banning Philippine Airlines (PAL) flights for two weeks until September 11, after passengers from Manila were confirmed to have COVID-19.
China Daily Asia reported on Sunday, August 29, that Hong Kong health authorities banned PAL, along with Turkish Airlines, from August 29 to September 11.
Peso-dollar exchange rate – August 27, 2021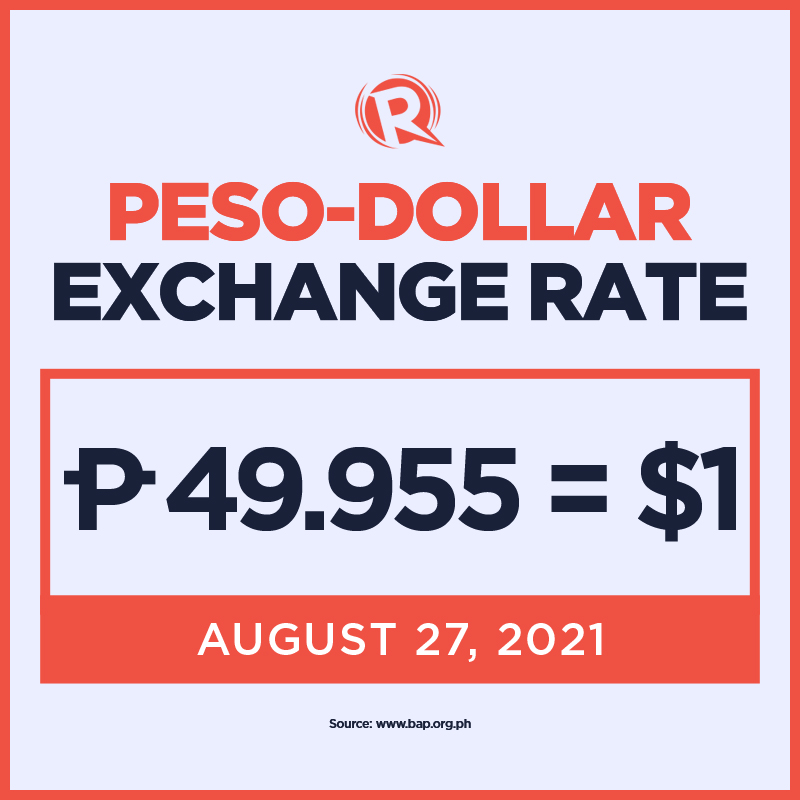 Most active stocks and PSEi closing – August 27, 2021