WHAT YOU NEED TO KNOW
Buy, sell, or hold? Who are the top gainers? How about the biggest losers? Are the bulls winning over the bears? Which company is going public next?
Bookmark and refresh this page for the latest news and analysis on stock market movers, corporate and financial news, business deals, and the economy in the Philippines.
LATEST UPDATES
Dito Telecommunity nears 1 million users
Dito Telecommunity will launch its services in 23 more areas on June 12, bringing its total service areas to 123.
Read more.
Peso-dollar exchange rate – May 31, 2021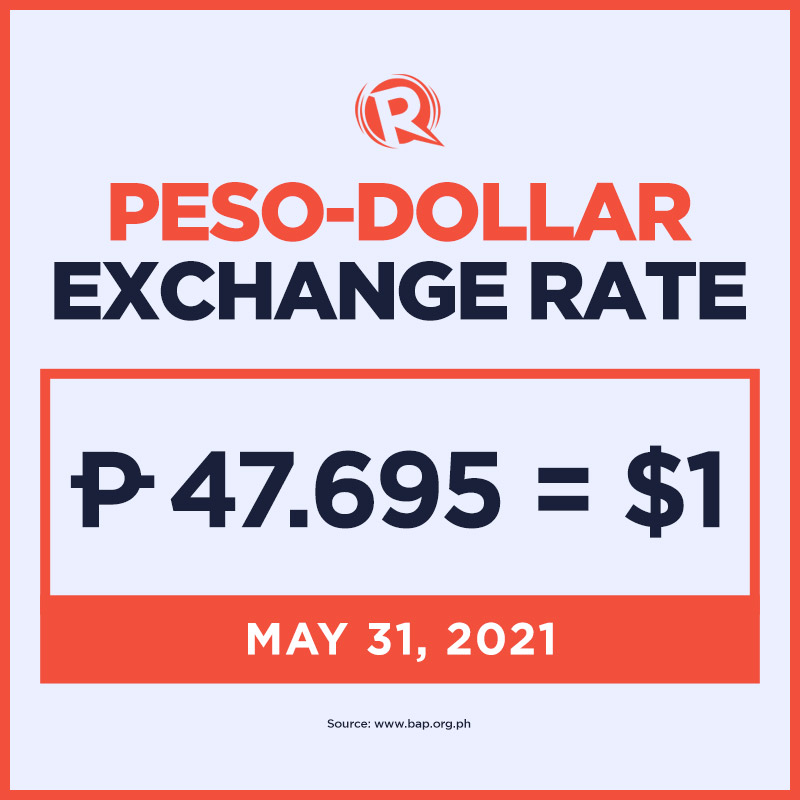 Most active stocks and PSEi closing – May 31, 2021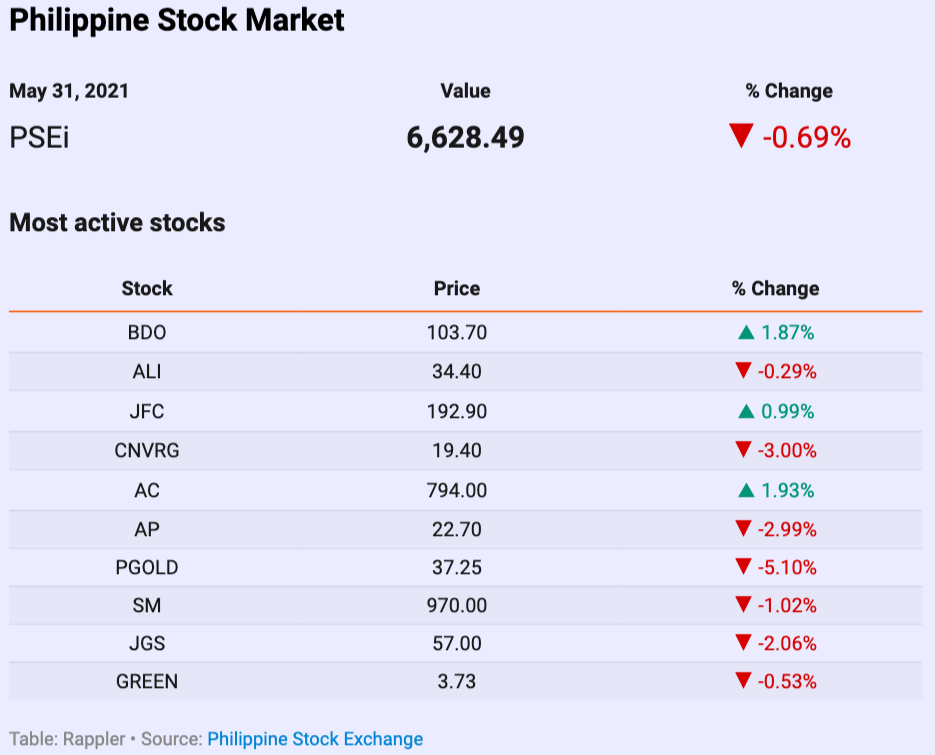 Peso-dollar exchange rate – May 28, 2021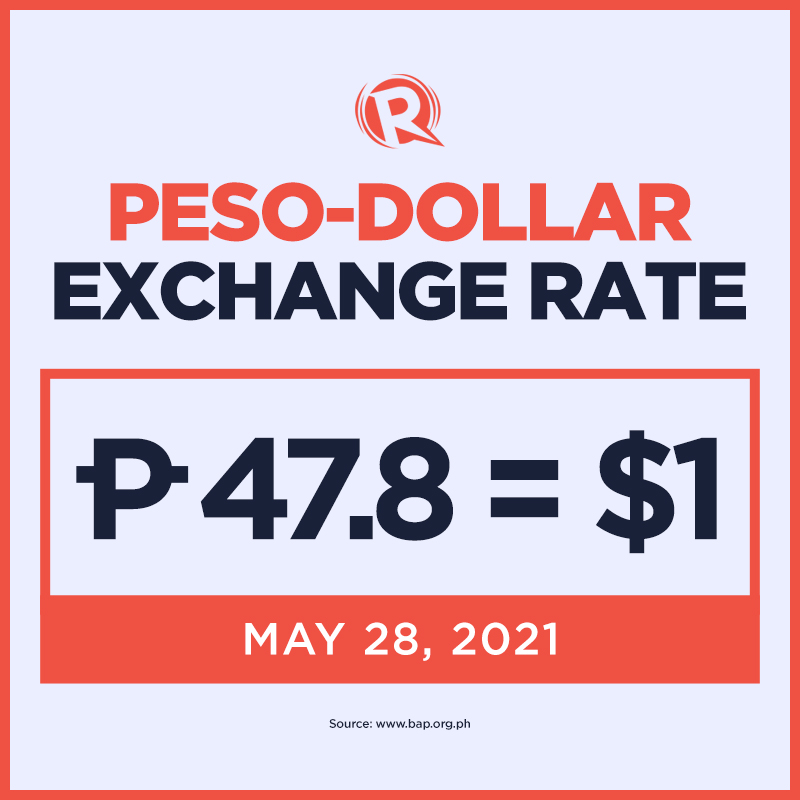 Most active stocks and PSEi closing – May 28, 2021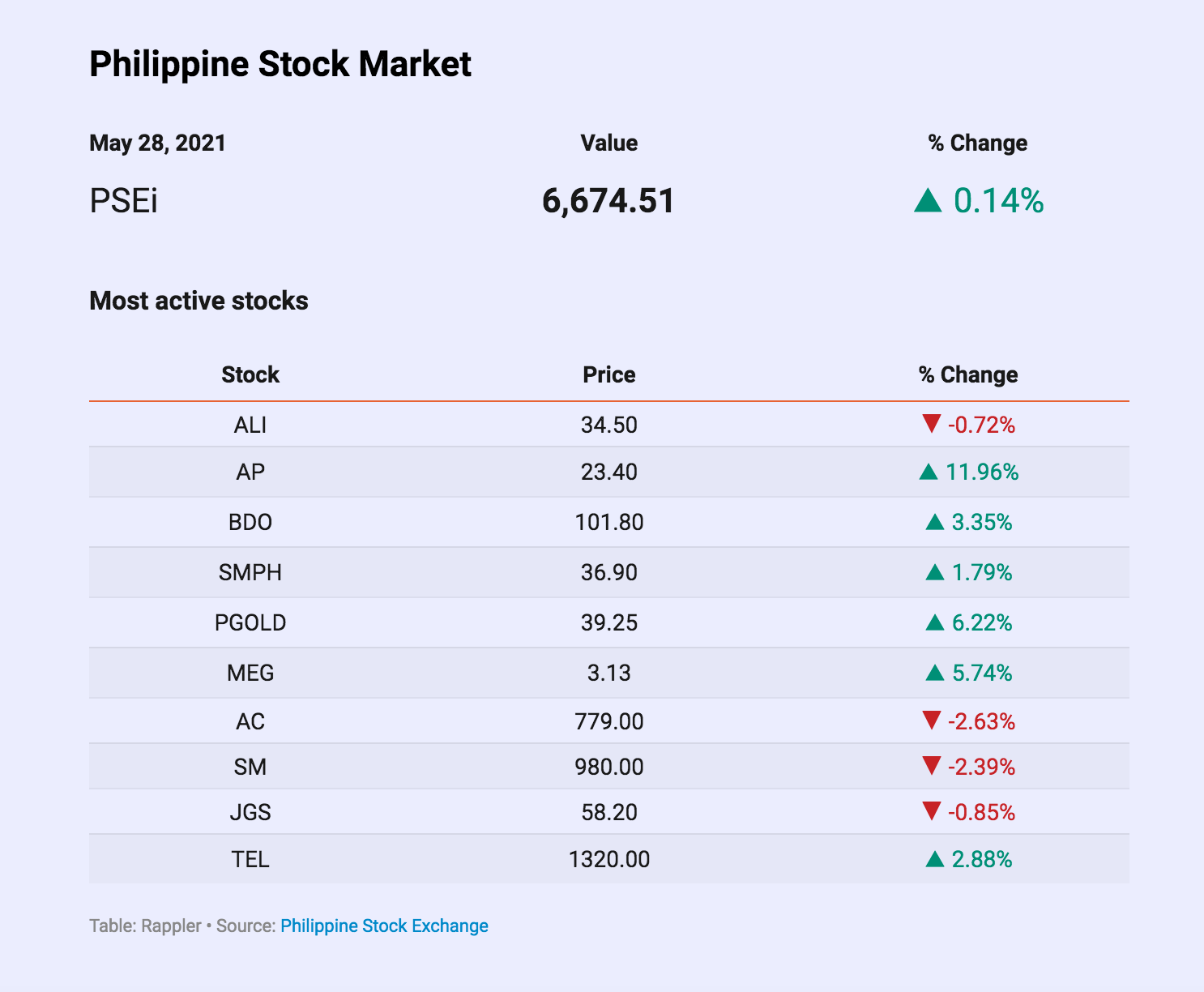 Peso-dollar exchange rate – May 27, 2021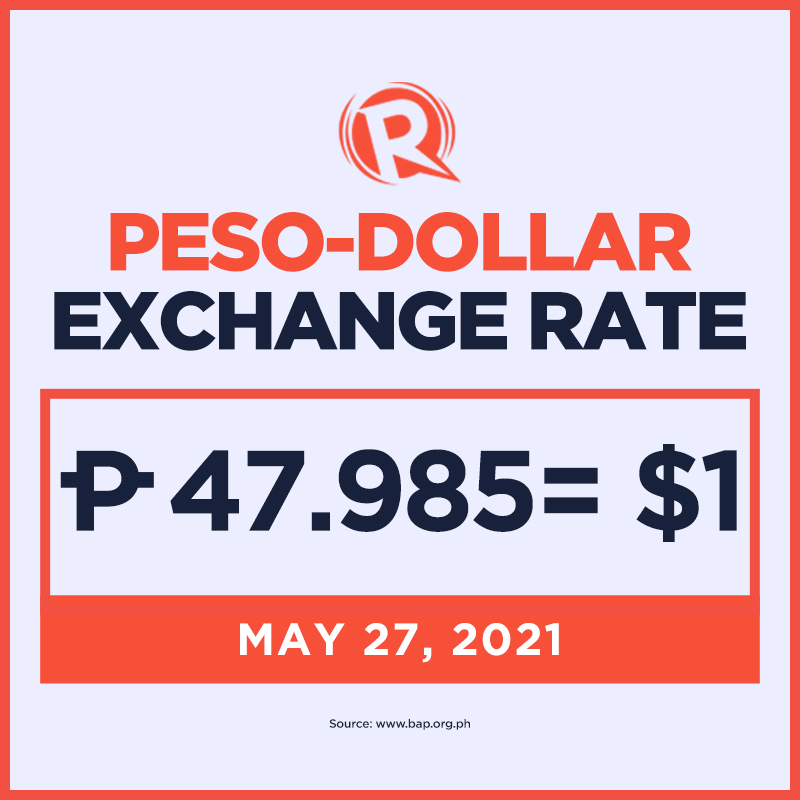 Lucio Tan's grandson gets VP post at PAL Holdings
Lucio Tan's grandson Lucio "Hun Hun" Tan III was appointed as vice president of PAL Holdings, the listed parent of Philippine Airlines.
PAL Holdings told the local bourse that the board approved the younger Tan's appointment on Wednesday, May 26.
Hun Hun has been part of the PAL Holdings board since 2019, after the death of his father, former PAL Holdings president Lucio "Bong" Tan Jr.
Most active stocks and PSEi closing – May 27, 2021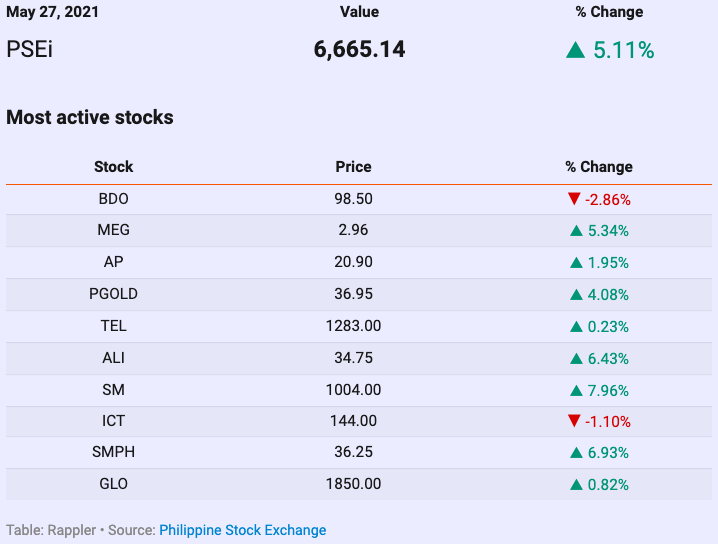 Robinsons Land unit files for P26.6-billion REIT IPO
RL Commercial REIT, the real estate investment trust company of Robinsons Land, filed a registration statement with the Securities and Exchange Commission on Thursday, May 27, for its P26.6-billion initial public offering.
RL Commercial REIT will offer up to 3.3 billion common shares at an offer price of up to P7.31 each, with an overallotment option of up to 305 million common shares.
PH shares aggressively bought as COVID-19 cases drop
Local shares were aggressively bought up on Wednesday, May 26, with the Philippine Stock Exchange index rising 2.3%.
Luis Limlingan of Regina Capital noted that this was due to early window dressing in May, as well as the decline of COVID-19 cases, which in turn prompted investors to speculate that the country will transition to looser restrictions in June.
"Recent reports from credit rating agencies were also favorable. According to S&P Global Ratings, the Philippine government is best placed to handle shocks from a rise in interest rates, effectively making debt refinancing less of a problem for the country in the next few years," Limlingan said.
S&P's baseline forecast for government spending on interest payments as a share of gross domestic product stayed at 1.9% for 2021 until 2023.