(UPDATED) Chinese stocks have tumbled since peaking in mid-June and authorities have launched broad interventions to try to restrain the drops, but concerns over stalling growth and doubts about valuations continue to drag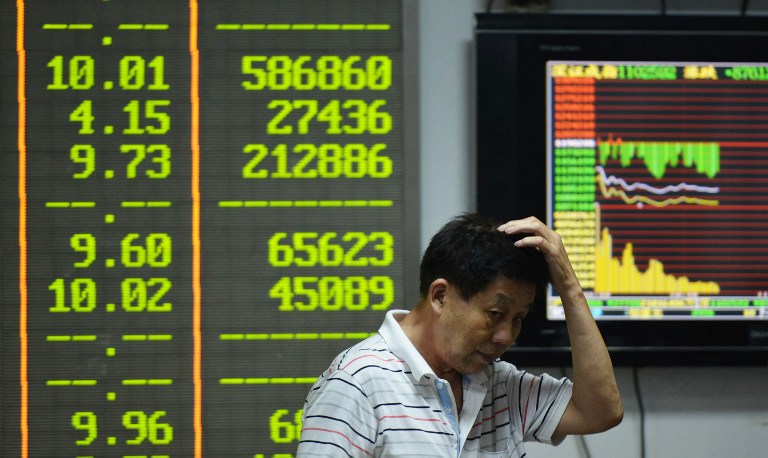 SHANGHAI, China (UPDATED) – Chinese shares plunged further Monday, August 24, sparking a fresh rout on global markets as Beijing's latest intervention failed to boost investor sentiment over China's slowing economy.
Beijing announced over the weekend that its state pension fund – which had 3.5 trillion yuan of assets at the end of 2014 – will be allowed to buy stocks, in the latest attempt to calm the market.
However, Shanghai stocks tumbled almost 8.50%, wiping out this year's gains and sparking heavy losses in Asia and Europe, as investors remained gripped by panic.
"The collapse in Asian markets has triggered a sea of red on European equity markets as bears dominate the day's trading," said IG analyst Alistair McCaig.
"Regardless of what the Chinese government and People's Bank of China (PBoC) might be saying and doing, they are currently learning a lesson that many have learned before them – namely you can only fight against market forces for so long before you end up losing."
Shanghai stocks have collapsed since peaking in mid-June and authorities have launched broad interventions to try to restrain declines, but concerns over stalling growth and doubts about valuations continue to drag.
The surprise devaluation of the yuan on August 11 added to fears the world's second-largest economy is weaker than thought, sparking a sell-off that has wiped more than $5 trillion off world equity markets.
Investors flee 'in droves'
"The latest move by the PBoC saw the central bank announce that local government-managed pension funds will be able to invest in the markets for the first time, in an attempt to pour billions of yuan into an equity market that is currently drowning in losses," added Spreadex analyst Conor Campbell.
"However this move only inspired panic not peace, and the fervent selling – with investors fleeing in droves – infected the Western indices."
China's benchmark Shanghai Composite Index collapsed by 8.49% to 3,209.91 points – its biggest daily fall in eight years.
Hong Kong's Hang Seng Index lost 5.17% to finish at its lowest point since May 2014 and Tokyo's Nikkei tanked 4.61%.
European markets were also hammered, with London, Frankfurt and Paris all losing more than two percent in late morning deals. 
New York crude oil meanwhile struck $38.69 per barrel – its lowest level since 2009 – dogged by fears of Chinese energy demand and global oversupply.
The Shanghai stock market has now fallen well below the 3,500 mark, which had been considered a symbolic moat authorities would seek to protect.
Haitong Securities analyst Zhang Yanbing said the market had gone below the "policy bottom" but still needed to reach the "market bottom," which was usually lower.
Chinese shares have been extremely volatile after a huge debt-fueled rally, which saw the market rise 150% in 12 months, collapsed in mid-June. 
Beijing then intervened with a rescue package that included funding the China Securities Finance Corp. (CSF) to buy stocks on behalf of the government and barring major shareholders from selling stakes.
Speculation is mounting that the government will soon announce another reserve requirement ratio cut, which will free up banks to lend more. It could also cut interest rates again, or provide more direct funding for policy-led lending.
'Big sucker'
But analysts question whether attempts to prop up the market are fundamentally misguided.
Phillip Securities analyst Chen Xingyu said: "The government cannot pile real money into the market every time is falls. For one, it wont be able to stop the crash. And for another, even if it steps in, it is usually the speculators who profit from these measures. Then the government would be a big sucker."
China's economy, a key driver of global growth, expanded at its weakest pace since 1990 last year and has slowed further this year, growing seven percent in each of the first two quarters. 
Beijing is trying to manage a delicate rebalancing to make growth more consumer-driven and sustainable, but also making sure it does not slow so much that jobs growth is severely affected.
The yuan devaluation was widely seen as intended to give Chinese exporters – a key sector of the economy – a boost by making their products cheaper abroad.
Concerns that growth is decelerating in the world's number-two economy were fueled on Friday, August 21, when the preliminary figure for Caixin's purchasing managers' index for August, a key indicator of manufacturing activity, slumped to a 77-month low.
That sent Wall Street tumbling, with the Dow Jones Industrial Average posting its worst single-day session in four years.
"The market is going to drop further," Qian Qimin, an analyst from Shenwan Hongyuan, told Agence France-Presse, referring to Shanghai equities.
"The entry of the pension fund will take a long time to happen," he added. "And valuations are still not cheap." – Albee Zhang with Roland Jackson in London, United Kingdom, AFP / Rappler.com