This is the lowest in 5 years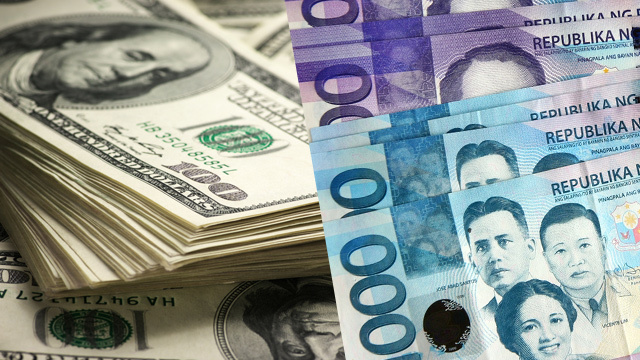 MANILA, Philippines – The Philippine peso slumped further to its newest 5-year-low, closing P46.82 to $1 Monday, August 24.
This is also the lowest in more than 5 years or since June 7, 2010, when the country's peso closed at P46.83 to $1.
The local currency opened weaker at P46.70 to $1 and hit an intra-day low of P46.85 to $1.
 
Volume reached P572.5 million from P699.7 million on August 21.
The local currency lost 31.50 centavos against the US dollar in sync with other currencies in the region amid the stock market crash in China.
 
China's stocks Monday booked the sharpest decline since February 2007 after plunging by 8.49%. (READ: China shares in dramatic dive as fears mount over economy)
The Philippines' stocks also hit a 6.4% middday slump Monday. (READ: Philippine stocks plunge 6.4% by midday)
Greatly affected
Bangko Sentral ng Pilipinas Governor Amando Tetangco Jr. said the local financial markets have recently been greatly affected by external developments like the Chinese yuan's shift to a more market-influenced foreign exchange system; further declines in international oil prices; market interpretations of the intentions of the US Federal Reserve on the path and timing of its policy normalization.
"With the interconnectedness of global goods and financial markets, the local financial markets are often the first to reflect any external developments onshore," Tetangco said.  
 
The near-term outlook continues to be that of more volatility in both the global and local financial markets.
"Given that these (factors) are largely outside of our direct control, the BSP will continue to allow the exchange rate to adjust to market conditions, " he said.
 
But monetary authorities would carefully provide liquidity in the market should the exchange rate volatilities become excessive, disruptive to business planning, and a trigger for the disanchoring of inflation expectations.
Tetangco said the calculated opening up of the Chinese markets and the potential increases in the US Federal funds target rate are part of the global normalization process.
 
Over time, these should lead to more balanced global growth, which could also lead to more normal prices of oil in the international market, Tetangco said.
Tetangco added sound fundamentals would help shore market and business confidence. (READ: PH warns vs using exchange rate as trade tool)

Aligned weakness
Joey Cuyegkeng, chief economist of ING Bank Manila, said the weakness of the peso was in line with the weakness of Asian currencies.
 
"The peso's weakness is externally driven with heightened emerging market risks, including slowing economic growth, commodity price plunge, currency contagion, and possibly a more demanding foreign debt servicing," he said.
 
BPI associate economist Nicholas Antonio Mapa said the peso plunging anew is a total risk off sentiment right now and panic, fear, and hysteria have taken over.
 
"Markets have turned overly bearish on the market, dumping risk assets as attention has turned to the slowdown in China and its possible effects on the global economy," Mapa said.

The peso would trade between P46.60 to P46.90 against the greenback in the near term as markets continue to panic, Mapa added. – Rappler.com