An Uber executive says they have asked all 21 APEC member-economies to allow the company to operate legally and safely in their jurisdictions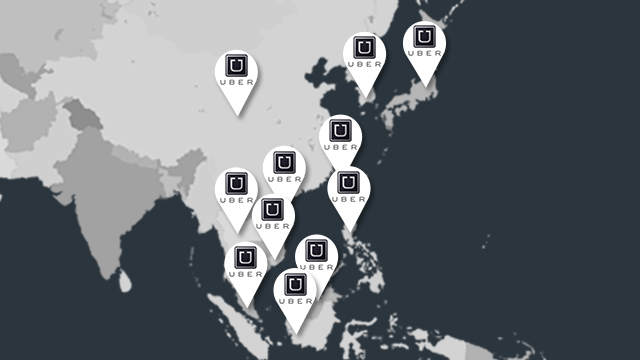 CEBU, Philippines — San Francisco-based Uber Technologies, Incorporated plans to expand in all 21 Asia-Pacific Economic Cooperation (APEC) member-economies despite regulatory hurdles, opposition from the taxi industry, and other roadblocks from some major markets.
On Friday, October 9, the 5-year-old ride-hailing company asked all 21 APEC member-economies to allow Uber to operate legally and safely in their jurisdictions.
"[We have] asked the regulators earlier and said we are very, very open to regulations. Uber as a company is a different type of service, it's a non-traditional transportation, so we'd like to work very closely with the government, with all regulators, to establish the right framework," Uber Asia President of Business Eric Alexander told reporters on the sidelines of the 9th APEC Transportation Ministerial Meeting at Shangri-La's Mactan Resort and Spa Cebu.
Despite its young age, Uber has been accused by rivals and critics of using unreasonable tactics, while others have praised its way of disrupting the unreliable, regular taxicab industry.
As of now, Uber has presence in 66 cities in the Asia-Pacific region.
But the company is facing major legal roadblocks from other APEC member-economies, like Canada, Japan, Korea, and China, according to a news report by the Huffington Post.
Uber has started its operations in Japan, Canada, Korea, and China, but the company continues to face difficulties making inroads into these major markets, partly because of intense competition from taxi operators.
"The Philippines is probably the best example in the world as [a country] that embraced the Uber model. [The Philippines] worked with us to establish the framework, guidelines, allowing us to operate safely and effectively within a city," Alexander told reporters.
Despite praises, Uber faces issues in PH
Every APEC member economy, according to the Uber Asia official, wants a dialogue with the company; "but the challenge is, there is vested interest with existing transportation providers that make it difficult for us to enter."
"I would extend the offer that we will meet with all of them, sit down, and have a dialogue. Hong Kong is one of them, Indonesia, Malaysia, and Singapore," Alexander said, adding "[the regulation] just have to be the right one. It's hard to put this in an existing box, sometimes you have to make a new box like the Phlippines has done."
The Philippines in May introduced a new mode of public transport called Transportation Network Vehicle System (TNVS), allowing ride-hailing services like Uber to fall under rules that allow "pre-arranged transportation services" using smartphones and other similar technologies.
But in a letter signed by Antonio Enrile-Inton Jr, who is a board member of the Land Transportation Franchising and Regulatory Board (LTFRB), dated Thursday, October 8, the board is facing opposition and complaints on the accreditation of TNVS, particularly the issue of oversupply of Uber cars plying and earning from the public transportation.
According to Inton's letter, there is a total of 4,465 accredited TNVS units to date; while around 3,500 applications are being studied by the LTFRB.
The LTFRB board member, in his letter, asked Transportation Secretary Joseph Emilio Abaya's approval to impose a moratorium on acceptance of applications for TNVS units.
But this was opposed by Uber's Alexander, saying "instead of the government regulating the cap, this is I think where the private industry does a great job."
"[Imposing a] cap is not the right answer. The right answer is to let us, as a business, manage. The part of the game is building demand. So that is why when we come to a country like the Philippines, we spend a lot of money in marketing – to make people more aware of the service and make the pie much bigger," Alexander added.
So far, the Uber Asia executive thinks the Philippines has the best framework and transport regulations in the world aimed at easing traffic congestion through "efficient use of road space." – Rappler.com