(3rd UPDATE) The TRO does not apply to current operations of Uber, GrabCar, the Quezon City RTC judge clarifies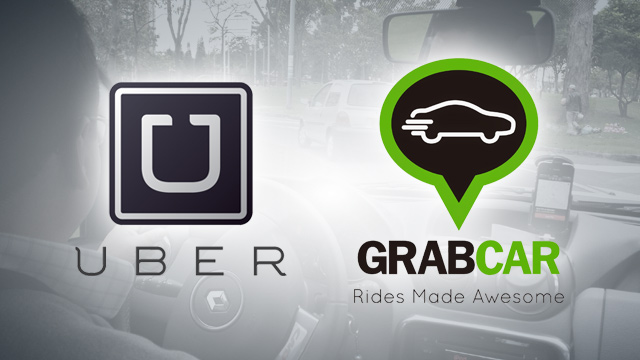 MANILA, Philippines (3rd UPDATE) – A Quezon City court on Friday, December 4 ordered the government to stop accepting Uber and GrabCar applications for 20 days.
This was after the Land Transportation Franchising and Regulatory Board (LTFRB) faced opposition and complaints on the accreditation of transportation network vehicle services (TNVS), particularly the issue of oversupply of Uber, GrabCar units plying and earning from the public transportation.
In a 7-page temporary restraining order issued by the Quezon City Regional Trial Court, Judge Santiago Arenas said the transportation department and LTFRB should stop "accepting, processing, and approving of applications belonging to TNVS category…for a period of 20 days effective from date of receipt."
It said that the petitioner, Angat Tsuper Samahan ng mga Tsuper at Operator ng Pilipinas Genuine Organization Transport Coalition, Incorporated (STOP and GO), "has demonstrated that there is extreme urgency to issue TRO to prevent grave and irreparable injury and damages to the association's officers and members because of their claim that they suffer less or low incomes…due to the sudden and uncontrolled increase in the number of TNVS utility vehicles running in the streets of Metro Manila."
A separate letter signed by LTFRB Board Member Antonio Enrile-Inton Jr in October said there are a total of 4,465 accredited TNVS units to date, while around 3,500 applications are pending with the LTFRB.
Asked if the TRO includes the suspension of operations of accredited TNVS, LTFRB chairman Winston Ginez said in a phone interview with Rappler: "It's unclear if the operations of existing certified TNVS units are included in the TRO. What is clear is they are asking to stop for 20 days the applications of TNVS."
Ginez said that the LTFRB will meet with the Office of the Solicitor General, which is handling the case, that afternoon.
"We will discuss our remedy," he said, but declined to elaborate.
But later on Friday, Arenas clarified that the TRO does not apply to current operations of Uber and GrabCar, as it only stops government offices from accepting TNVS applications at the moment.
Transportation and Communications Secretary Joseph Emilio "Jun" Abaya, meanwhile, replied to Rappler via a text message,"We need to see a copy of the TRO and read its contents." Abaya is with President Benigno Aquino III in his working trip to Paris, Rome, and Vatican City and is flying back to Manila Friday.
Implications
In a statement, Uber said: "Uber is aware of a decision issued earlier today by the Quezon City Regional Trial Court and is studying the implications of this decision upon Transport Network Vehicle Services performed by Uber partners. Uber was not a party to the proceedings that resulted in the court's decision and plans to coordinate closely with the DOTC and LTFRB."
It added, "Uber remains 100% committed to serving Filipino commuters and has confidence that the DOTC and LTFRB will continue working productively with Uber and other industry participants to issue all necessary permits under the prevailing regulations and assure the smooth operation of Transport Network Vehicle Services in Metro Manila and elsewhere in the Philippines."
The imposition of a moratorium on the acceptance of applications for TNVS units was already opposed by Uber Technologies, Incorporated in October.
"[Imposing a] cap is not the right answer. The right answer is to let us, as a business, manage. The part of the game is building demand. So that is why when we come to a country like the Philippines, we spend a lot of money in marketing – to make people more aware of the service and make the pie much bigger," Uber Asia President of Business Eric Alexander told reporters in October.
In a statement, GrabTaxi PH said the TRO has not been officially received by neither GrabCar nor the LTFRB. "Until we receive the TRO, we will continue to operate as usual," it said.
GrabTaxi PH added it is closely coordinating with the government and is hopeful it will get their support "to be able to provide safe and convenient GrabCar rides in the country."
"Our commitment toward providing the highest quality of service remains. We will post updates… as soon as there are developments," GrabTaxi PH said.
The QCRTC set a hearing on the petitioner's application for preliminary injunction on December 8. – Rappler.com