The Department of Finance (DOF) is set to push the mining revenue bill once the next Congress resumes session in July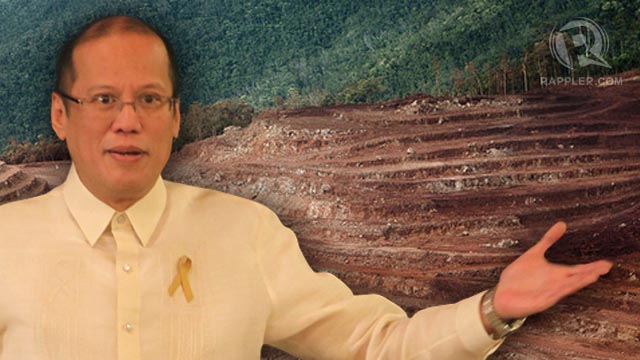 MANILA, Philippines – The Aquino government will pursue the mining reform bill as a priority measure in Congress in the last 3 years of the Aquino administration.
The Aquino government will push for this, as well as the fiscal incentives measure and the bill creating the Bangsamoro area, after the May 13 mid-term elections and when Congress resumes session in July.
Communications Secretary Ricky Carandang stressed this in a Rappler interview on May 12, citing the need for support from members of the two chambers so the government could further its anti-corruption and anti-poverty plans.
"We are planning to rationalize revenues on mining and fiscal incentives, as well as the Organic Law, and if we have a more supportive Congress and Senate, it wouldn't be so difficult for us to pass [these]," he said.
The Department of Finance (DOF) also said it will pursue revenue reform measures, including the mining reform bill. 
DOF has been pushing for the passing of the mining revenue bill even before the midterm elections to jumpstart the ailing mining industry and raise more revenues for the government.
"What we want is a fairer (law) and (one that would translate) to more equitable sharing of revenues," Finance Secretary Cesar Purisima said in a statement on May 10.
In December, the Mining Industry Coordinating Council (MICC), the joint committee tasked to draft the new legislation for mining, said it is studying two options for a new revenue-sharing scheme between the government and the mining industry.
However, the council is yet to decide on a final single fiscal regime and a simple formula in determining the sharing scheme that eliminates valuation issues and costs of production.
Malampaya project
Earlier, Purisima lobbied for a scheme similar to the revenue sharing in the Malampaya deep-water-to-gas project in offshore Palawan.
The Malampaya project, headed by Department of Energy (DOE) and developed and operated by Shell Philippines Exploration B.V. (SPEX) with joint venture partners Chevron Malampaya LLC and the Philippine National Oil Company Exploration Corporation, turned over $1.1 billion to the government in 2012.
Under the service contract agreement, 70% of the gross proceeds from the sale of natural gas would go to the contractor to cover the investment cost.
The remaining 30% will be shared between the government and the consortium on a 60-40 basis. Once the contractor recovers its investments, the 30% share would then increase, allowing the government to gain from these petroleum projects.
Purisima is also determined to push for other bills in the next Congress including the so-called fiscal incentives bill to streamline the tax perks given to businesses, among others.
He is also lobbying for the amendment of some constitutional provisions allowing certain sectors to opened to foreign investors despite the passing of Executive Order 98 listing certain industries that are off-limits to foreigners. – Rappler.com